6 of the Best Irish Gifts for St Patrick's day
WITH ST. PATRICK'S DAY FAST APPROACHING, WE'RE GETTING READY TO EMBRACE THE IRISH IN ALL OF US. SINCE LAUNCHING IRISH AT HEART WE'VE DELIVERED AN ENORMOUS AMOUNT OF IRISH GRÁ AROUND THE WORLD  AND THE FOLLOWING ARE SOME OF OUR MOST POPULAR ITEMS FROM OUR THEMED, CURATED, SUPRISE BOXES OF IRISH CREATIVITY TO WEAR, SHARE, USE AND DISPLAY.
Of course, we're keeping the content of our St.Patrick's Day box a surprise but until then, here's a tasting menu of some of the items from previous months, that we think might make the perfect St Patricks' day gift.
Celtic Pashmina
WRAP UP OR DRESS DOWN WITH THIS DELICATE GREEN PASHMINA, SOFTLY ADORNED WITH GOLDEN CELTIC SWIRLS.
While it won't stand up to the cold of an Irish winter, it's the ideal accessory for watching the sunset on a mild spring, or summer evening – worn as a light scarf or draped over your shoulders for a touch of whimsical sophistication.
This eye-catching accessory was part of Irish at Heart's very first subscription box, and sparked quite the avalanche of FOMO for those who hadn't already signed up…but never fear it is now available as an add on to a new subscription.
Romping through Gulliver's Travels
TOO LONG; DIDN'T READ? TAKE A LIGHTNING COMMUTE THROUGH GULLIVER'S TRAVELS, AND PICK UP SOME DUBLINER INSIGHTS ON THE WAY.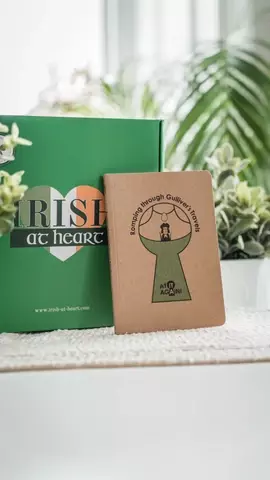 This pocketbook provides a light-hearted introduction to Jonathan Swift's satirical masterpiece, and to those who have already conquered it – the ideal companion.
It is part of a series from "At It Again" which strives to make the rich heritage of Irish literature more accessible to a global audience, through playful synopses, maps, quotes and illustrations.
This charming book not only gives you a sneak peek into the novel, but also a Swiftian perspective of Dublin, the author's hometown.
Shamrock Jewellery
YOU DON'T NEED TO WAIT FOR ST.PATRICK'S DAY TO DECK YOURSELF OUT IN SHAMROCKS, AND THIS BEAUTIFUL LITTLE SETFROM TRINITY& CO. LENDS AN ELEGANT TWIST ON THE TRADITIONAL GREEN.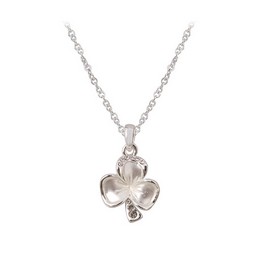 Available in both silver and rose gold, the pendant and earring pairing is a perfect complement to any outfit, and a subtle token of your Celtic heritage.
Subscribers to Irish at Heart received this charming jewellery as partof a Shamrock-themed box that was delivered in August, with each and every itemrooted to the national flower of the Emerald Isle.
Seaweed Mask
THE WILD ATLANTIC WATERS OF CONNEMARA CAN REFRESH AND REVITALISE YOUR SKIN FROM THE COMFORT OF YOUR OWN HOME WITH THIS LUXURIOUSLY NOURISHING SEAWEED MASK.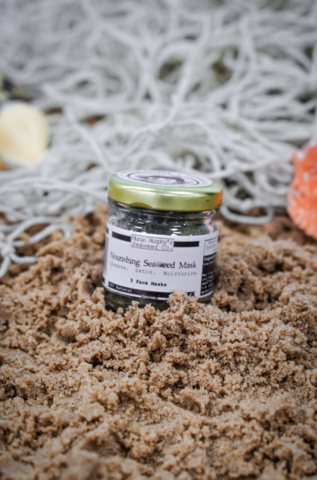 Conscientiously crafted by the small crew at Mungo Murphy's, this is a pamper product that will brighten both your complexion and your spirit.
To use, simply combine a teaspoon of seaweed powder with your preferred base (oil, honey water, etc.), smooth over your face, and let your skin soak up the hydrating energy of the Celtic Sea.
Brown Soda Bread Mix
WHILE ALL THE ITEMS IN IRISH AT HEART'S SUBSCRIPTION BOXES ARE CAREFULLY CURATED TO GIVE YOU A TASTE OF IRELAND, THIS MOUTH-WATERING MIX FOR HOMEMADE SODA BREAD TAKES THE TASK LITERALLY.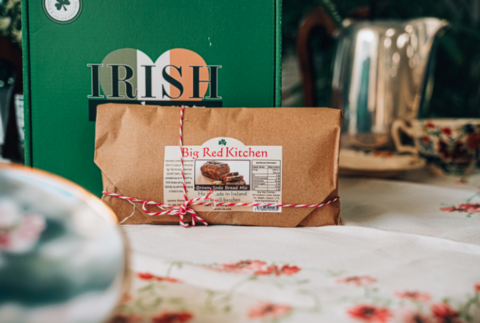 Wherever you are in the world, you can feaston the simple culinary delight of Ireland thanks to Big Red Kitchen. The small Boyne Valley business has done all the work, so you can just crack an egg, splash in some milk and pop it in the oven.
No traditional Irish meal is completewithout a hearty loaf of Brown Soda bread on the side, making this a tastyinclusion to November's "Granny's Cottage" themed box.
IRISH COTTAGE TURF BURNER
IF THE SMELL OF FRESHY BAKING BREAD WASN'T ENOUGH TO EVOKE THE ESSENCE OF IRELAND IN YOUR HOME, THIS DELIGHTFULLY PEATY TURF BURNER IS SURE TO DO THE TRICK.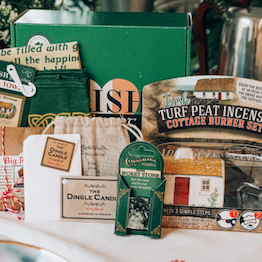 Simply light it, close your eyes, and breathe in the rich, comforting scent of a cosy winter's night in an Irish cottage. If you know a friend who's a bit homesick, this would be the perfect gift to make them feel closer to their roots on Irish soil.