A Glimpse into Ireland's Ancient East
As much as I am excited to take our next Irish at Heart adventure, part of me is a little sad that it's already time to leave the Ancient East and all of its wonders behind. There's still so much to explore, that I think I must take you all back here sometime in the future… but what we'll discover there will be my little secret for now!
When I'm developing a theme for my Irish at Heart family, I always take the time to browse through photos of the lands that we are delving into; I find that it gives me inspiration on how to share the very best of the Emerald Isle. Here are some of the photos that I came across that stirred a passion for the Ancient East and all of its incredible stories and heritage.  
Newgrange
We're going to start with the gorgeous landscape of Newgrange, which many of you will be familiar with after nearly a month of exploring the wonders of the Ancient East. However, seeing it bathed in the light of the setting sun, as in this photo from @ierlandtoerisme, adds an extra-special touch of wonder that really leaves an impression of Meath's fascinating prehistoric monument.
When we see it like this, it isn't hard to imagine why our 5000 year old ancestors constructed Newgrange to coincide with the rising and falling light of the sun – or why they believed it to have otherworldly powers of time and rejuvenation.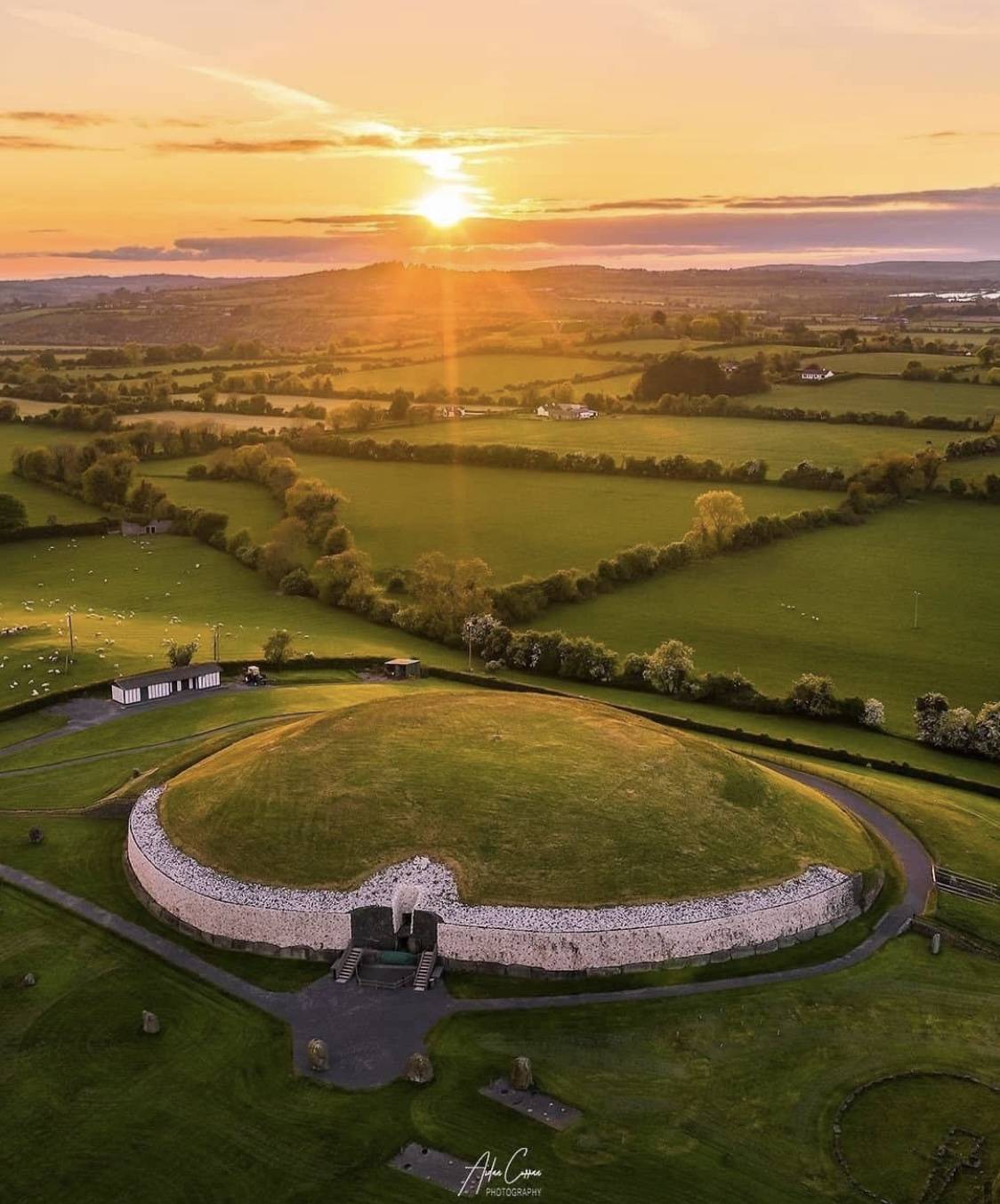 Knowth
Now I couldn't be talking about Newgrange without also taking you to Knowth, where this stunning photograph of sunlight passing through the tomb passageway was taken - illuminating the ancient heritage etched into its foundations.
Of the three passage tombs located in the stunning World Heritage Site of Brú na Bóinne, Knowth is the largest, with parts of it dating back as far as 3200 BC. The walls are remarkably decorated, with generations of ancient Irish ancestors leaving their marks upon the monument – so much so that today it features around a third of all Western Europe's known megalithic art.
This picture not only highlights the fascinating knowledge our prehistoric ancestors possessed of the sun's movements and astronomy, but also just how rich and beautiful our heritage is - if we just stop and take a moment to appreciate it in the right light.
Rock of Cashel
Skipping right ahead to the 12th century (practically the modern age when compared to the architecture of Brú na Bóinne!) brings us to the stunning structures that lie atop the Rock of Cashel in Tipperary, as photographed by @Sammie_wanders_.
While the first building (the round tower – which is remarkably well preserved) was likely built circa 1100 AD, the Rock of Cashel appears in the legends of Ireland long before then. It is said it was once part of the 'Devil's Bit', a mountain situated 20km away. That was until the 5th century when St. Patrick banished Satan from a cave in the heart of mountain with such force that a huge piece flew through the air and landed to be what we now know as the Rock of Cashel.
It was the traditional seat of the Kings of Munster, and so boasts several stunning examples of Celtic and medieval architecture, such as the Cathedral, the chapel of King Cormac Mac Carthaigh, and intricately carved gravestones and monuments.
Rock of Dunamase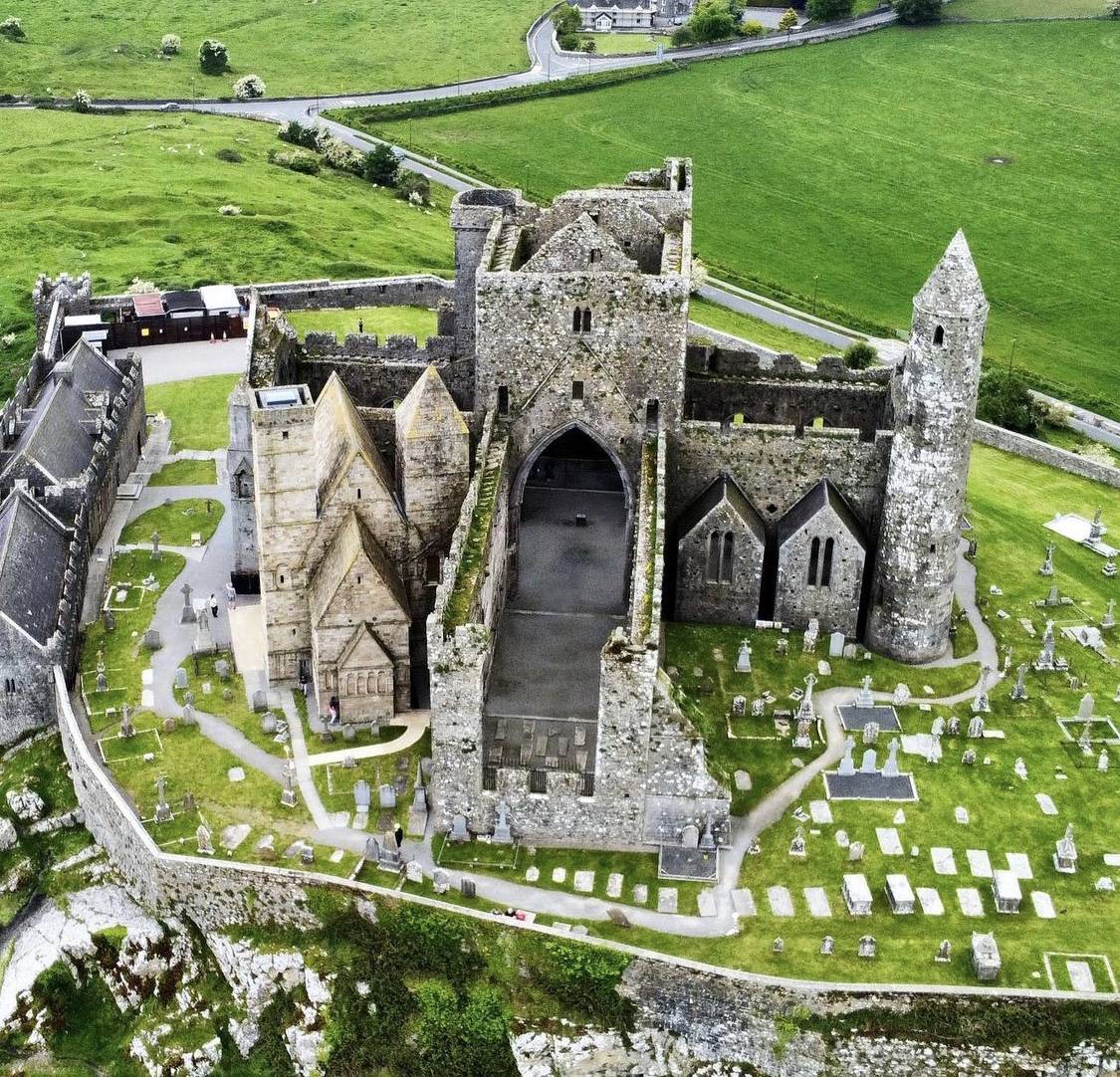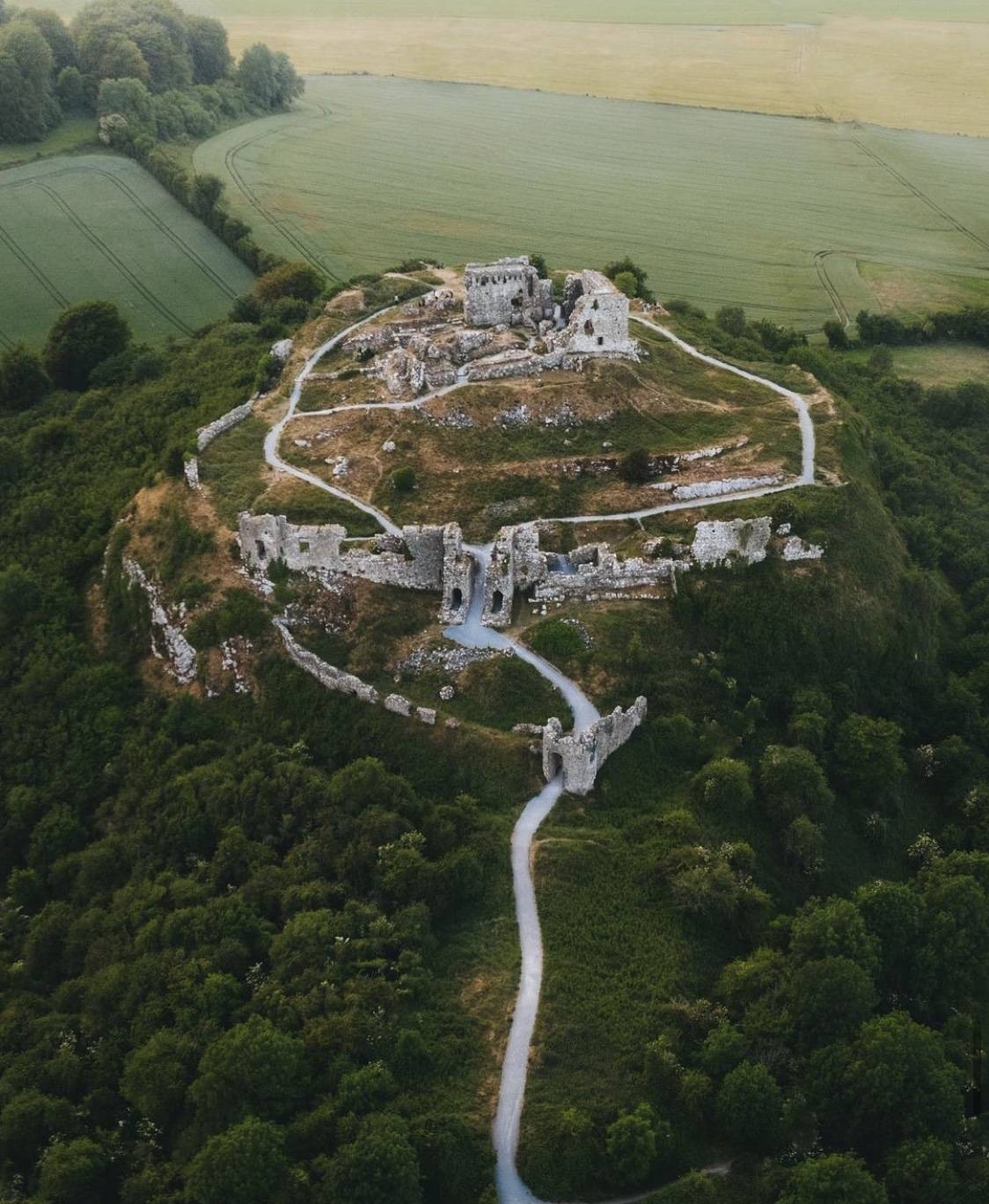 Cashel isn't the only rock to boast a castle, and Dunamase is home to the dreamy ruins of a once splendid citadel.
I love how this photo from @toursimIreland lets you fully appreciate the history of the castle, and see how one day its impressive stone walls had been protected by the mighty fortress in which it was enclosed.
It was said to be an extravagant wedding gift from MacMurrough – the King of Leinster – to mark the marriage of his daughter Aoife to the Norman Conqueror, Strongbow. Both the castle and the daughter were technically part of a deal to enlist the Normans to help regain lands he has lost through stealing the King of Breifne wife… but that's another story entirely. Today we're just going to sit and appreciate the beauty of this treasure of the Ancient East.
Each month we choose a wonderful theme to base our product curation around.
Whether it's Dublin, The Wild Atlantic Way or St Patrick's Day, we strive for every box to have something wonderful to wear, a gift to share, a treat to eat and a treasure to live in your home.
Every month we work with fantastic small Irish businesses; so no matter where you are in the world, you're helping Ireland!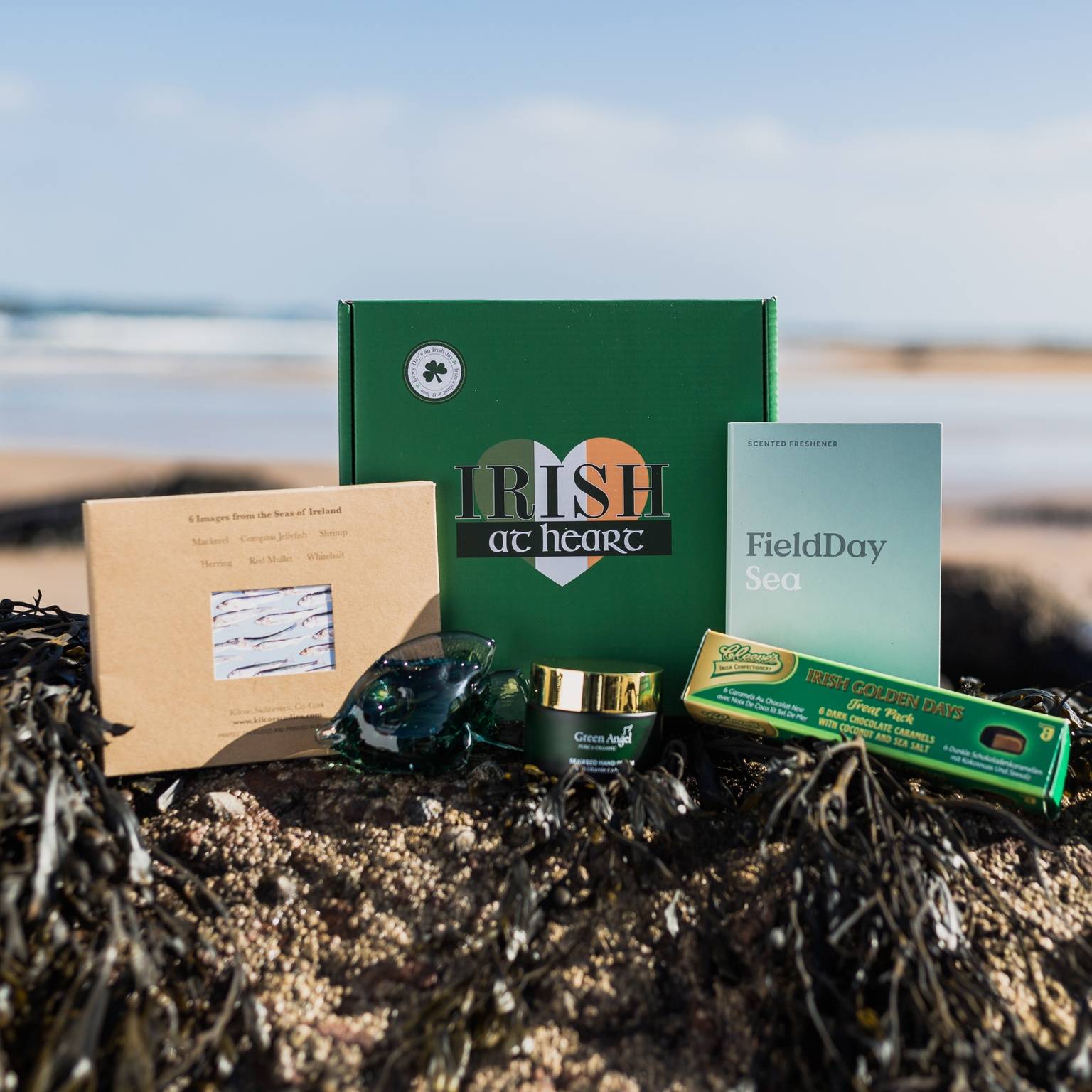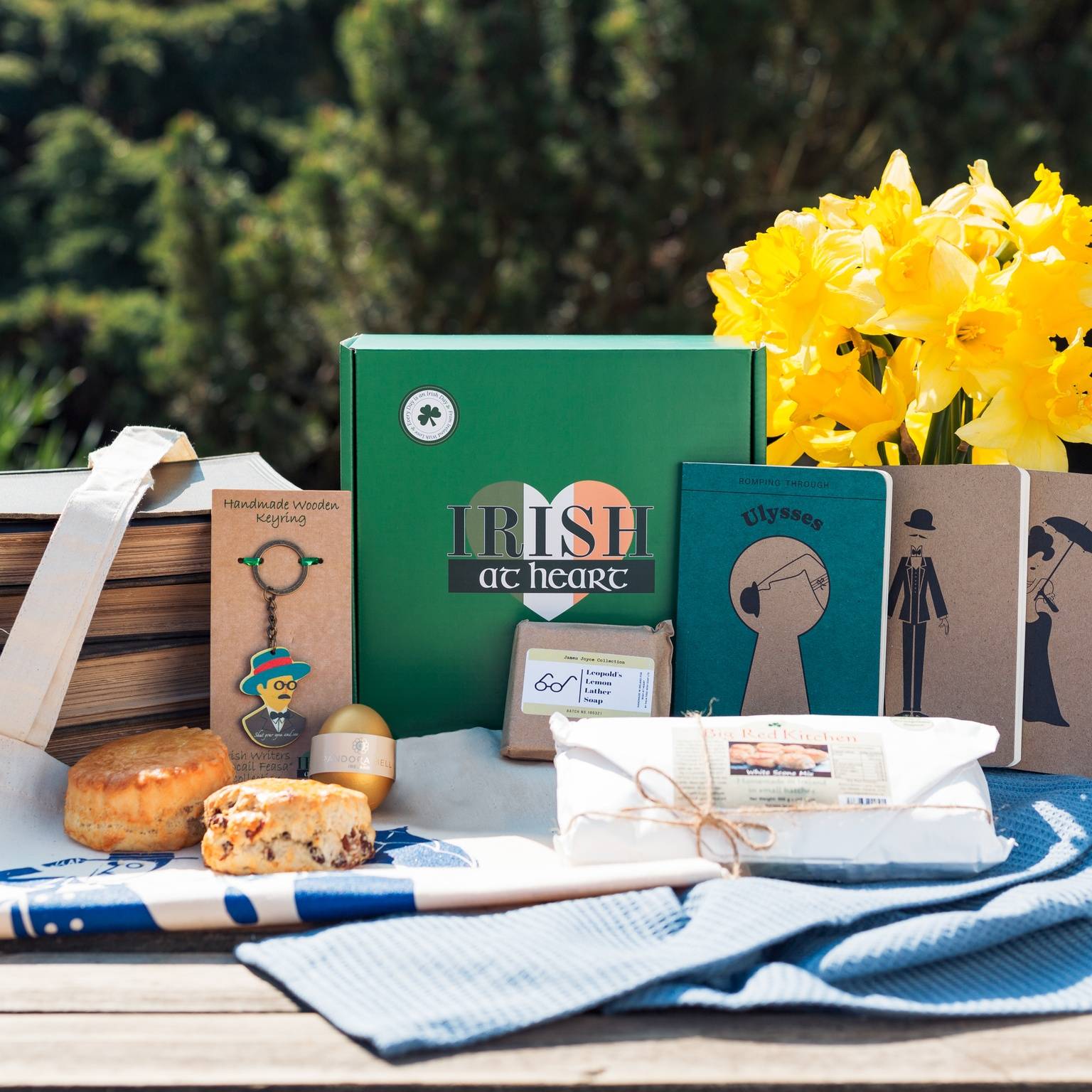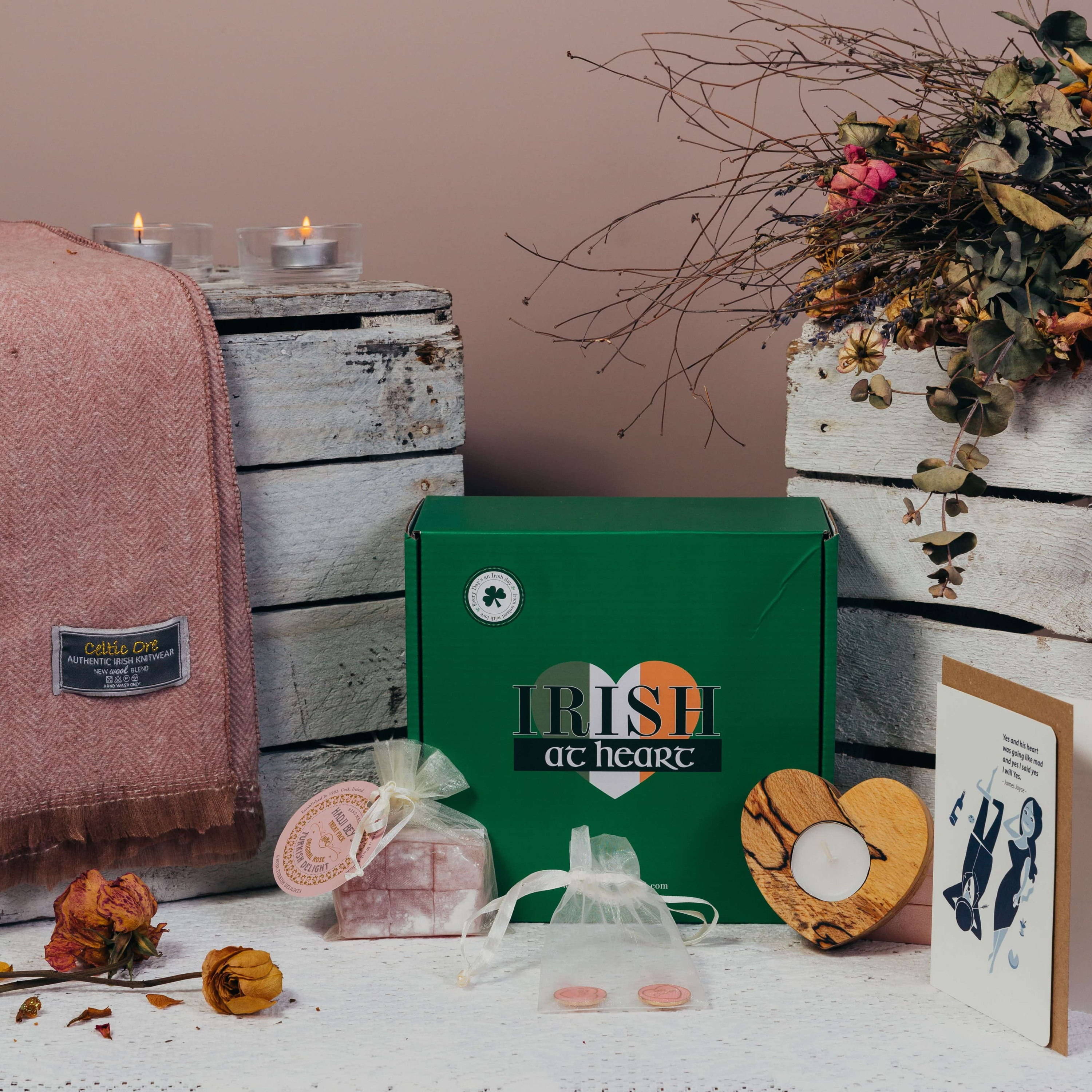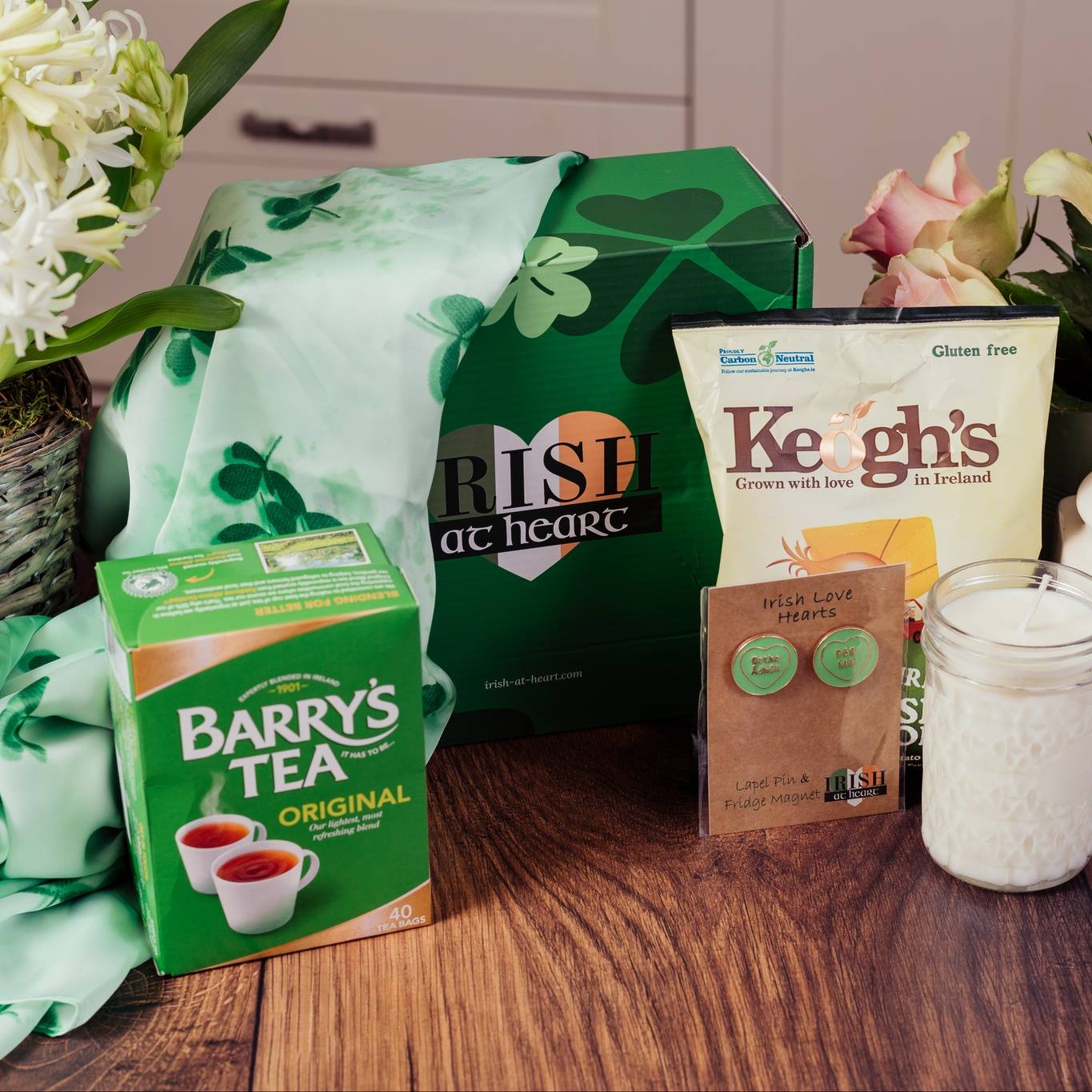 Greystones
Next we're going to travel down to County Wicklow, for Ireland's most scenic cup of coffee as enjoyed by @baba_eriba. I love the way the reflection on the water looks as though the sun is pouring its morning light directly into the glass – what a way to start the day!
Aside from breath-taking sunrises, Greystones is also home to two blue flag beaches and a Harbour Marina in which over 250 boats are snuggled. The best way to enjoy this marvellous coastline is to head out on one of Greystone's stunning walks, which will take you through rugged mountains, sparkling seascapes, and lush forests – the perfect way to immerse yourself in Ireland's spectacularly diverse terrains.
Of course, the early bird catches the worm, so if you want to enjoy your morning coffee amidst these beautiful sights, then you'll likely have to set your alarm. Although, I'm sure once you are greeting with the blushing skies that appear just as the sun begins to shed its warmth over Ireland, your early start will be well rewarded.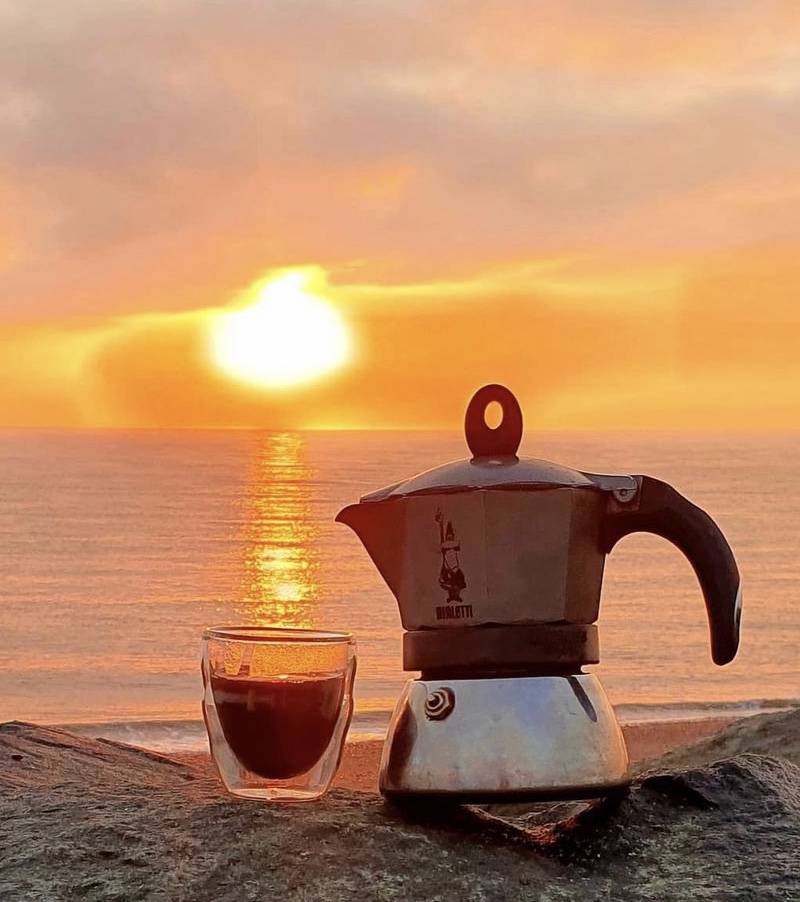 Hill of Tara
We're going to finish off with a photo of one of the most magical places in all of Ireland's Ancient East – the Hill of Tara.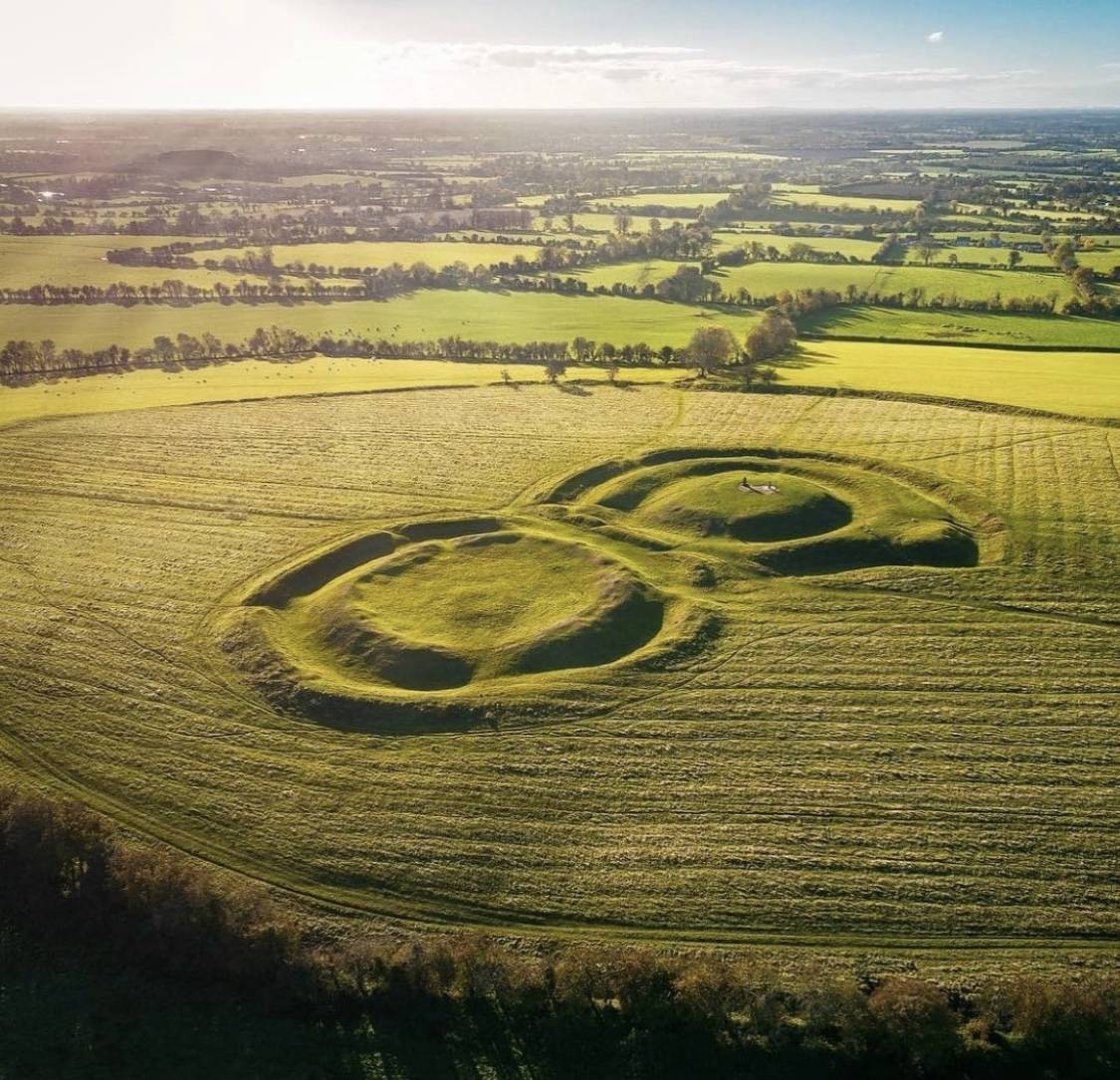 This dramatic snap from @tourismIreland shows how the sun casts its light on the ancient burial site, as shadows pool in the bellies of its crevices - allowing us to appreciate its spectacular form. It has long been the site where eloquent Irish myths unfold, equally wending its way through our history books - as the seat of Kings, the faerie's passage to the other world, and a prehistoric tomb for ancestors of yore.
It is perhaps the finest example of how legend and chronicles combine in the Ancient East – astonishing us with what has been proven to pass here and enticing us to believe in the magic that surrounds it. And, when you see it basking in the sun in all of its ancient glory, its almost easier to imagine the supernatural powers that are imbued in its grounds, rather than convince yourself that all of the stories are nowt but fairy-tales…
Do you have a favourite photo of above? Or perhaps you've captured Ireland's Ancient East on your own travels? Let us know in the comments below or head on over to our excellent Irish at Heart community to share your thoughts and adventures.
Subscribe to Irish at Heart
If you enjoyed reading this blog post, I'm sure you will love Irish at Heart subscription box! Each beautifully curated themed box is full of unique, handmade gifts from Ireland's finest creative talents and small independent businesses. Subscribe with the code below and receive your very own Irish gift box!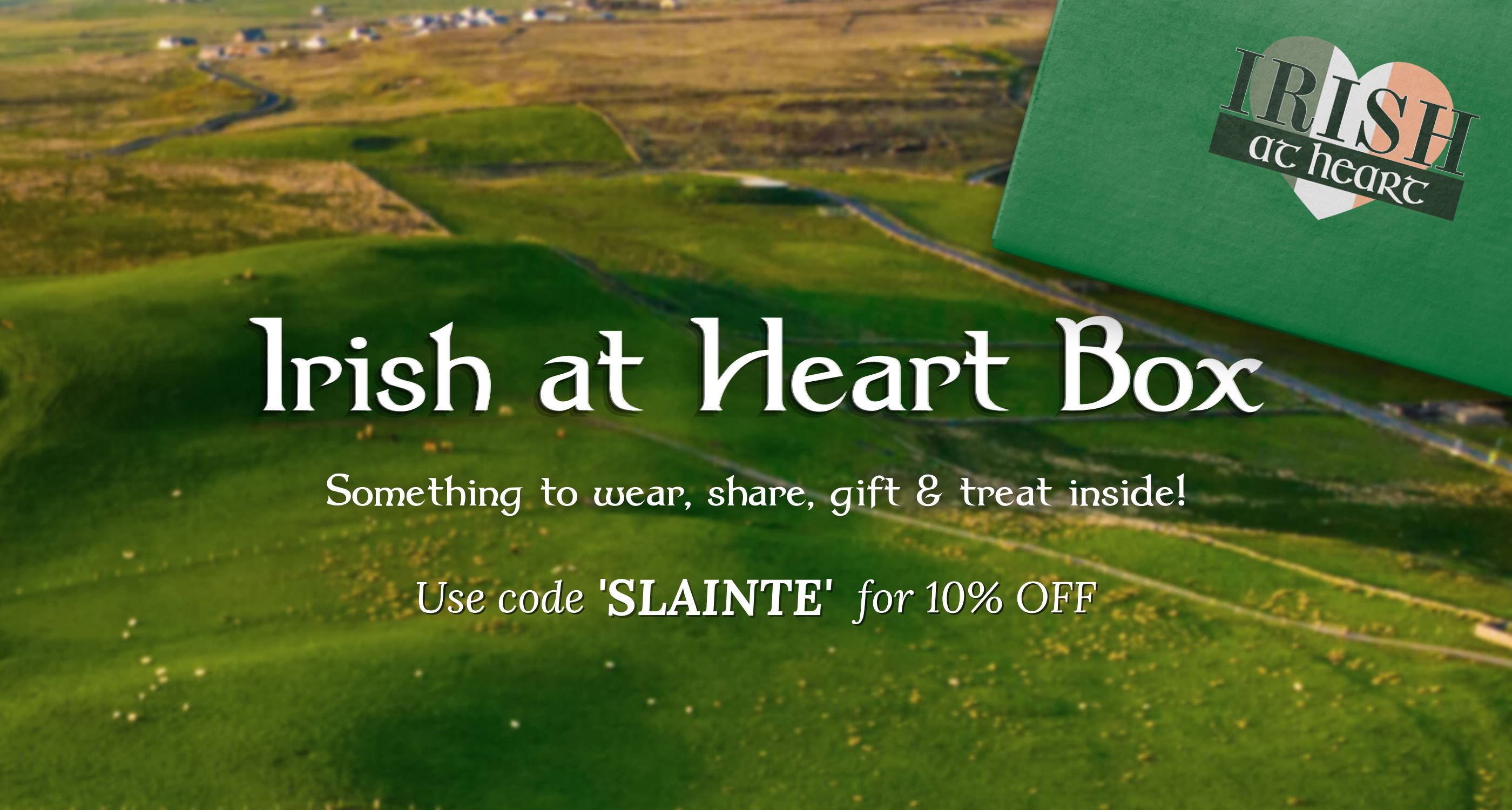 ---