A Very Irish Christmas Dinner
Presents are all very well and good, but we all know that true Christmas traditions are served up at the dinner table. I spend most of December fantasising about the wonderful spread that I will be sharing with my family and friends, and I'm sure many of you are the same!
If you've signed up for this month's 12 Days of Christmas box, you'll already be in for a taste of an Irish Christmas, but if you want to extend the theme into your festive feast – I've got a truly Irish menu laid out for you below!
What's your favourite part about your own Christmas Dinner? Let us know in the comments!
Starter
With the tumbling waves of the Atlantic crashing on our coasts, it's hardly a surprise that fresh fish is a cornerstone of a traditional Irish Christmas.
If you're not a fish fan then you can always kick things off with a steaming bowl of your favourite soup, but if you can procure some Atlantic prawns then I would definitely recommend adding the appetizing crustaceans to your plans.
Of course you can't go wrong with an aesthetically pleasing Prawn Cocktail, which can be dressed up as fancy as you please and is nice and light so as not too fill up too early in the game.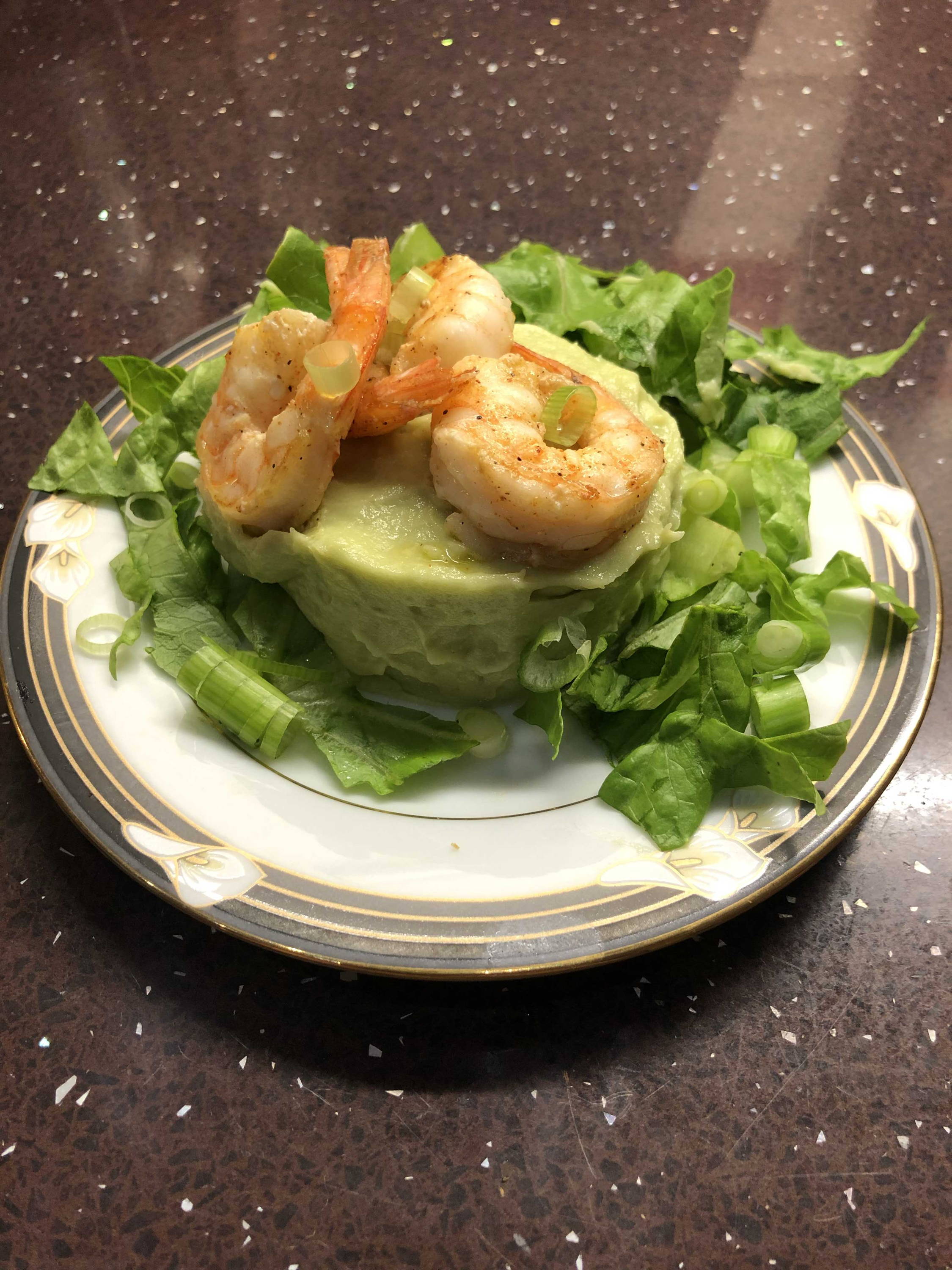 However, if you want to bring a touch of green to your Irish feast, you could try something a little different. Blend some mashed potatoes, avocado, mayonnaise, a touch of mustard, and seasoning until you get a smooth consistency (you can play about with the ingredients to suit your own tastes). Then dollop the scrumptiously green mixture into a hamburger shaper and upturn it onto each plate to make a little nod to the Emerald Isle on which to pile your prawns.
Main Course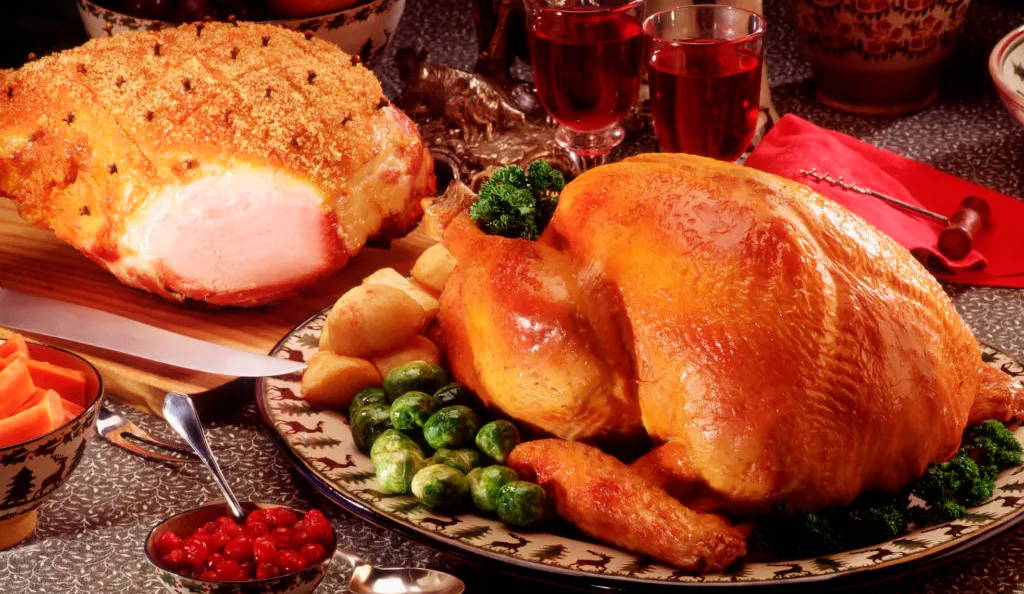 While many of you will already be looking forward to a Roast Turkey with all the trimmings come Thanksgiving, the tasty bird is often the centre piece of the Irish Christmas dinner just as in the United Kingdom. However, the Irish stand out in this regard, bringing an additional honey roasted ham to the table.
This may seem like rather a lot of food to be getting on with, but you've got to remember that Irish families can be quite extensive, and one bird just simply won't do for all the aunties and uncles. Also, the leftovers lend themselves to a St Stephen's Day sandwich of wondrous variety; think succulent turkey layered with sweet and salty ham between two decadently buttered slices of toast – heavenly!
If you're looking for inspiration on how to prep your mains, this Guinness Roasted Turkey (complete with gravy of course) is a wonderfully Irish twist on a classic – while Donal Skehan keeps it simple with this mouth-watering Honey and Mustard Glazed Ham.
Sides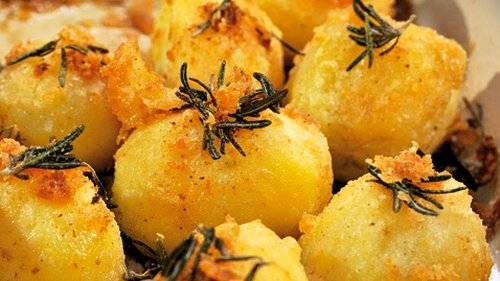 Of course, no traditional Irish dinner would be complete without a hearty serving of the delightfully diverse potato. When it comes to choices on this particular side, the more the merrier – no one should have to sacrifice mash in favour of potato gratin on Christmas Day.
However, if you're only plumping for one option, there's no beating the golden crunch and fluffy interior of a roast potato. Cooking them in goose fat adds an extra lashing of luxury to the occasion, and you'll definitely want to double down on the portions – they heat up a treat the next day!
You're covered for gravy if you opt for the Guinness Roasted Turkey recipe above, but you can never have too many sauces on your plate, and spoonful of cranberry sauce adds a fruity, tangy contrast to your meal – as well as providing a picturesque dollop of colour!
You can always save on time and effort by opting for a store bought jar, but if you want to go all out – this BBC Good Food recipe can be made a couple of days ahead and just plattered up on the day.
You can also sneak in an extra dose of everyone's favourite starch with the tasty tradition of potato and sausage stuffing, this particular recipe offers the alternative of cooking it in a goose, but you can always adapt it to your own choice of poultry.
While not necessarily a big hit on the Christmas Dinner table, there's no escaping the fact that Brussels sprouts are an essential part of the authentic Irish experience. That's not to say you can't mix it up a bit – try sautéing the miniscule cabbages in garlic butter with pancetta. It's remarkable how palatable they become…
A Cracking Touch
If you grew up across the pond, you may not be aware of one of the most wonderful Christmas dinner traditions of all time – the Christmas cracker.
No table is complete without these festive decorations, which are designed to be pulled apart between two people revealing little treasures inside – a bit like a personal piñata. The main chamber of the cracker splits with a sharp bang, leaving one person with the bigger half which generally entitles them to the prizes within.
A classic cracker will contain a paper hat to be worn for the duration of the meal, a joke guaranteed to be met with groans and eyerolls from everyone at the table, and a random and often completely useless present – ranging from mini screwdrivers to fake moustaches.
Of course more luxury options can be purchased, stuffed with champagne truffles, or scented soaps – but where's the hilarity in that?! In Ireland the shops are bursting with Christmas Crackers all through December, but if you're having trouble procuring a pack you are can always make your own – giving you total control of the wonders that will spill out on the table come Christmas Day!
Desserts
If you came from a particularly organised Irish household, a homemade Christmas Pudding would be a customary way to satisfy your sweet tooth after your meal. However, a classic Irish Christmas pudding is prepared up to six weeks in advance, to allow the cake to be fully saturated with all the delicious tastes and scents.
So, if you've got your heart set on that Christmassy blue flame as you set light to this traditionally alcohol fuelled dessert I would get cracking now (or simple purchase one from the shops closer to the time.)
If you're looking for an alternative which requires slightly less forward planning, then I can give you no greater gift this year than to suggest the humble yet inspiring Irish trifle. Think layers of jelly, soft (occasionally sherry soaked) sponge, syrupy fruit and mountains of cream. It's delightfully easy to make and will keep for a few days in the fridge – ensuring bowls of Christmas deliciousness after the main event.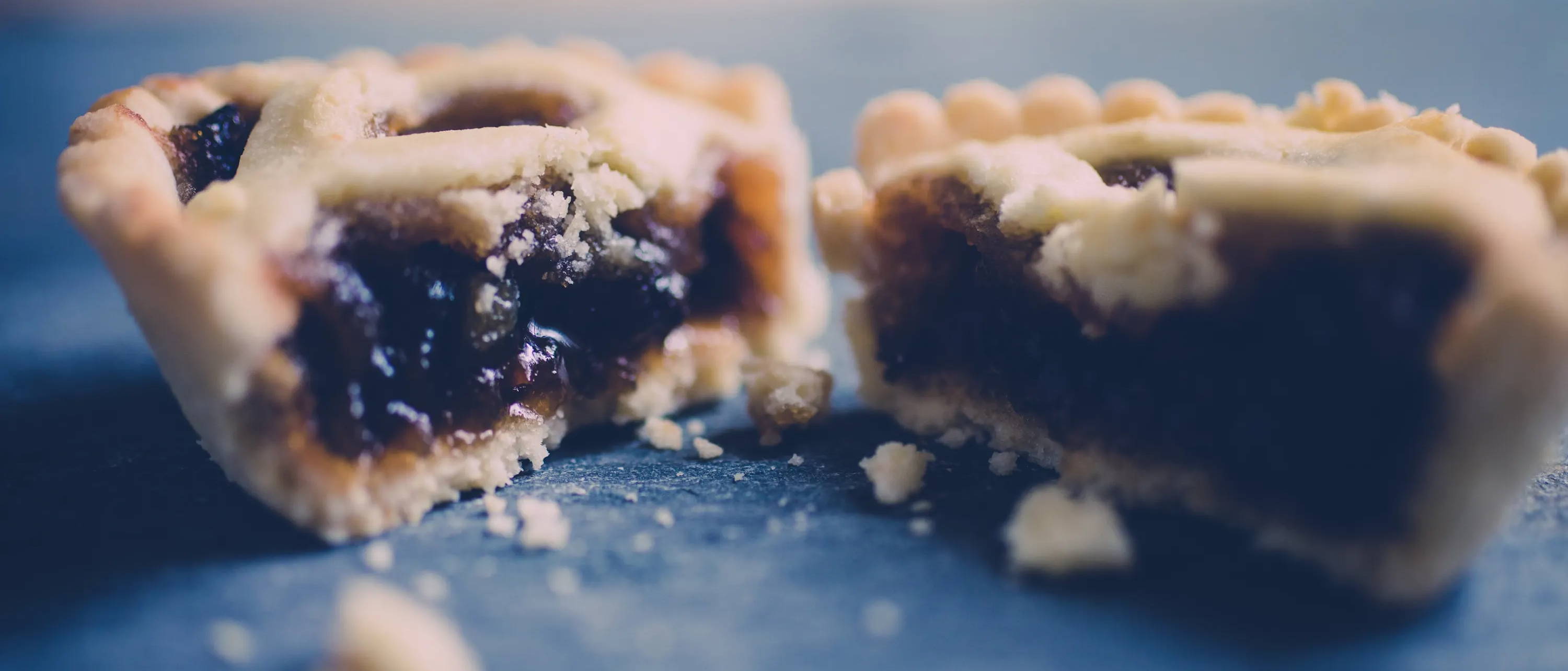 No matter how highly you've laden your plate during the meal, there's always space for a little smackerel later on in the evening – which is one of the benefits of serving up dinner at 3pm!
There's nothing so warming as a cosy cup of hot chocolate in front of a roaring fire with a classic Christmas movie playing out in the background. When it comes to the ultimate cocoa cuppa, the more toppings the better – marshmallows, whipped cream, chocolate shavings, they're all a go! However, if you want to add a cheeky Irish twist into the mix – a dash of Bailey's brings a creamy decadence to your beverage and some festive colour to your cheeks (depending on how generous your pouring hand is).
If you fancy a solid sweet on the side, few things say Christmas like an aromatic mince pie. If you're unfamiliar with this tasty treat you could be forgiven for thinking that more meat is an odd choice for an after-dinner snack, but this particular mince-meat is actually a sugary mix of fruits and nuts encased in buttery golden pastry. We're not sure about the name, but we know it's the perfect encore in any traditionally Irish Christmas dinner.  
---