Bean Feasa in your Irish at Heart Subscription
I am always in awe of our wonderful suppliers, who create the beautiful and thoughtful gifts that you find in your boxes each and every month.
I thought this month, as we celebrate the wisdom of Ireland's creative and wise Bean Feasa, that it would be an excellent opportunity to shine a light on some of the women whose talents and dedication have featured with Irish at Heart over the past few years.
All of the women below have found their special niche in Ireland's creative landscape, and made it truly their own – through skill, innovation, imaginative flair, and of course wisdom. I am thrilled to have worked with all of them, and hope to do so again in the future – as well as the many other Bean Feasa on the Emerald Isle, whose creations are just waiting to be shared with you – my Irish at Heart family.
Foxford Woollen Mills
Agnes Morrogh-Bernard (or Sister Mary Joseph Arsenius as she was known) was a nun of the Religious Sisters of Charity, and founded two convents during her life. At fifty years old she came to the impoverished village of Foxford in Co. Mayo, and was struck with inspiration by the flowing waters of the River Moy.
Using the strong currents to her advantage, she built a woollen mill that could be powered by Foxford's waters – and provide jobs for its people. The business grew into a huge success, employing 220 people over the first 90 years – suppling rugs, woven cloths, and even fabric for the Garda uniforms. She welcomed people from all walks of life to take part in the working of the mill and showed no sectarian discrimination – allowing Catholics and Protestants to work side by side in harmony.
After her death in 1932, Foxford Woollen Mills continue to flourish on the vision that she had founded it upon, and today it still remains as a functioning mill and a luxurious lifestyle brand.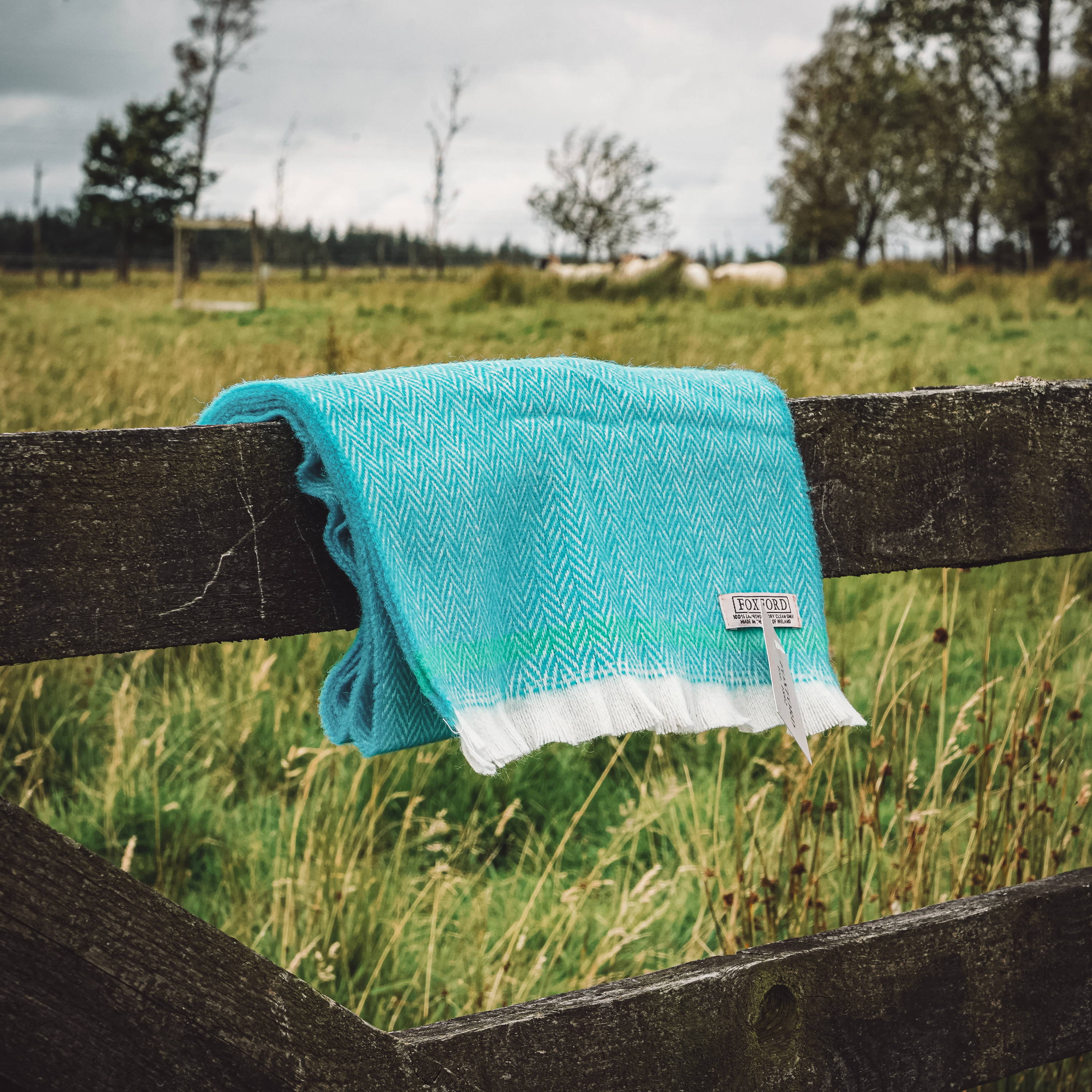 The Irish Chandler
In search of an eco-friendly scent to fragrance her home, without compromising on quality – Lisa founded what is now known as The Irish Chandler in Lisdoonvarna.
Her cotton core wicks, and natural soy wax creations are infused with a creative collection of scents – each inspired by a particular moment or experience – ranging from Arran Sunset and Irish Meadow, to Apple Pie and even a special "Bridesmaid" fragrance.
Each promises its own uniquely exceptional ambience when lit, and the Slainte Candle – with its alluring traces of Irish Whiskey Cream – was the perfect addition to our Slainte box last year. Although if you want to discover what other heavenly scents Lisa has been working on, you can pop in our special code 'IRISHCHANDLER15' for a lovely 15% off!
Although the business has grown at an extraordinary rate since it first began, now producing hundreds of candles each week, Lisa has maintained the personal touch – lovingly pouring each and every creation into a hand labelled jar, for people to enjoy all over Ireland and beyond.
Literary Lip Balms
A beguiling scent has the power to transport you to a different world, and in the case of Literary Lip Balms – these worlds are conjured from the corners of the most extraordinary imaginations.
Founder and Dubliner Vy asked herself the question in 2015: "What would a fairy-tale smell like?", which embarked her upon on a journey down the proverbial rabbit hole, with a wonderful business idea at the end of it.
Turns out each story starts with its very own 'scent-ence', and ranges from the smoky seductive orange of the Orient Express, to the sweet and zingy excitement of Dumbledore's favourite sweetie – the sherbet lemon. Each lip balm has its own whimsical connection to the pages of our favourite books, as you wear its words on your lips each and every time you apply it.
The mysterious and enchantingly beautiful fusion of rose, bergamot, and bay, which breathes life into The Picture of Dorian Bay lip balm was part of our An Irish Turn of Phrase box back in November last year, and you can still purchase it as a one off from our shop. However, if you want to browse the Literary Lip Balms library, be sure to use our special IRISHATHEART code for a 10% discount on all skincare.
Siobhain Steele Ceramics
Siobhain Steele's Ceramics workshop in Co. Cork has expanded from a humble storage shed to a thriving ceramics studio, which produces a simple yet beautiful range of creations.
Inspired by the tranquil Irish beauty that surrounds her, Siobhain loving handcrafts all of the pieces. From moulding the clay to varnishing the finished design, she adds a new layer of expertise with each handling, in a process that spans over two weeks for each individual item.
A gorgeous example of Siobhain's creative craftmanship was included in our Airmid box, in the form of a stunning ceramic message bottle waiting to be filled with all of your hopes, with the Irish sentiment "Tóg go bog é" (take it easy) etched on to the surface.
Each month we choose a wonderful theme to base our product curation around.
Whether it's Dublin, The Wild Atlantic Way or St Patrick's Day, we strive for every box to have something wonderful to wear, a gift to share, a treat to eat and a treasure to live in your home.
Every month we work with fantastic small Irish businesses; so no matter where you are in the world, you're helping Ireland!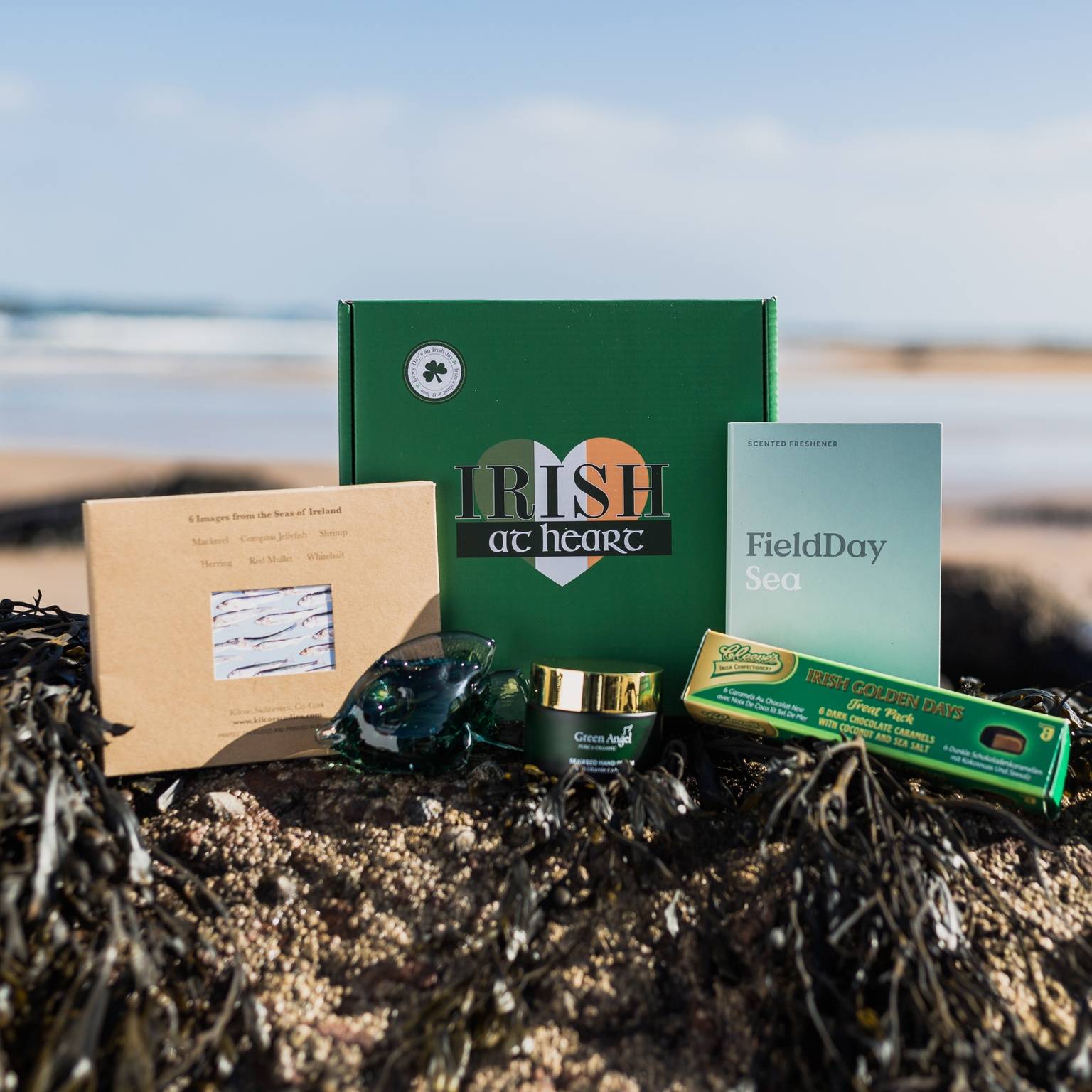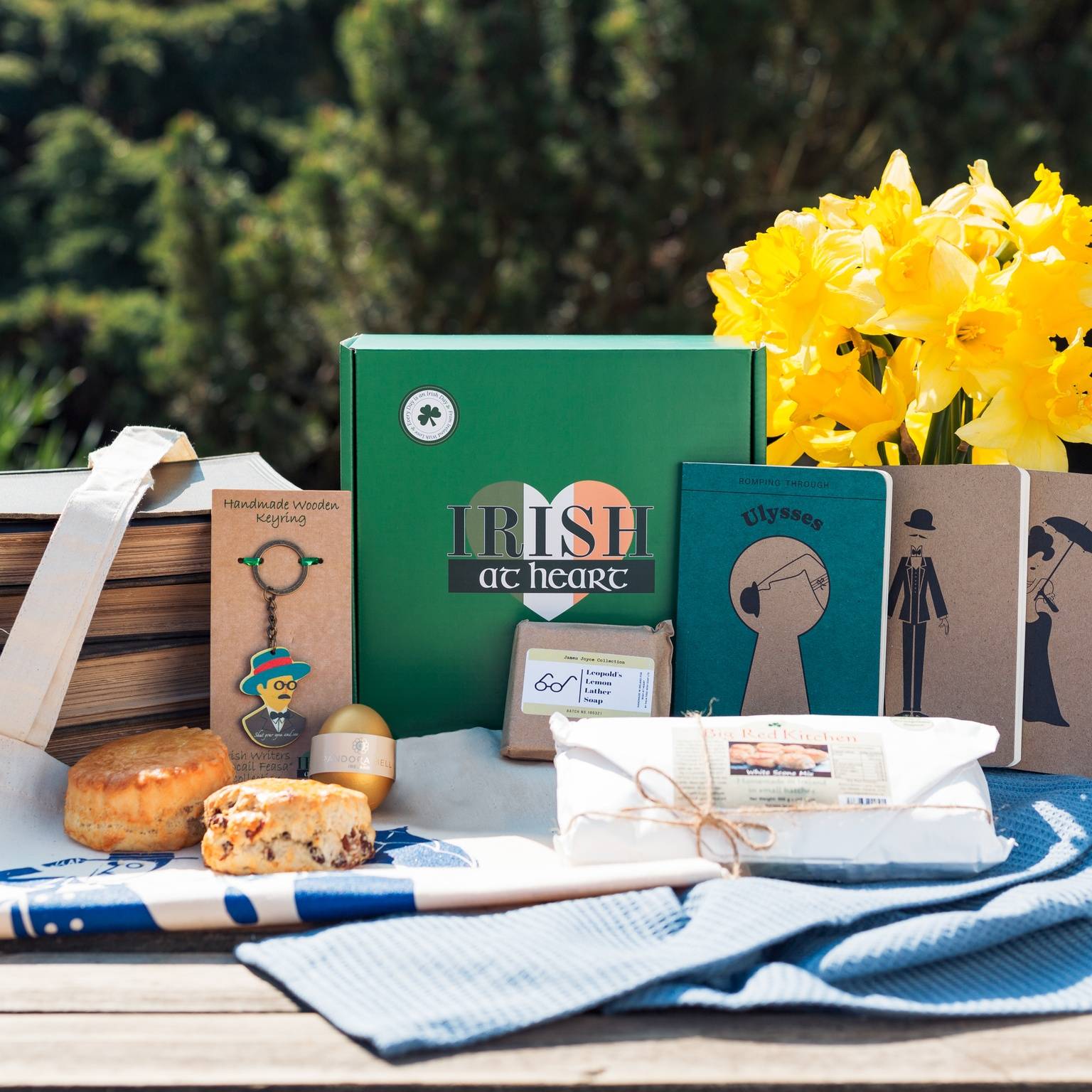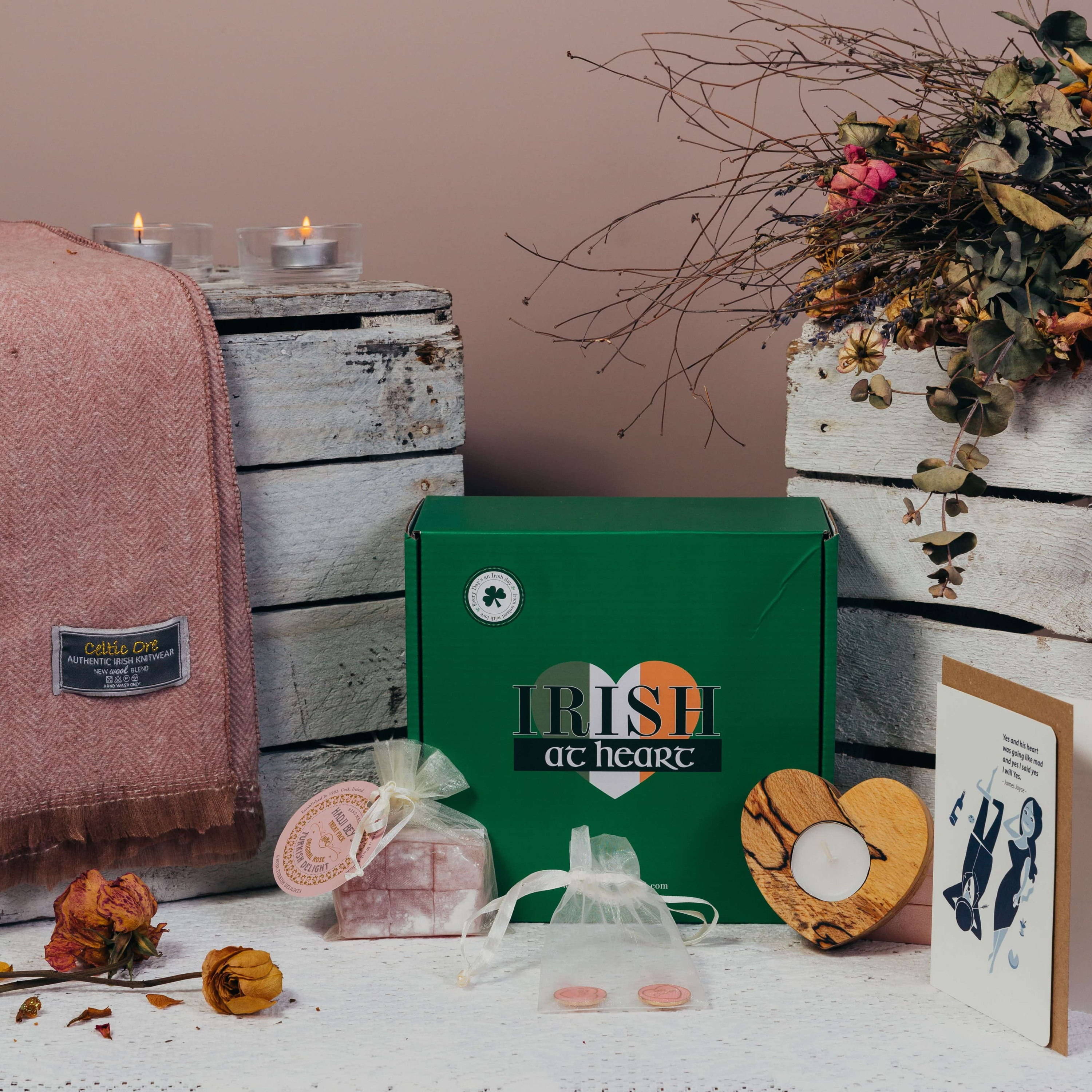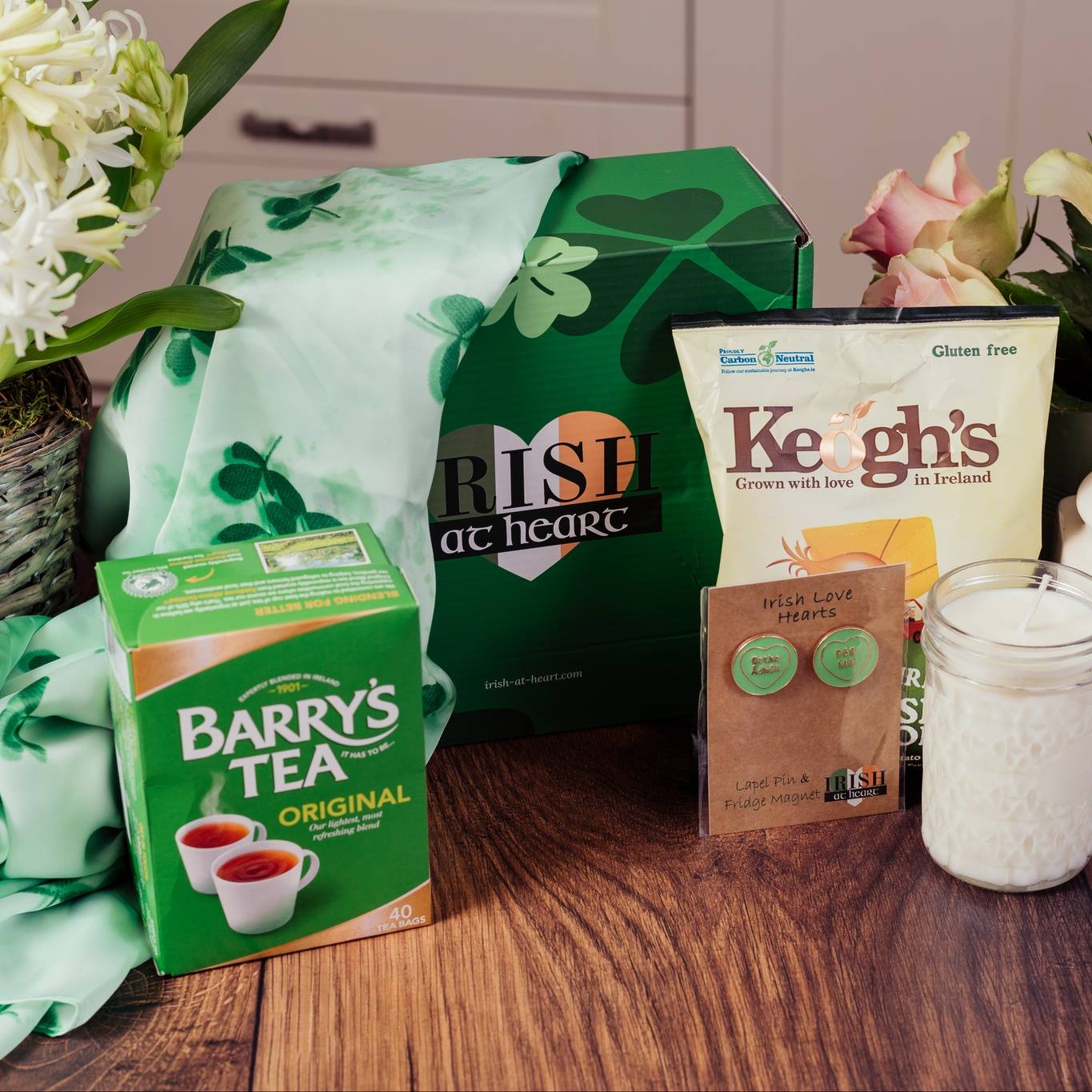 12 Quail Farm
Originally from Estonia, mother and daughter duo Tiina and Liisa have been in business together in Co. Leitrim's village of Fenagh since 2014.
As the name would suggest, the company was originally built on farming and supplying quails eggs, but the two have branched out into creating unique soaps – both in style and production method.
Their products are made with donkey milk, which was apparently the bathing liquid of choice for Cleopatra over two thousand years ago – so we are tapping into some seriously ancient Bean Feasa skincare wisdom here… On top of that, the soups are crafted into the most beautiful shapes and figures, ranging from exotic safari animals, to mythical Irish faeries.
Our St Patrick's Day box in 2020 contained a particularly clever creation from 12 Quail Farm, which was three tiny little hearts in the colours of the Irish flag, which fit together to produce the loveliest little shamrock!
However, if you want to peruse what else is on offer, Irish at Heart fans can get a nifty little 15% discount by using the code 'wise' at checkout.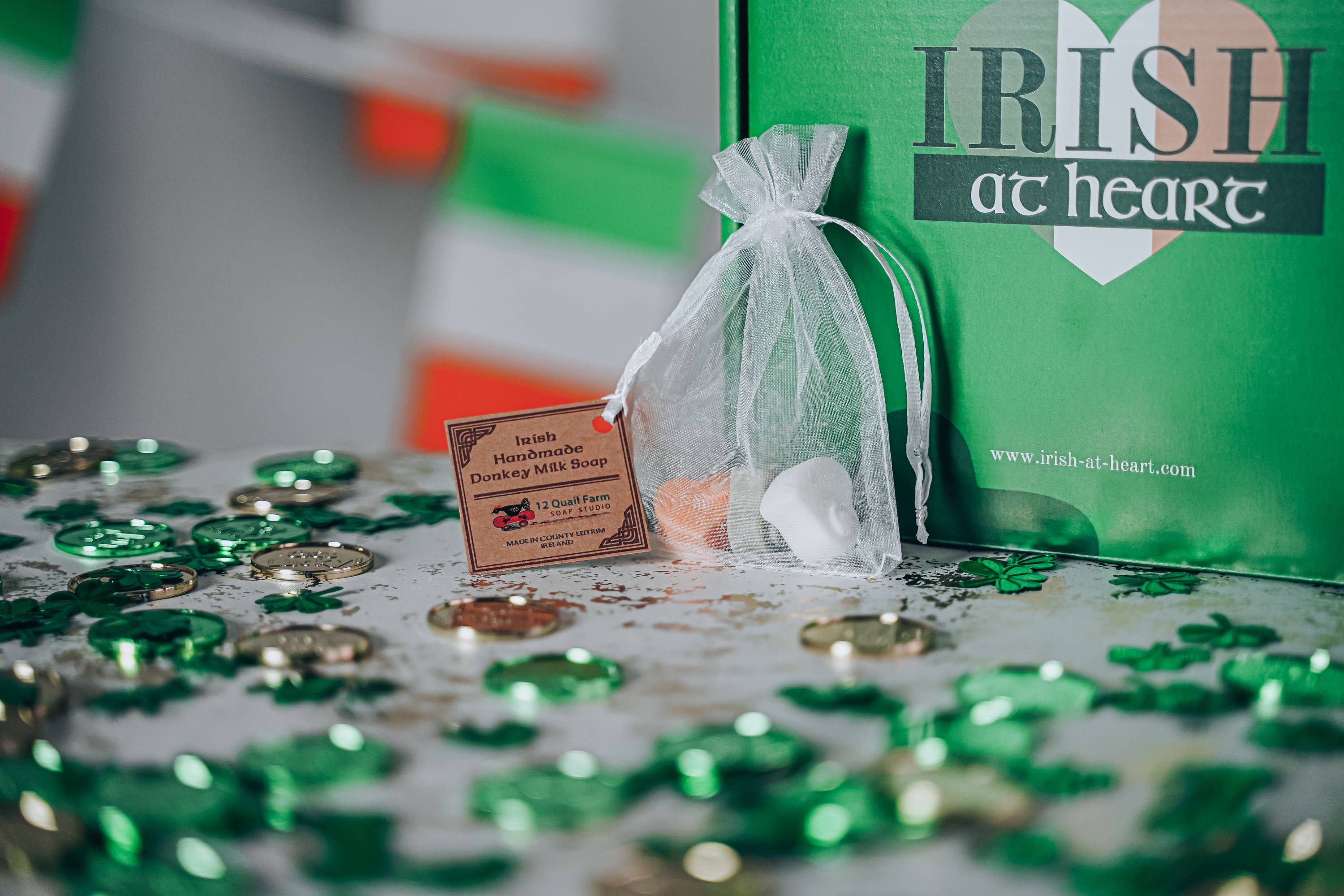 Big Red Kitchen
A Bean Feasa's place is NEVER in the kitchen… unless that's where she chooses to be, and uses her innate wisdom to concoct some of the most delicious tastes on earth!
That is the case for Nicola Smyth, who was filled with a passion for jam making from her early childhood – and turned into her very own business with Big Red Kitchen. She uses fresh Irish ingredients to make the most sumptuous preserves which are bursting with juicy flavours. She has even expanded her offering to including baking mixes, which can be prepared at home for an easy and delicious freshly baked treat.
One of these was a tasty inclusion in this year's Bloomsday Box, and the resulting scrumptious white scones are the perfect platform on which to smear Big Red Kitchen's jams, especially when they are still warm from the oven!
Which of the above Bean Feasa businesses is your favourite? If you were to be inspired to undertake a creative venture of your own, which direction would you take? Let me know in the comments below!
Subscribe to Irish at Heart
If you enjoyed reading this blog post, I'm sure you will love Irish at Heart subscription box! Each beautifully curated themed box is full of unique, handmade gifts from Ireland's finest creative talents and small independent businesses. Subscribe with the code below and receive your very own Irish gift box!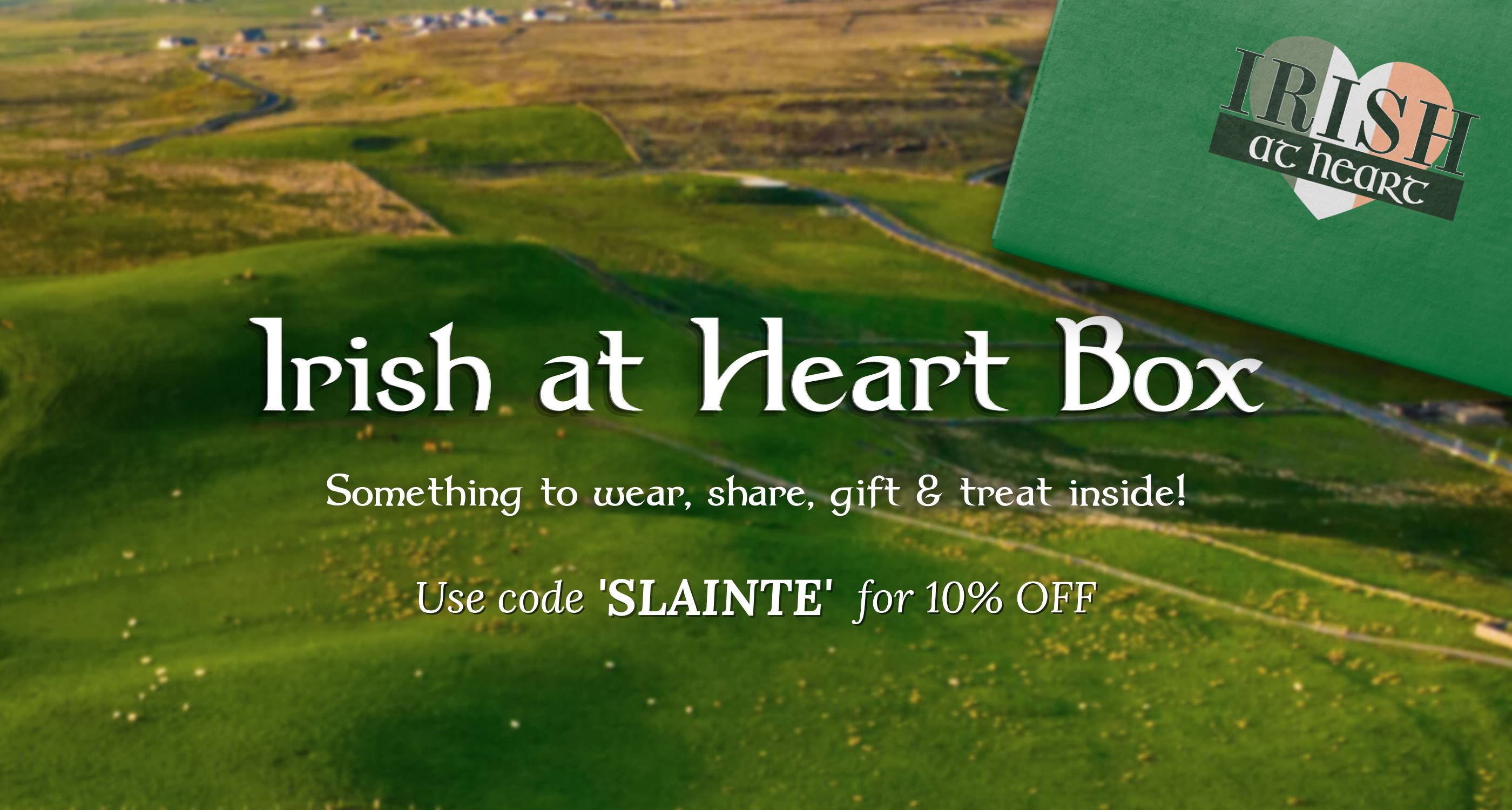 ---