Celtic Crafts for Christmas Time
As we look to new beginnings in the New Year, it's always good to go into our fresh start with a clear mind and a sense of accomplishment. With many of us spending so much time at home these days, it's not uncommon to have pent up energy, which can have negative effects on our mood and mind.
Whether you're looking for a way to occupy your time or want to produce a product to be proud of – home crafts can always provide a wholesome outlet, either as a family activity or in a moment of solo solace.  
Below I've detailed some fun ways to put your energy to good use in the lead up to Christmas and beyond, and create something a little bit special out of this strange situation (with an Irish influence of course).
Table Settings
If you'd like to add a touch of the Emerald Isle to your Christmas feast, you can always include a little Irish-themed place setting for each person. This can be a simple as shamrock shaped name cards or, if you want to welcome the Faerie Folk to your table, a few pots of gold might just do the trick!
If you're short on time you can create the effect pretty promptly with some ramekins and gold wrapped chocolates (bonus if you can get your hands on a bag of chocolate coins!). However, if you're in a creative mood you can get a bit more crafty with some glitter and terracotta pots…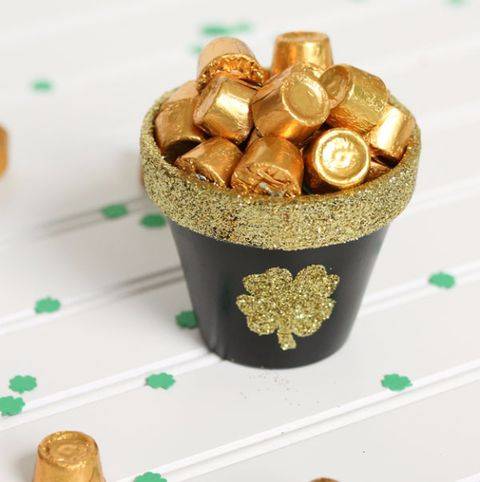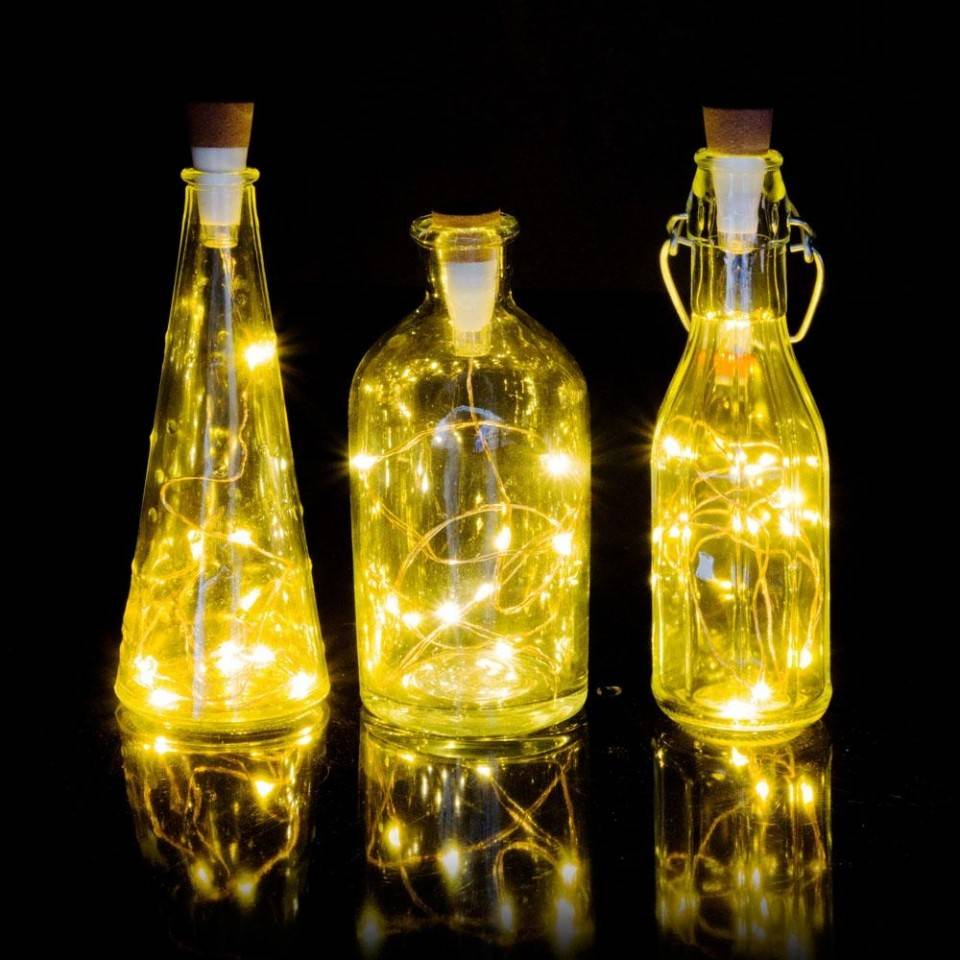 For a decoration that's a bit more central, I love the look of piling fairy lights inside empty bottles of your favourite Irish tipple. It's a brilliantly no fuss way to create that twinkly Christmas atmosphere during dinner, and the preparation of emptying the bottles is always a pleasant task for December!
Tree Decorations
The Christmas trees have been popping up far earlier than usual in the windows of Ireland – and sure what's wrong with a little bit of extra festive cheer after the year we've all had.
Since we're stuck indoors a little more than customary this season, it's a perfect time to make some memorable decorations that will brighten our branches for years to come.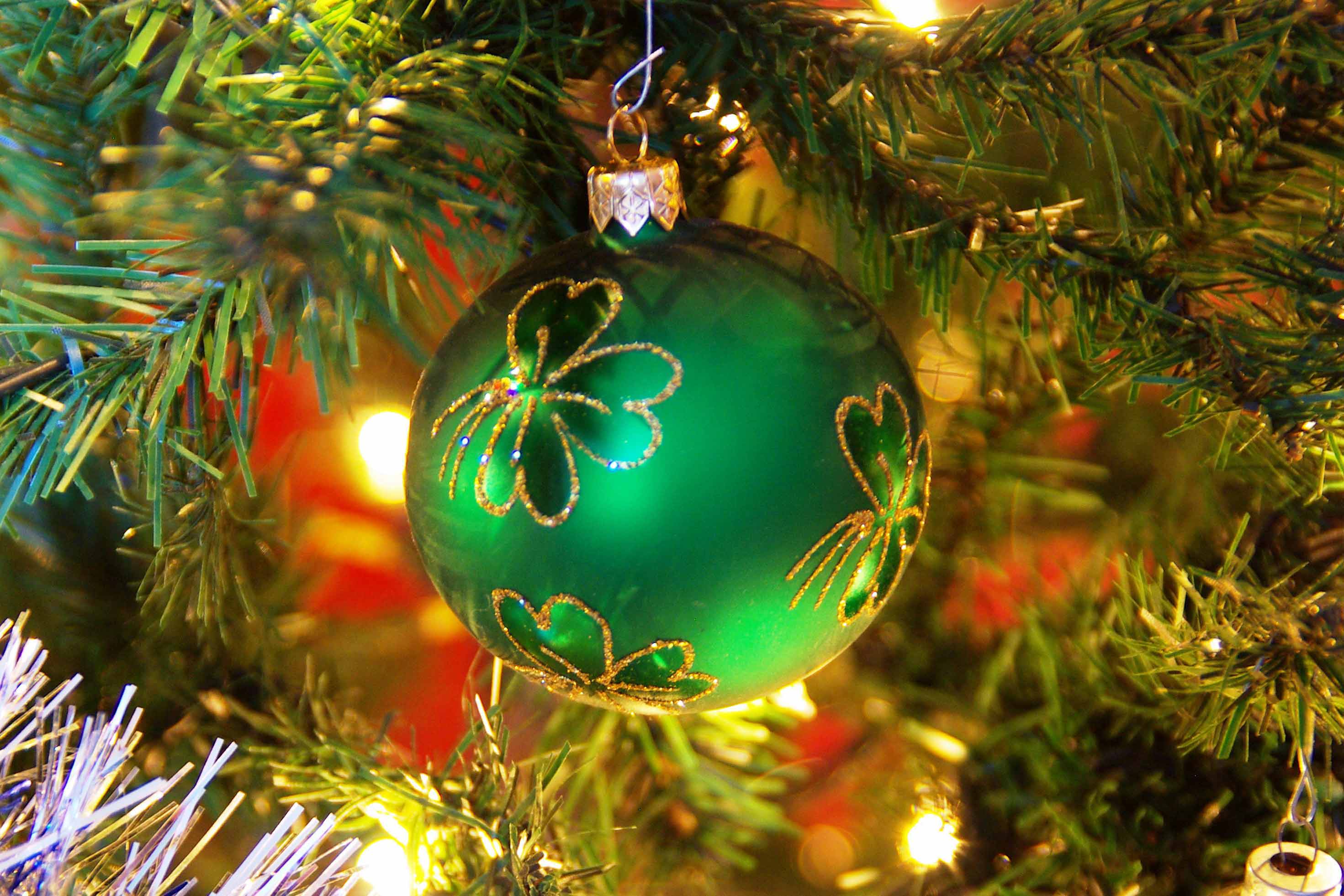 An easy entry into the world of Irish tree decorating would be to simply purchase some traditional green baubles and get decorating with the materials that you have to hand. Some sticky diamantes can form a dazzling clover, while a steady hand could work an elegant design of Celtic knots with a glass pen.
You can even step it up a notch and purchase a set of fillable plastic baubles, which can be stuffed with Irish chocolates and other such goodies after they've been decorated. Although I'd recommend popping these on the upper branches if you want them to last past the week…
Sweet Treats
Since we're on the subject of sightly snacks – it's worth noting that there's no better place to get crafty than in the kitchen.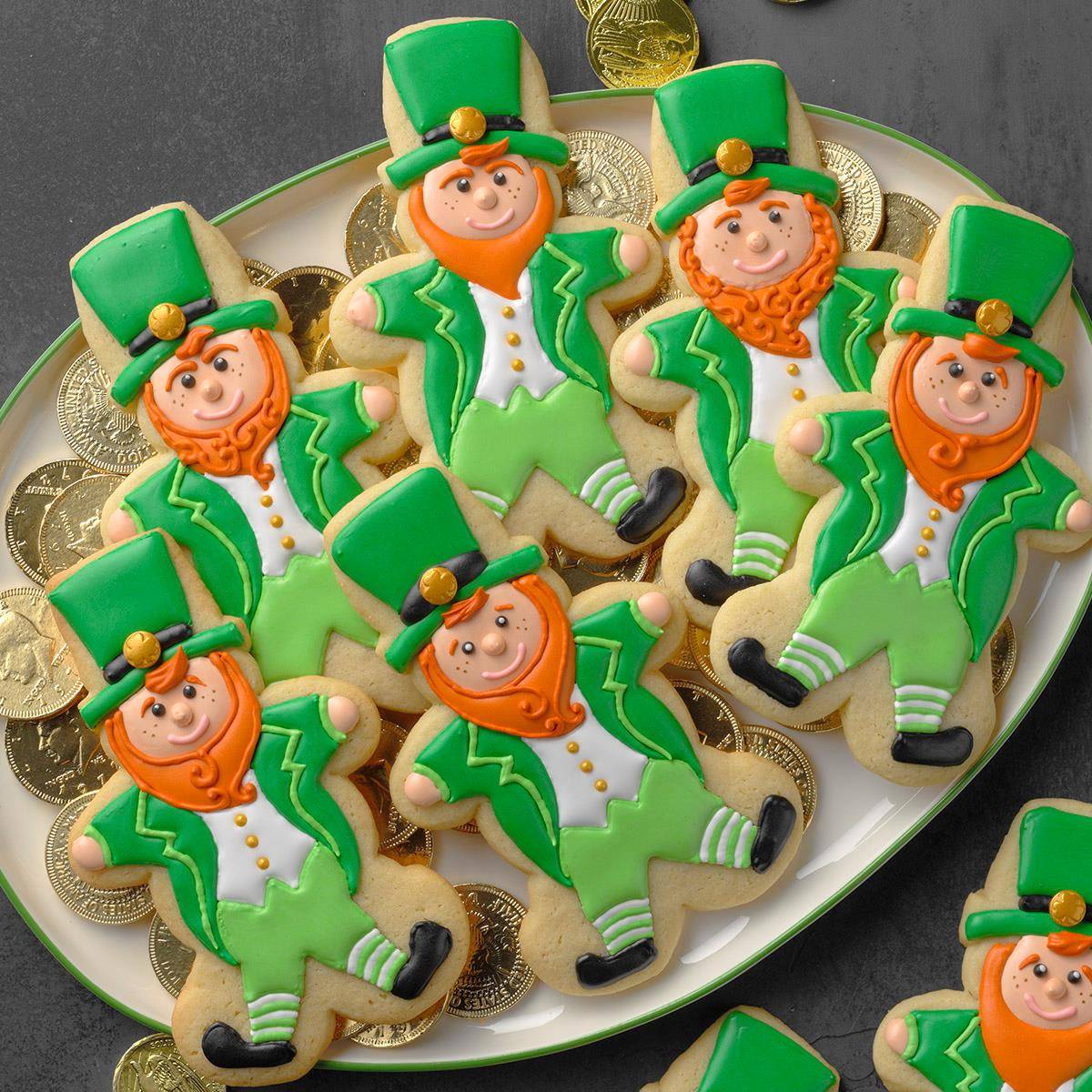 Picture Credits - TasteofHome.com 
Baking is an excellent way to distract kids during the holidays, as not only can you teach them a valuable life skill, but the imminent promise of sugar tends to be a helpful incentive for good behaviour.
For an Irish twist on your classic Christmas treats you could put those Gingerbread Men and Santa shaped cookie cutters to good use, decorating your nibbles as festive Leprechauns.
If you're looking for more grown-up delicacy you could always try your hand at making some deliciously decadent Bailey's chocolate truffles.
These creamy candies are ideal for popping into a sharing bowl for when guests come over and would look especially charming wrapped up in tissue paper for a homemade gift. That is if you want to share them – after sampling your creation you may just decide against it!
Celtic Cross-Stitching
If you're looking for a more dedicated period of crafting, cross-stitching could be the perfect past-time! Framed cross-stitched creations are commonplace in many an Irish household and can bring a personal touch to your home décor.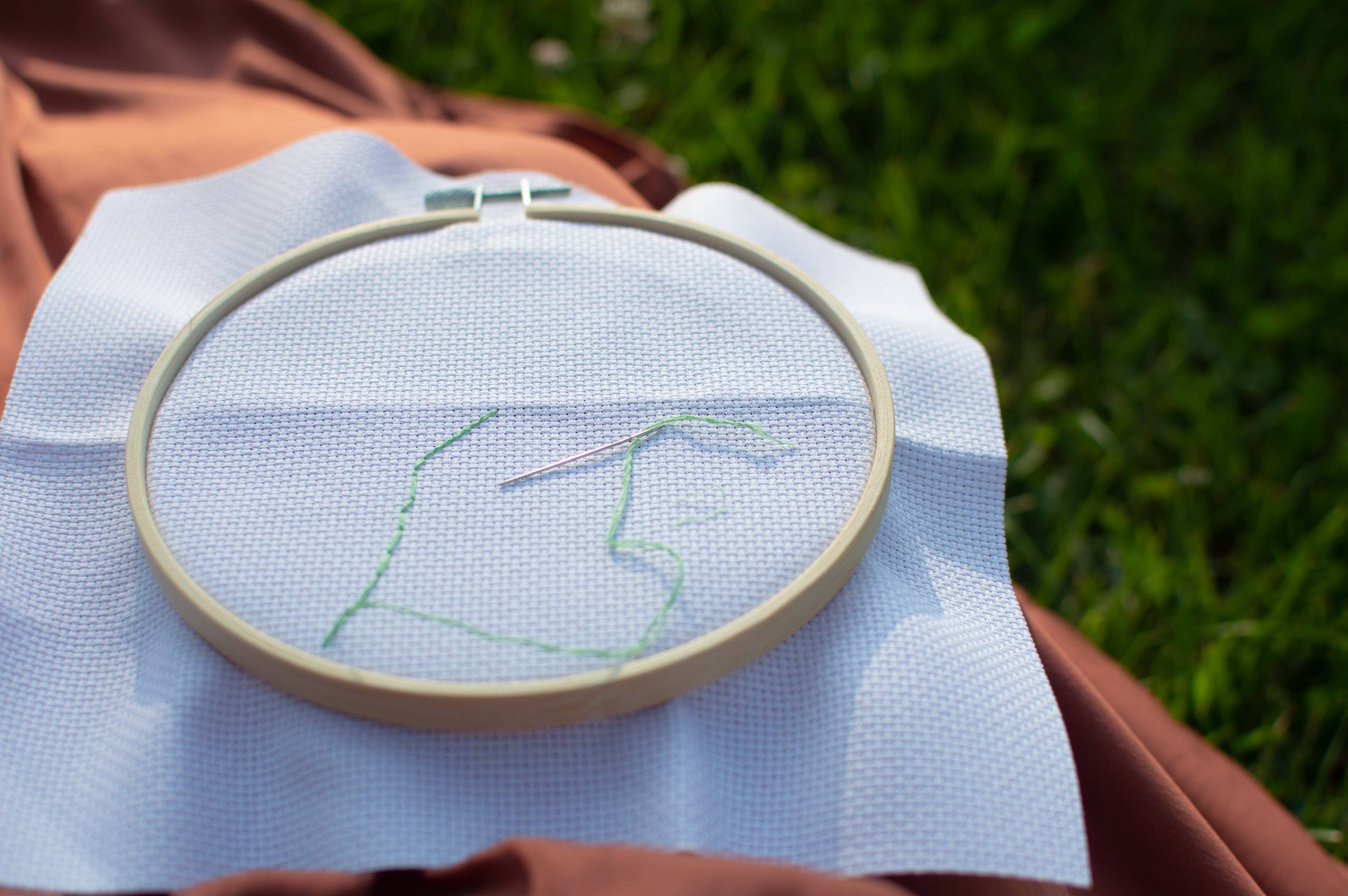 You can find plenty of Ireland specific patterns online or at specialised craft shops, and it's a great way to channel your energy into a productive output. The task itself can be quite repetitive which might not be your thing, but it can also be very therapeutic for the busy mind.
If you have a bit of free time on your hands you can perhaps think of working on some homemade Christmas presents such as tree decorations or bookmarks, or perhaps if your leisure hours are a little more limited you might want to start something that you can put down and pick up at a moment's notice.
Since we're on the topic of wellness and healing this month, why not use these peaceful moments to stitch something just for yourself – maybe an Irish proverb or sentimental saying. Then when it's ready you can get it framed and hang it in your home, as a reminder of what you can achieve when you give yourself a little bit of mental space.
Mindful Mandalas
If you enjoy the concept of a little bit of art therapy but are looking for something more spiritual – then why not attempt a mandala with a Celtic twist.
The world 'mandala' literally means 'circle' when translated from Sanskrit, and it holds special significance in many ancient cultures and religions, including Hinduism and Buddhism. In its most basic definition a Mandala, with the continuity of its outline and geometric alignments, is a symbol for the infinity of the universe and our connection within it.
Carl Jung theorised that in the creation of Mandalas we allow ourselves to express our subconscious, and connect more fully with our own minds, as the symmetrical nature of them helps to stabilise and organise our inner thoughts.
While that all sounds very ethereal and complex – the process itself is fairly straightforward. Arm yourself with your favourite colours and materials and see what you come up with.
The meditative values of this exercise are two-fold, with the drawing and colouring having therapeutic principles, while the end result provides an aesthetic focus for relaxing your mind and soul.
Once you've got the hang of it try incorporated some Celtic designs and Irish symbols, to simultaneously soothe your soul and express your Irish heart.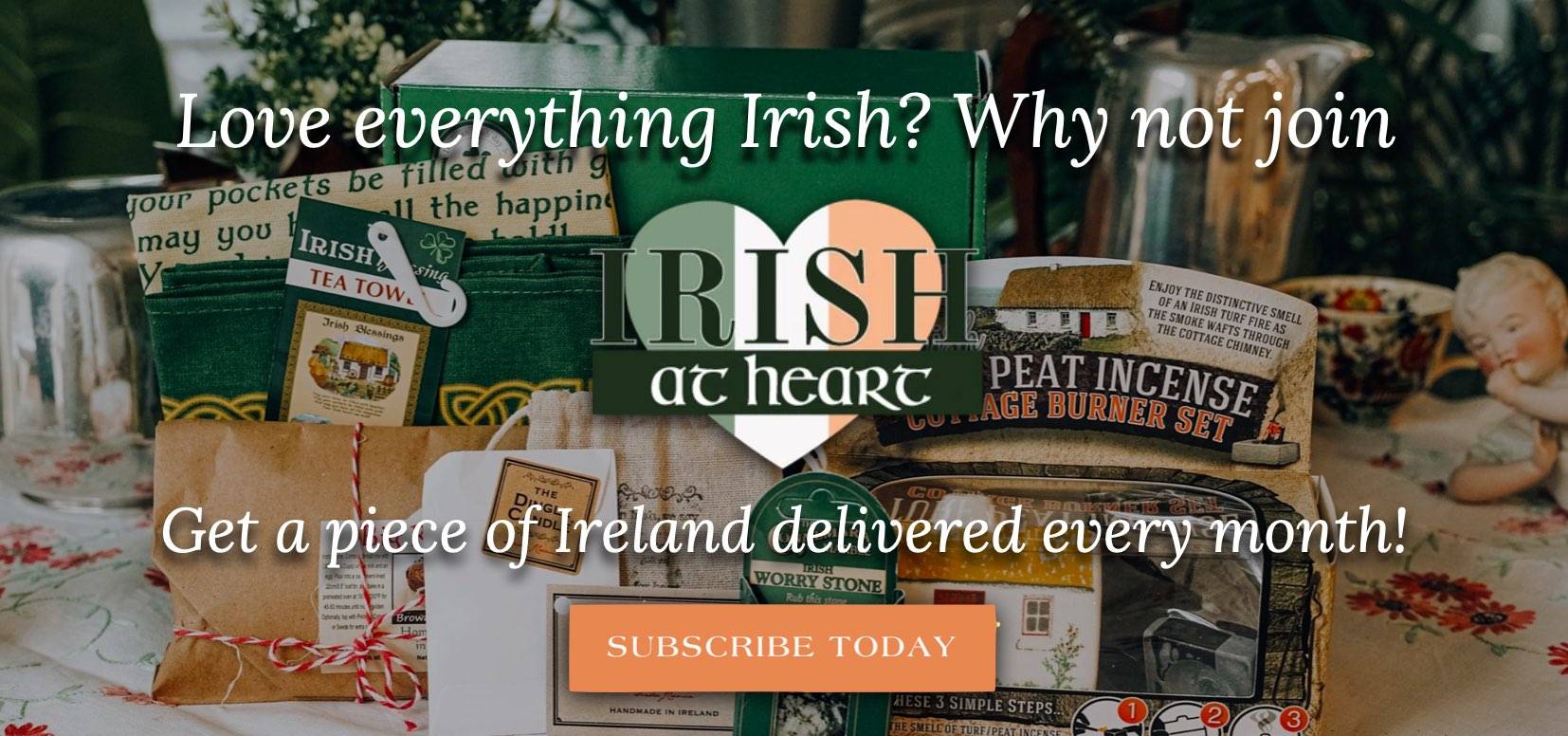 ---
4 comments
---
---