I hope all of you have had the merriest of Christmases so far, and that your joy and festivities will carry well into the new year! I wonder how many of you managed to keep your Irish at Heart Winter Wonderland wrapped up under the tree until Christmas morning, and how many simply couldn't wait? I know which category I would be in…
This years' December box had all you needed to bring Ireland to your very own home this Christmas, and I hope the selection brought as much joy to you as choosing it did for me. I deliberately chose a mix of items: some that would form special moments with your loved ones, and that would become part of your memories of a 2021 Christmas; and others that will stand the test of time – reappearing year after year, as little family treasures.
If you didn't quite manage to secure a special little gift from Ireland this Christmas, there are still a few left in our online shop – and plenty of cold days ahead in which to enjoy this little slice of Winter Wonderland.
A Handmade Snowflake
The more eagle eyed among you will have spotted something familiar when you unpacked your Irish Winter Wonderland, as you can see this very decoration hanging on my own tree in all of our Christmas photos this year!
I love the thought that all across the world, our Irish at Heart family have the same decoration glinting amongst the branches of our Christmas trees – a reminder that no matter how far away we are, we're all Irish at Heart!
Each exquisite little glass snowflake is as unique as the real thing; lovingly crafted and handblown by Jerpoint Glass in County Kilkenny so that no two are exactly alike. The question is, have you already displayed yours in your home? Or did you gift it to someone special on the 25th?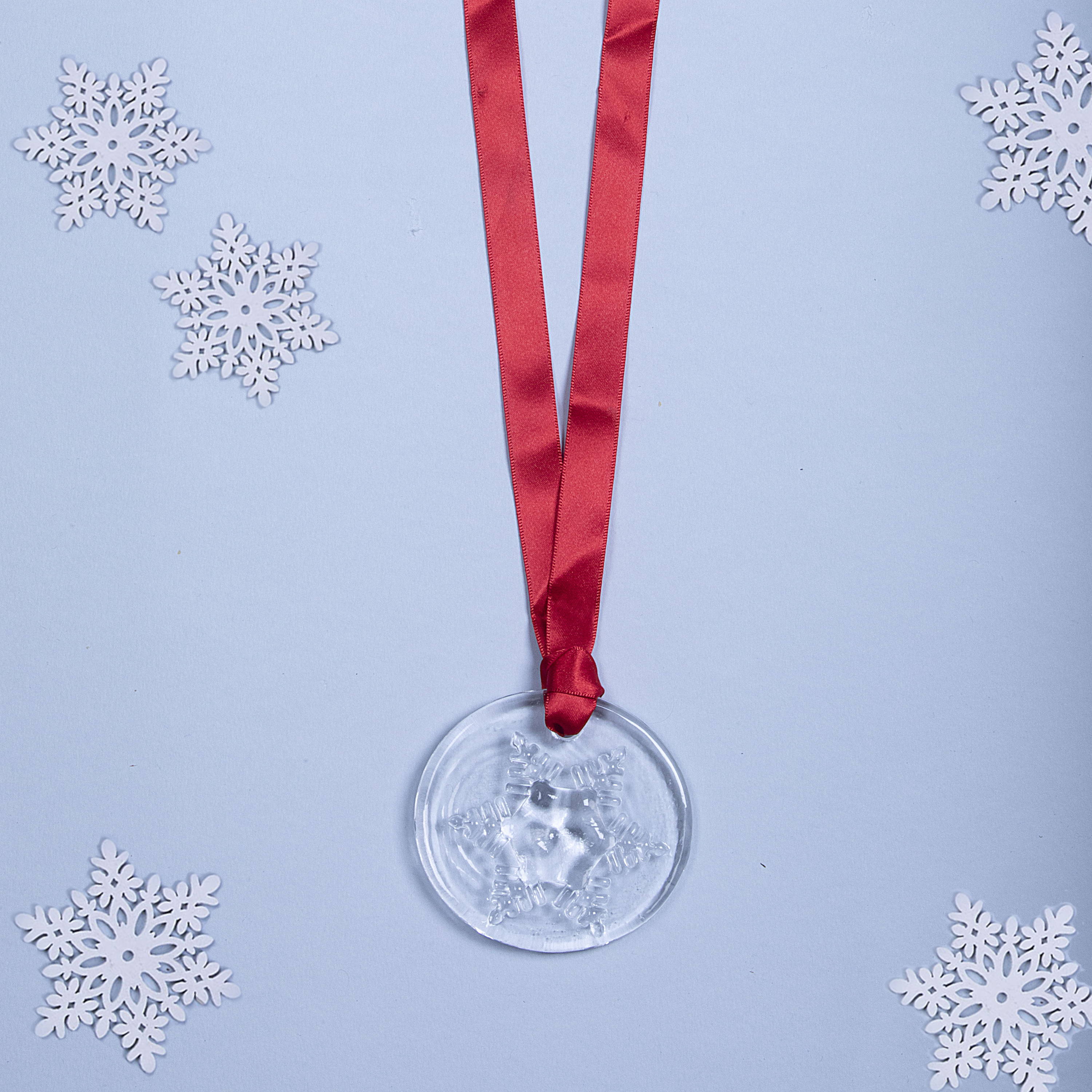 Ritchie's Famous Milky Moos
Any of you who grew up on the Emerald Isle will recall these deliciously creamy peppermint sweeties from childhood, and I'm delighted to announce that these retro candies are just as tasty as you remember.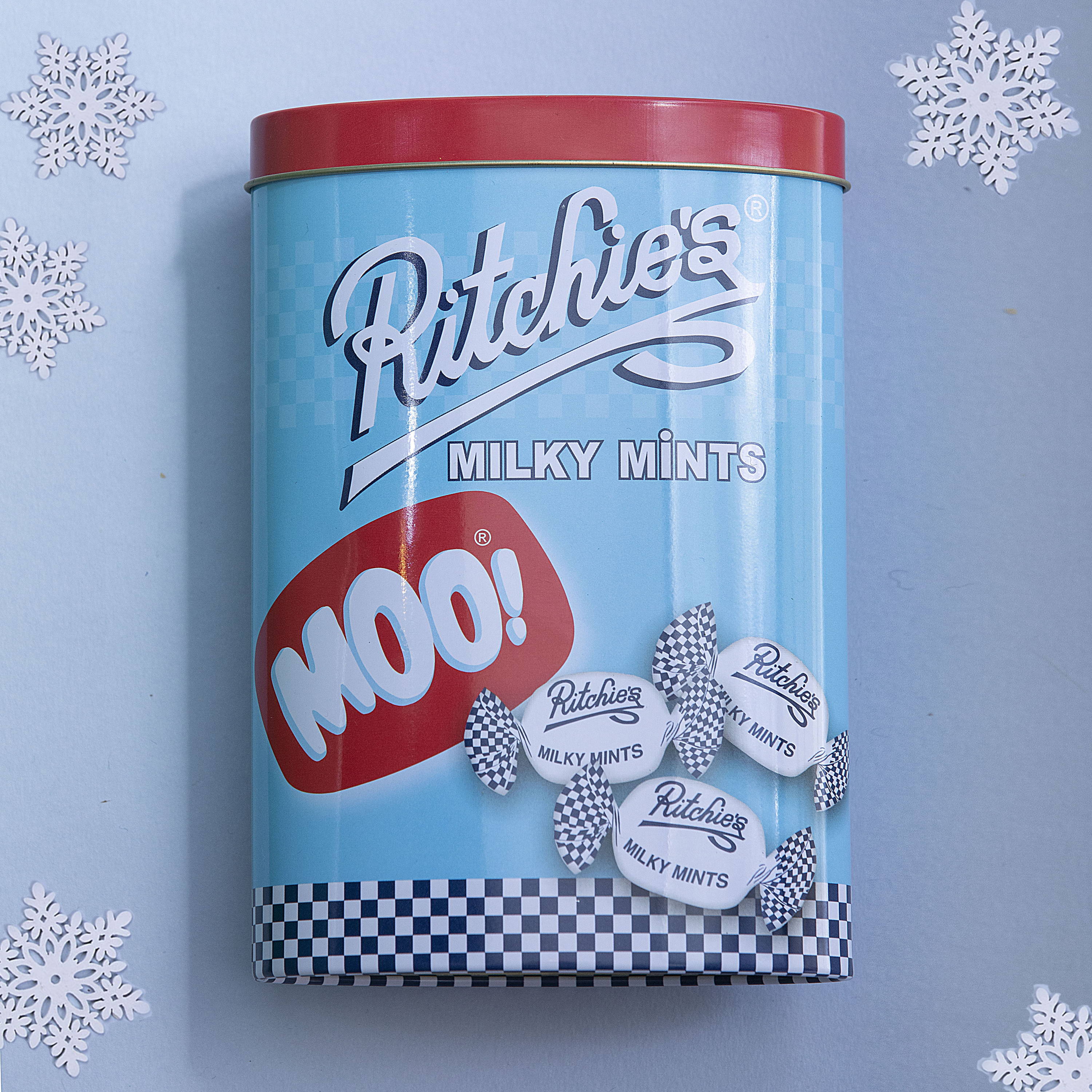 If you haven't yet tried them, you're in for an absolute treat; they're basically Ireland's answer to a candy cane but, as the saying goes, with enough milk you can almost hear it MOO!
H.G started creating these milky, minty miracles in Dublin in 1936, and his family have been sharing the joy with the children (and adults!) of Ireland ever since. You can keep the magic long after the last wrapper has been unfolded, with this charmingly old-fashioned tin – perfect for stashing away your bits and bobs. Just remind yourself that the sweeties are gone, to avoid any disappointment when you open the lid to find sewing needles and buttons!
While it reflects the icy hue of the sky behind the Wicklow Mountains on a chilly winter's morning, this wonderfully luxurious throw is anything but cold - bringing you all the warmth of a roaring peat fire.
It's the perfect way to wrap yourself up in Christmas spirit as you snuggle up on the couch with a good book, a festive film, or even a tasty tipple. Of course, the calm blue colours can be enjoyed all year round, but I always think it's especially nice to get a new blanket at Christmas time – so it can forever be imbued with those snug and cosy memories, bringing you a little bit of cheer each time you wrap it around yourself.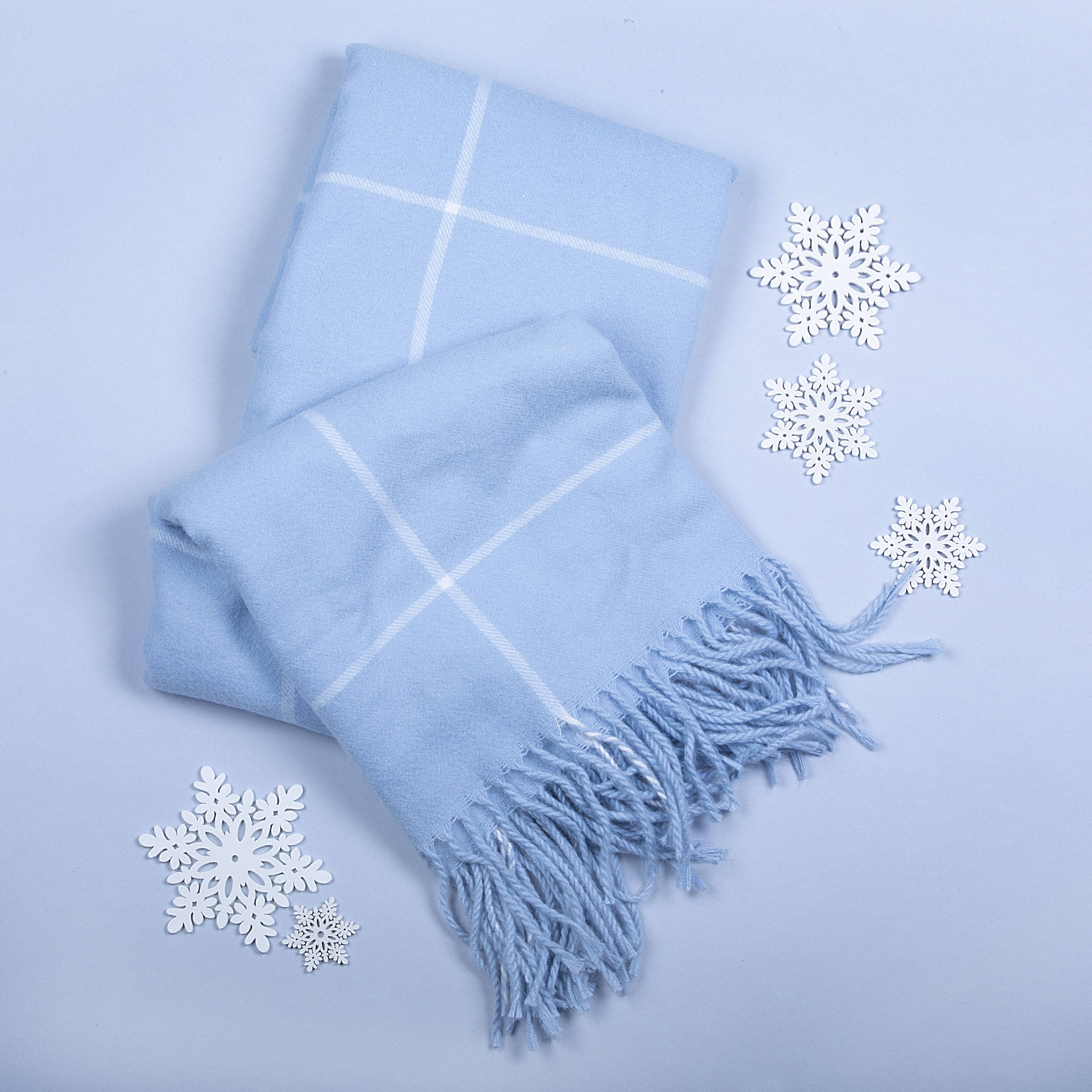 Each month we choose a wonderful theme to base our product curation around.
Whether it's Dublin, The Wild Atlantic Way or St Patrick's Day, we strive for every box to have something wonderful to wear, a gift to share, a treat to eat and a treasure to live in your home.
Every month we work with fantastic small Irish businesses; so no matter where you are in the world, you're helping Ireland!
Milk & Dark Hot Chocolate Flakes
Whatever you THINK you know about hot chocolate, forget it, because these delicate little flakes from Co. Cork might just deliver the best hot chocolate not just in Ireland, but the whole world.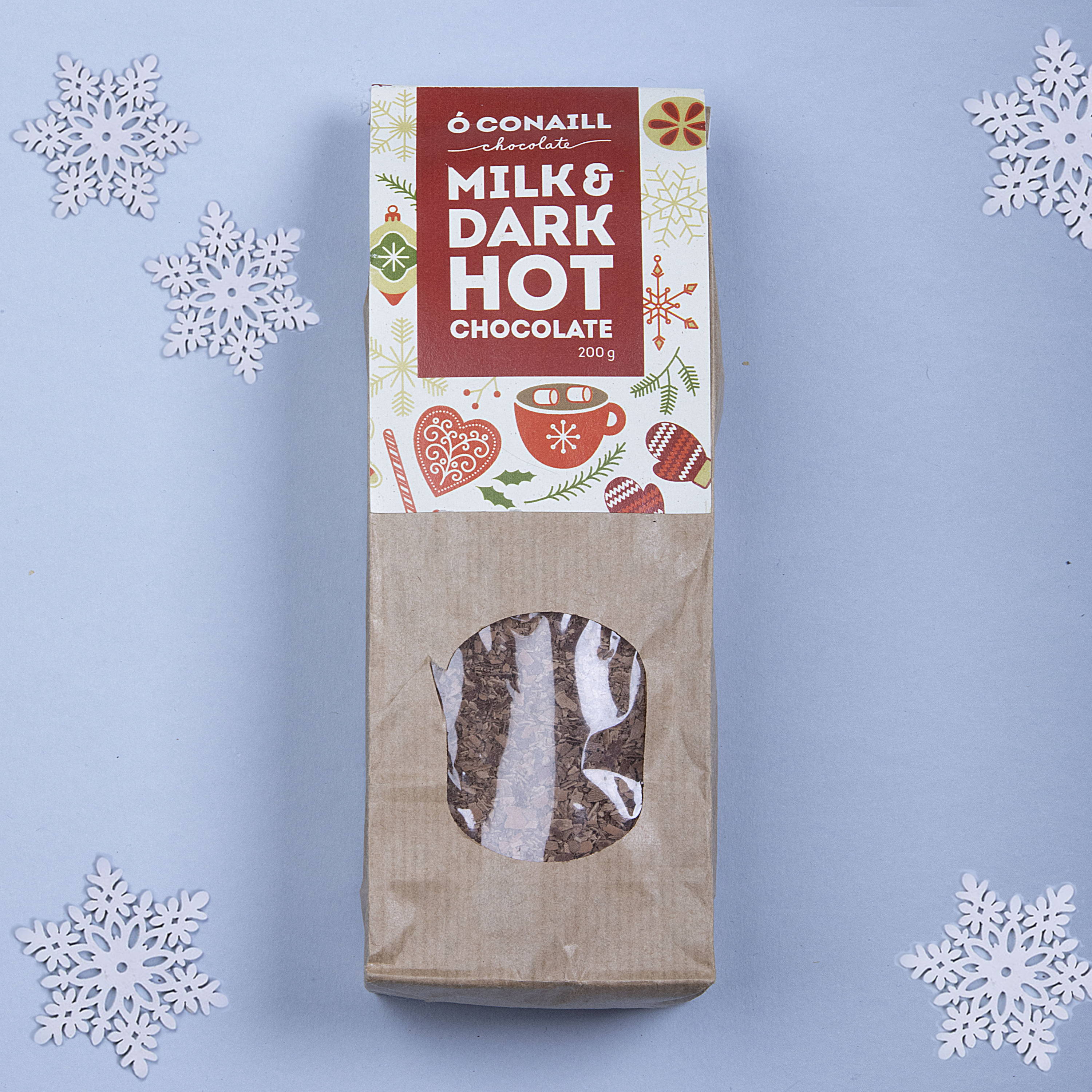 There's a succulently sweet selection to choose from, but we plumped for the milk & dark chocolate combo to give you the richest, most chocolatey experience that Ó Conaill's has to offer. If you happened to be wandering down French Church Street in Cork City you could pop in for one of their famed velvety concoctions in person, but having these flakes to hand is the very best next thing.
It is the most luxurious hot chocolate that have ever sampled, and it's the perfect potion for a cosy evening in after being out in the bitingly cold December air. I thoroughly recommend topping with a few fluffy marshmallows and a generous dollop of whipped cream to complete the experience, and don't forget to save a few flakes for sprinkling on top!
I am delighted to wrap up your holiday hamper with this gorgeous print of joyful little snow bunnies, as they embark in a famously freezing Irish tradition of yore!
Every Christmas morning, the hardiest of Dubliners perch their toes upon Sandy Cove's Forty Foot - before leaping into the spine-tinglingly cold Irish sea. The atmosphere is one of fun and comradery, as strangers shriek and yelp together in this bonding experience – and the sheer joy can be heard for miles along the beach – like the pealing bells of Christmas morning.
These playful bunnies feature in much of the work that leaves Bex Shelford's studio in Dun Laogharie, and we're thrilled that she used them to recreate this iconic Irish Christmas scene – which can now be shared with all of our Irish at Heart family.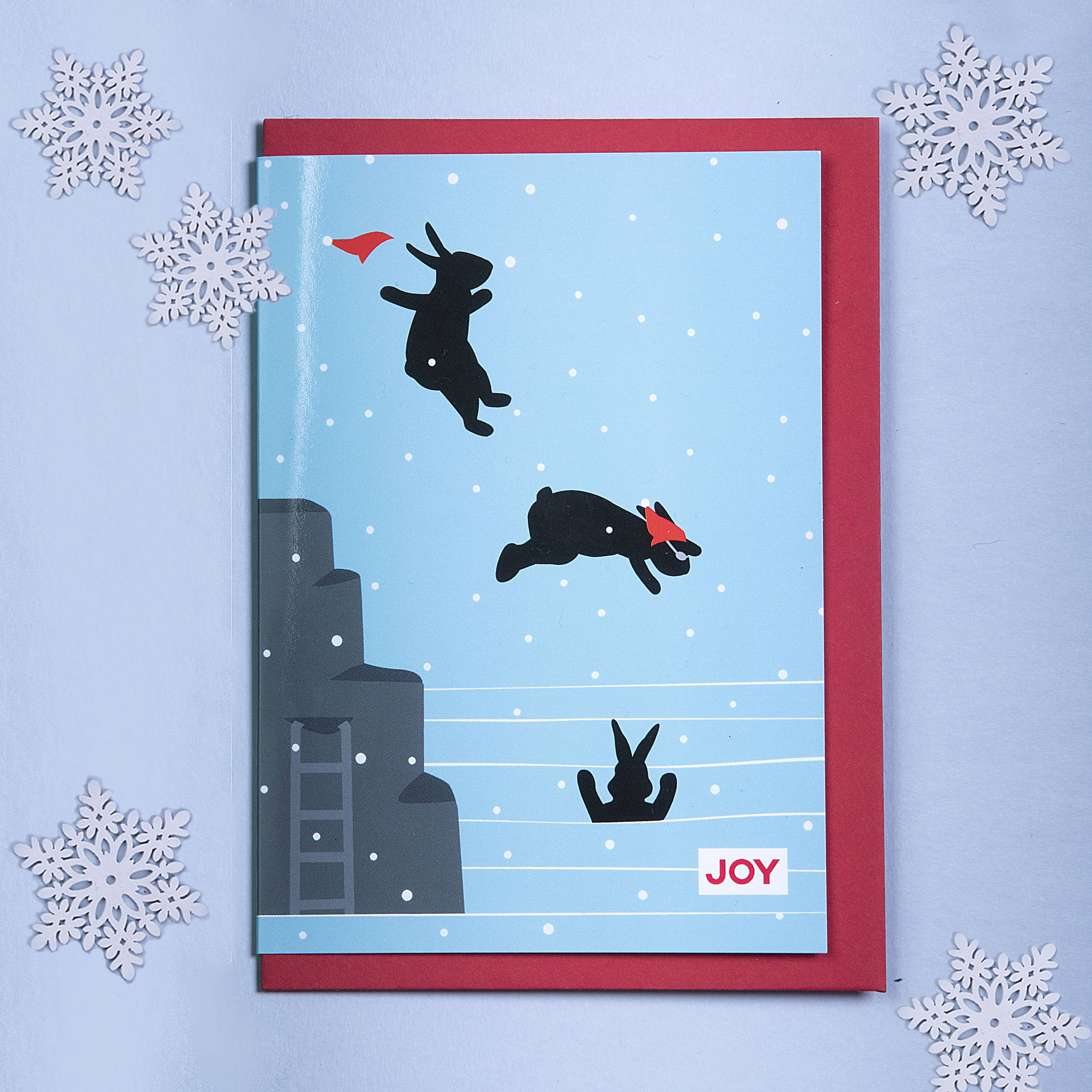 Did you have a favourite item in your last Irish at Heart box of 2021? Let us know in the comments below!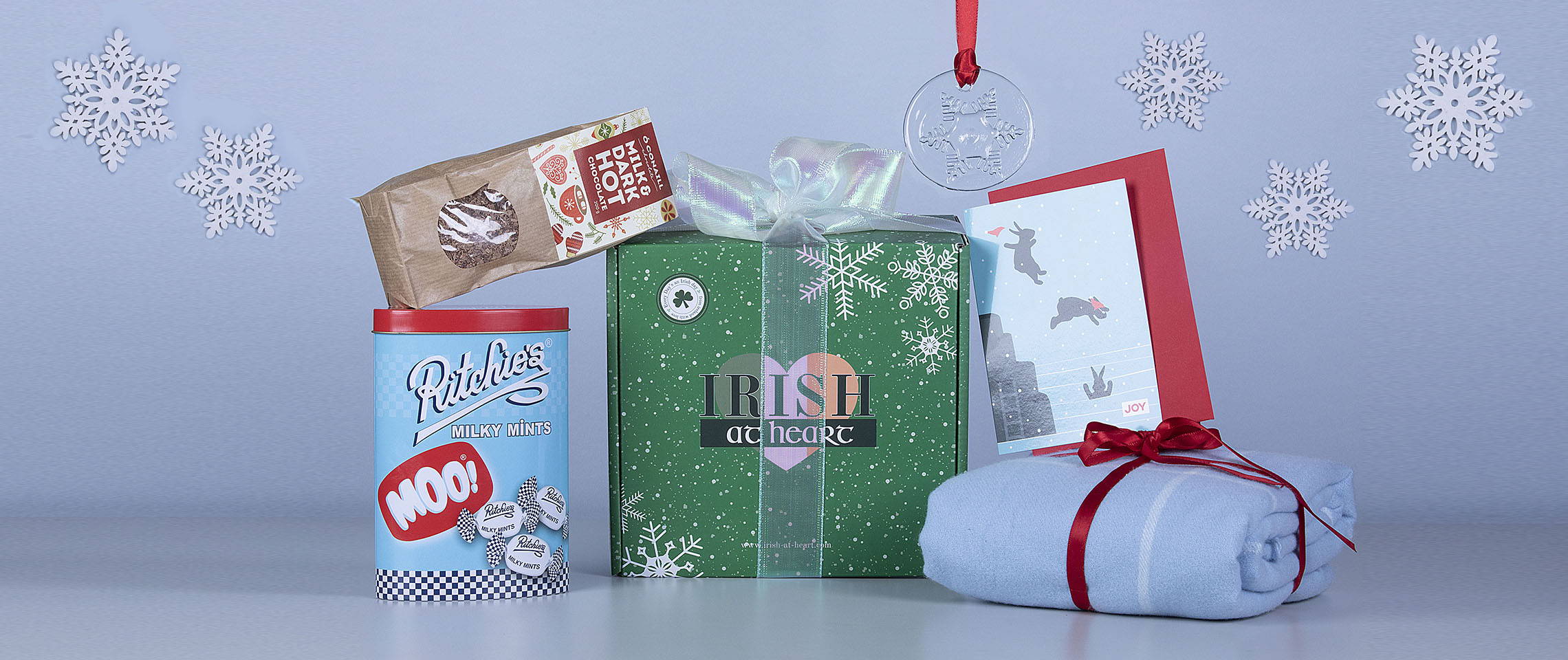 Subscribe to Irish at Heart
If you enjoyed reading this blog post, I'm sure you will love Irish at Heart subscription box! Each beautifully curated themed box is full of unique, handmade gifts from Ireland's finest creative talents and small independent businesses. Subscribe with the code below and receive your very own Irish gift box!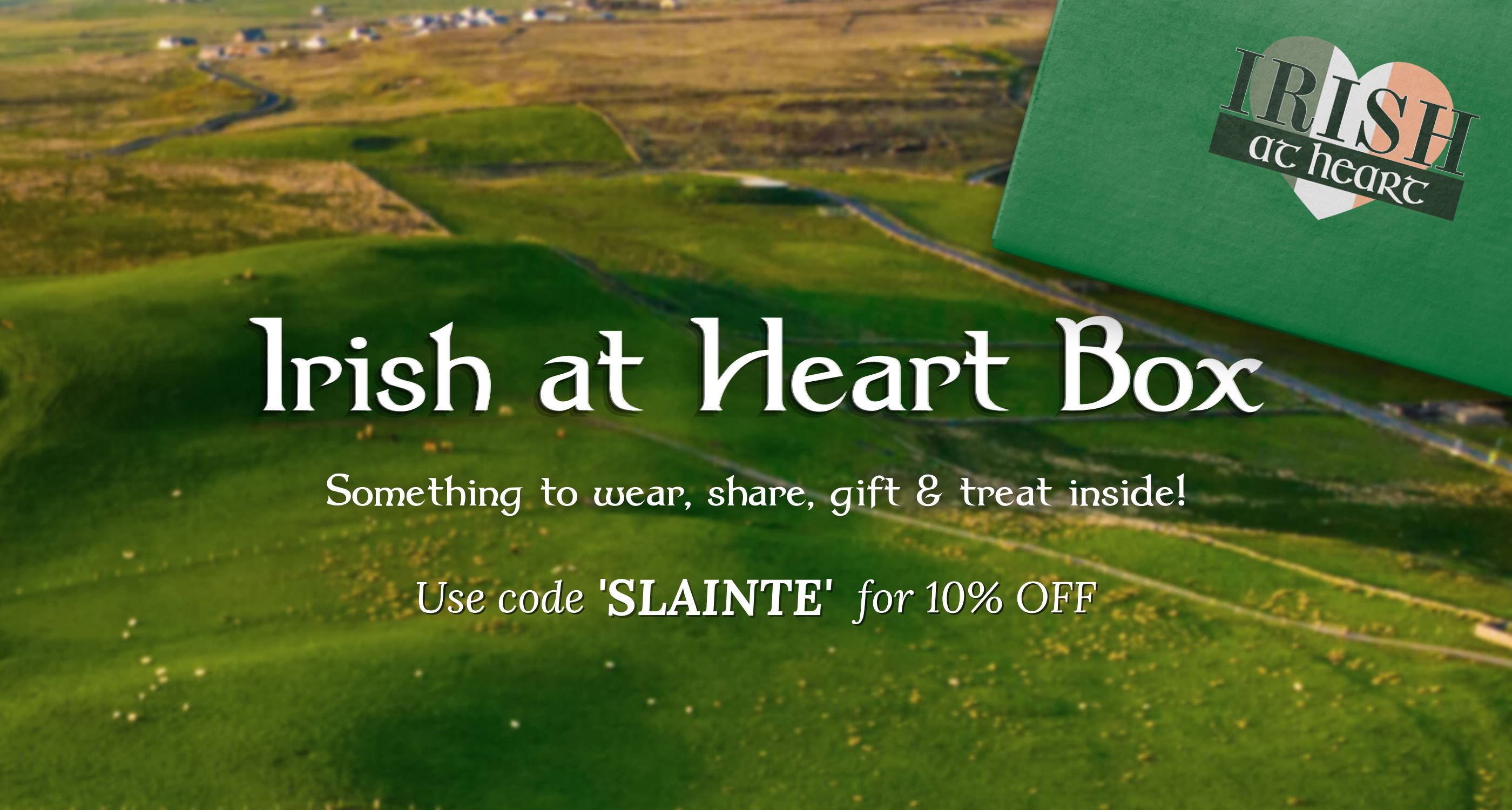 ---