Meet the Maker with Catherine Bradford of Simply Mourne
For this months Irish at Heart podcast, we sat down with Catherine Bradford of Simply Mourne- who has a wonderful product in our Cairdeas box that we'll let her reveal directly in the podcast! Below is an extract of the conversation Connor, and if you'd prefer to listen to the episode directly, you can below.
The Irish at Heart podcast is also available on all major podcasting platforms, consider subscribing for a monthly compliment to your subscription box, or for a monthly deep dive into supporting small independent Irish businesses.


Hi Catherine, so you are an artist living by the Mourne Mountains in County Down in Northern Ireland. So maybe just for listeners who may not really know the area, can you tell us a little bit about where you're from and about where you're living now and where your business and artistic practices is based?
Yeah, certainly Connor. I am based in County Down, which is an area known for its outstanding natural beauty. We are very fortunate to have the Mourne Mountains in County Down, absolutely beautiful, beautiful place to be. The Mountains are situated along the County Down coast. So we have a beautiful stretch of coastline and then the big rugged mountains along there as well. I'm actually based just beside the Mourne Mountains in wee village called Katesbridge. I have my studio here at home, but I just get so much inspiration from along our coastline, from the Mournes and very much everything is inspired by nature.



So did you grow up there, then in the area as well? Or has it changed a lot over the years?

I actually didn't grow up in the area, but not too far away. I'm actually, married my husband and we moved into this area that, this is where he's from, though I always did spend quite a lot of time along the County Down coast. And I have lots of childhood memories where we would have went off in the summer holidays and we would have paddled in the water, maybe went for a wee bit of a swim, or maybe climbed up the mountain side, so answer lots of fond memories. And has it really changed? I don't think it has changed much, it's still just the most beautiful area and there's so much you can do here. I suppose they've got more tourist attractions now and they have lots of cycling paths and things like that they have suppose created now, but it's definitely a place that you would come and spend a couple of weeks, cause there's just so much to do and see.

It sounds lovely! So maybe you could tell us a little bit about Simply Mourne? I was reading on your blog that you were originally working in credit management, so this has obviously been quite the change.
Yeah, it certainly has been quite a change, two completely separate industries. It's interesting because when I was at school, I absolutely adored art and it was something that I did want to carry on and have a future with, though things happen on and off a different route which I did. And I just happened to land into the world of credit. I actually did enjoy credits, there was never a dull moment and I went down the route then, student credit management exams and worked in a number of big companies here in Northern Ireland managing their teams.
But yeah, I decided to take a career break from the company I was working in, down in Belfast and look after our children, one of them was having quite a challenging time going through high school and he very much needed, he needed me to be there.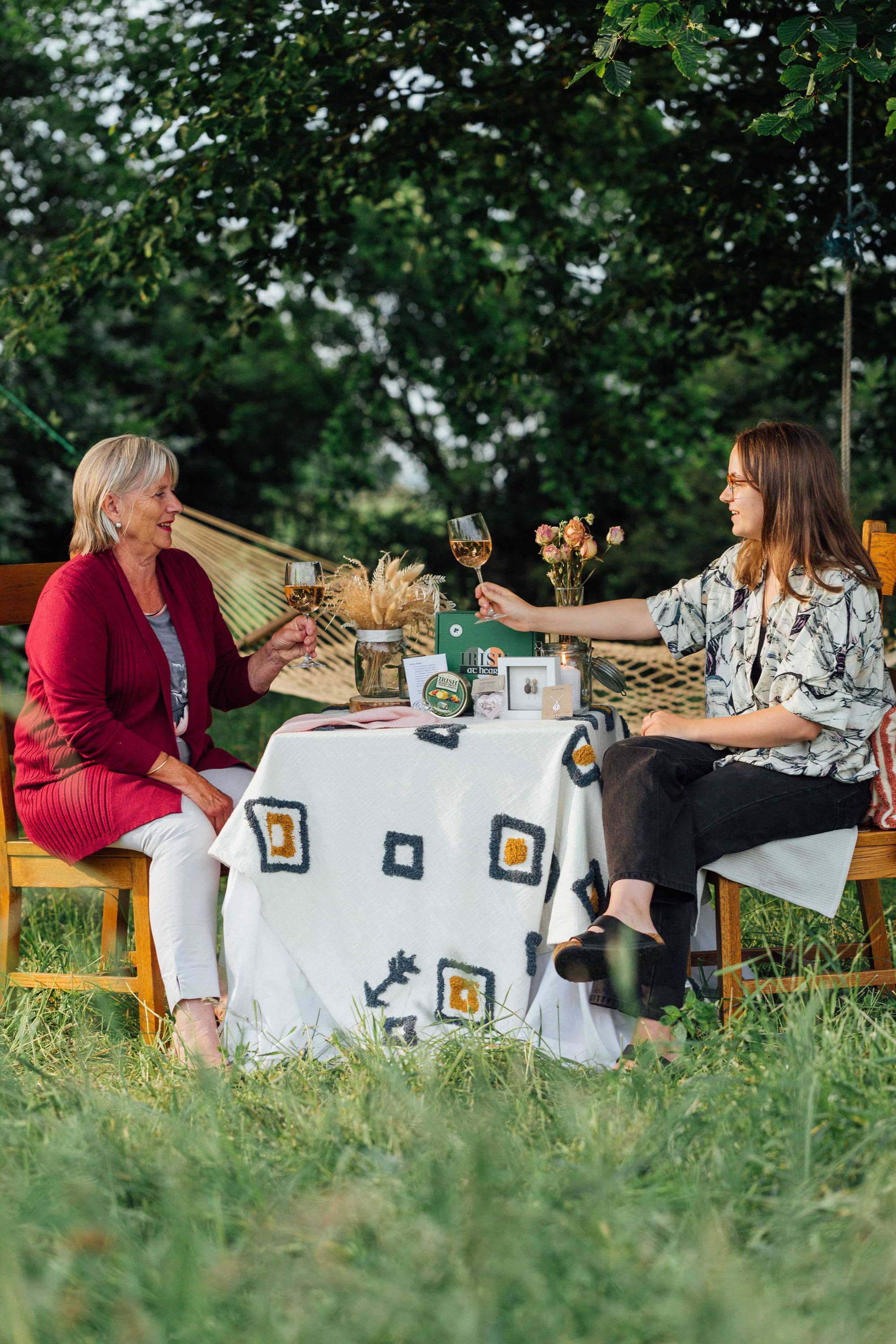 He just needed his Mum to be there, to give him a hundred percent and I thought, well, you know what? Family Is more important. And I took the career break and yeah, my creativity just came straight back to me as if it had never left me. And because I love nature so much, I started designing the art using natural materials and from a hobby to a full-time business now.
That's a very, very inspiring story! How would you describe your work or how would you describe it to someone who wasn't familiar with what you did?
Well, it's pictures designed using natural materials. So the natural materials that I would use are very much inspired by the coastline. So it's a mixture of pebbles, sea-glass I would use sea-glasses, the glass you would find washed up in the beach that's been frosted by being tumbled against the rocks continually over the years. And also a pieces of driftwood that you would find along your coastline. And I always love bringing in bits of the moss into the pictures because I think, that wee pop of colour against the grayness of the stones and pebbles and the driftwood really brings the picture alive.
I manipulate these natural materials into a physical design to represent something. So for example, very much one of my most popular ones would be the couple, two people embracing together, very popular because they can be gifts for couples or they can be a gift for a friendship. And yeah, that'd be one of the most popular designs and that I also then would do. The next popular design would be families. So I create the picture with the likes of the piece of the driftwood going across, and then lots of little pebbles on top of the driftwood and that resembles the ship of a person. So a wee bit of moss then added to each side to bring that there alive and yeah, so it's everything made from nature.
Great, great. And then I saw you also have branched out into other areas, you do candles and I saw seed bombs and other items on your website as well?
Yeah, that's quite interesting Connor because when I first started out design in the pictures, it was very much a hobby. And I managed to turn that into a full-time business though, when our lockdown hit my business almost more or less closed overnight because I just supplied into retail shops and it was like my income was just taken completely away from me. So at that stage I thought, "Right, okay, I need to move online. I need to be visible for my customers." So I very quickly built my website with the help of an I.T company, software company and started selling online. And it was amazing the uptake and the customers that I built up in a very quick space of time. And I thought, "Right, okay. I have all these customers now that are purchasing off my website and all I haven't got is the pictures."
I felt I had to give them more of an offer. And because this was my only channel, I thought time to make an income. I thought, "Well, I need to have more." So what my aim is with something more, that is to try and create that brand and to have more than one product based underneath the brand, but each one inspired by nature. So it's very much all what I love, it's like my lifestyle some I'm trying to create like a lifestyle brand, and cause I absolutely adore nature and I'm passionate about nature.
So on one side I have my natural materials and framed art pieces, and then I have my candle range, which is all very much inspired by the coastline and from the mountains and just nature in general. And of course I absolutely love the Bee bombs. They're little packets of wee balls inside filled with seeds and they're, they're called the Bee bombs. And they're very much, you plant them, you get lots of beautiful spring flowers and yeah, help them attract the bees and keeping the bees alive. So I'm hoping that over the next few years that I can build on different products and keep that unique style of the website also, and have more of an offering for customers.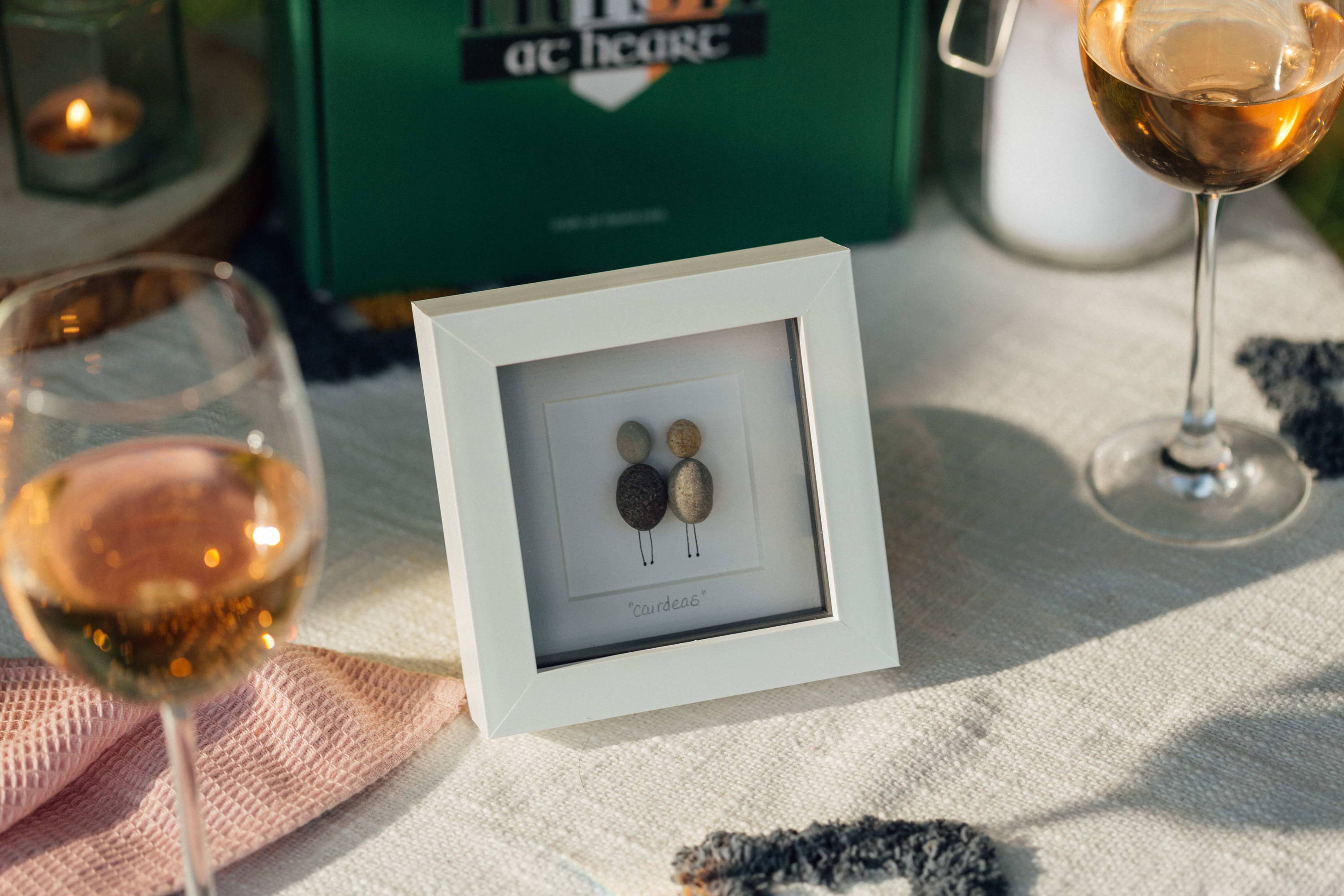 So for Irish At Heart subscribers opening up their box this month, what will they find inside from Simply Mourne?
Oh, it's so exciting Connor. I'm absolutely delighted to be in the July box for everybody they have got one of my best selling items, which is the wee friendship, couple piece, it's framed art and with the pebbles and, oh, they're just absolutely beautiful. And everybody's going to love the wee frame.
And so these are unique, presumably each piece is going to have different pebbles, different pieces of nature and that they're made from?
Yeah, that's the beauty of them Connor each piece is completely different because you will never have one pebble the same. So each and every frame that everybody gets in their wee box is going to be completely different from everybody else's which is just so beautiful, as everybody has their one-off friendship frame.
You've mentioned quite a few of your different items available on your website. So where should listeners go to find out more about you and the company and to maybe buy some of these things?
Yeah, okay. To purchase and view and the products, if you go to simplymourne.com, you can also find me on Instagram and Facebook. You can also get 10% off goods from Simply Mourne with the coupon code "Irish at Heart" - thanks for that Catherine!
---
We want to thank Catherine for taking the time to appear on our podcast for the Cairdeas box of July 2021. If you enjoyed this interview then there's lots more on every episode of our Irish at Heart podcast, which you can listen to below and subscribe to on all major podcast websites! 💚

---