I hope you've all enjoyed exploring the beautiful, historical, and intriguing streets of Galway with me, as we uncovered lots of the little stories, secrets, and sights that make this Irish city so unique.
Hopefully by now you should all have opened up your own little green box of Galway goodies, and are already enjoying them as we speak! Below I'm going to walk you through each little gift that you unwrapped this month, highlighting how they all come together to give you a special perspective of Galway – a place that grasps my heart with every visit, enticing me to return almost as soon as I leave.
The Long Walk Cushion Cover
The bright and colourful facades of the Long Walk is perhaps Galway's most iconic sight, making it a popular spot for a stroll for both tourists and locals alike. I love wandering through the Spanish arch with a freshly poured coffee to-go in hand, to lazily meander across the harbour and take in the chocolate box-styled houses – it's just like stepping into the pages of a fairy tale!
Set the scene for your favourite little reading nook, with this gorgeous linen cushion cover – which was designed especially for our Irish at Heart subscribers. It's a wonderful way to brighten up any room, inviting one of Ireland's most popular panoramas into your very own home.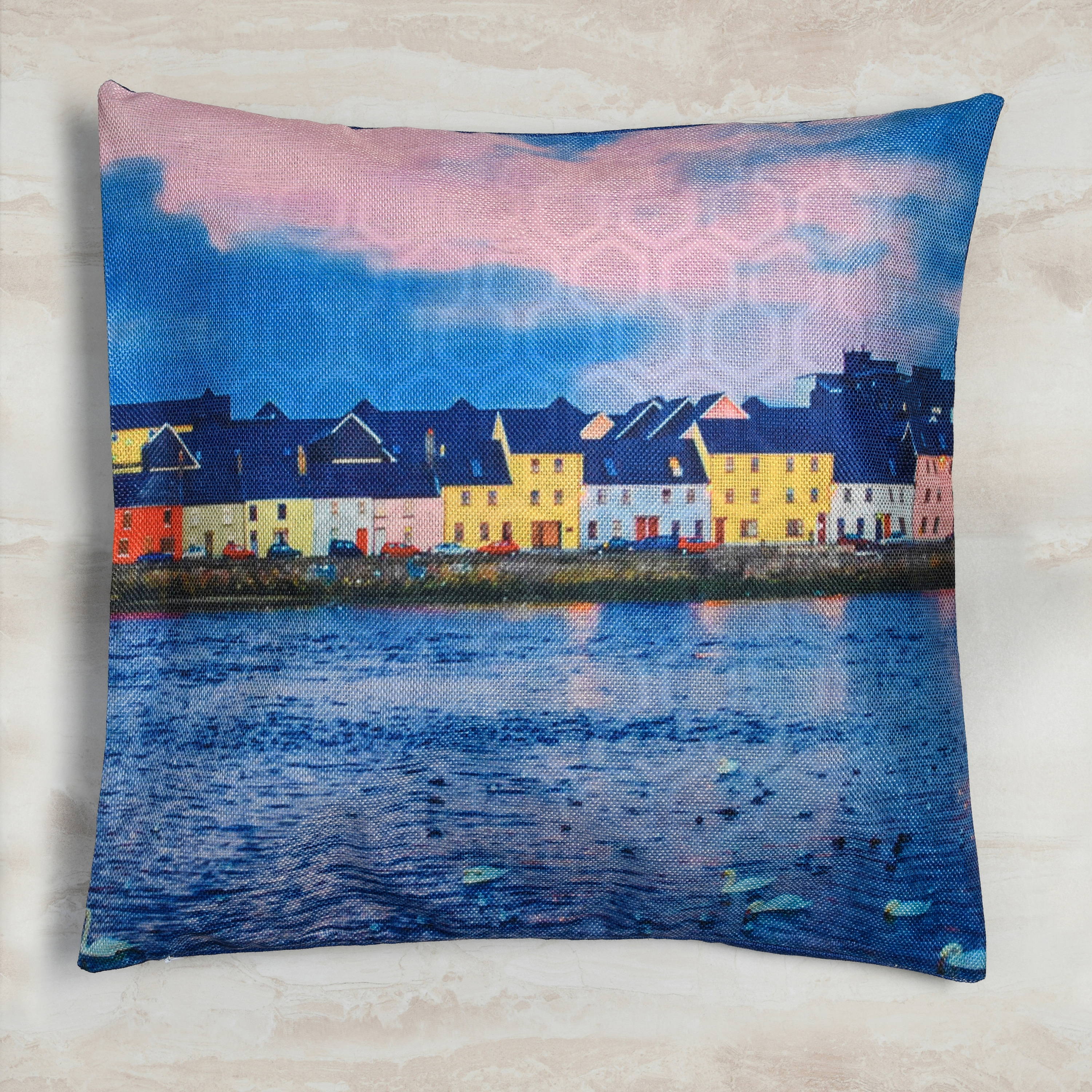 Each month we choose a wonderful theme to base our product curation around.
Whether it's Dublin, The Wild Atlantic Way or St Patrick's Day, we strive for every box to have something wonderful to wear, a gift to share, a treat to eat and a treasure to live in your home.
Every month we work with fantastic small Irish businesses; so no matter where you are in the world, you're helping Ireland!
Rowan Beg Designs Ceramic Wall Hanging
While the capricious colours of the Long Walk might grab your attention initially, there's certainly much more to this stretch of harbour than bright hues!
Nicola Mcguinness of Rowan Beg Designs captures the essence of this beautiful corner of the city in just one tone, with her expertly crafted ceramic wall hanging. Of course there are Long Walk trinkets a plenty adorning the shelves of tourist shops and the like, but Nicola wanted to make something truly special to bring an exclusive piece of Galway to our Irish at Heart family. Every little detail is so carefully considered, from the soft silhouette of the house upon the shore, to the little hanging piece of fisherman's string in honour of those who work there.
To learn more about Nicola and the incredible candles and homeware that she crafts from her family home in Connemara, check out our latest meet the maker blog, in which we learn all about Rowan Beg Designs.
Tiny City of Tribes
By now many of you will be familiar with Galway's title as the City of Tribes, after the 14 merchant families who controlled the town between the 13th and 19th centuries.
As grand as that sounds, you can appreciate the little details with this gorgeous little project from 'Tiny Ireland', who recreate the Emerald Isle's most iconic sites with their enchanting paper modelling skills. Anke and her team have painted and printed the facades of medieval architecture, captured the bright colours of shop fronts, and the sparkling waters of the shore – ready for you to flip, fold and glue your very own little Galway into place.
It's a rewarding activity to enjoy by yourself, or a fun way to keep the little ones amused on a rainy afternoon; either which way, the result is a whimsical little piece of Galway City that can be settled wherever you see fit.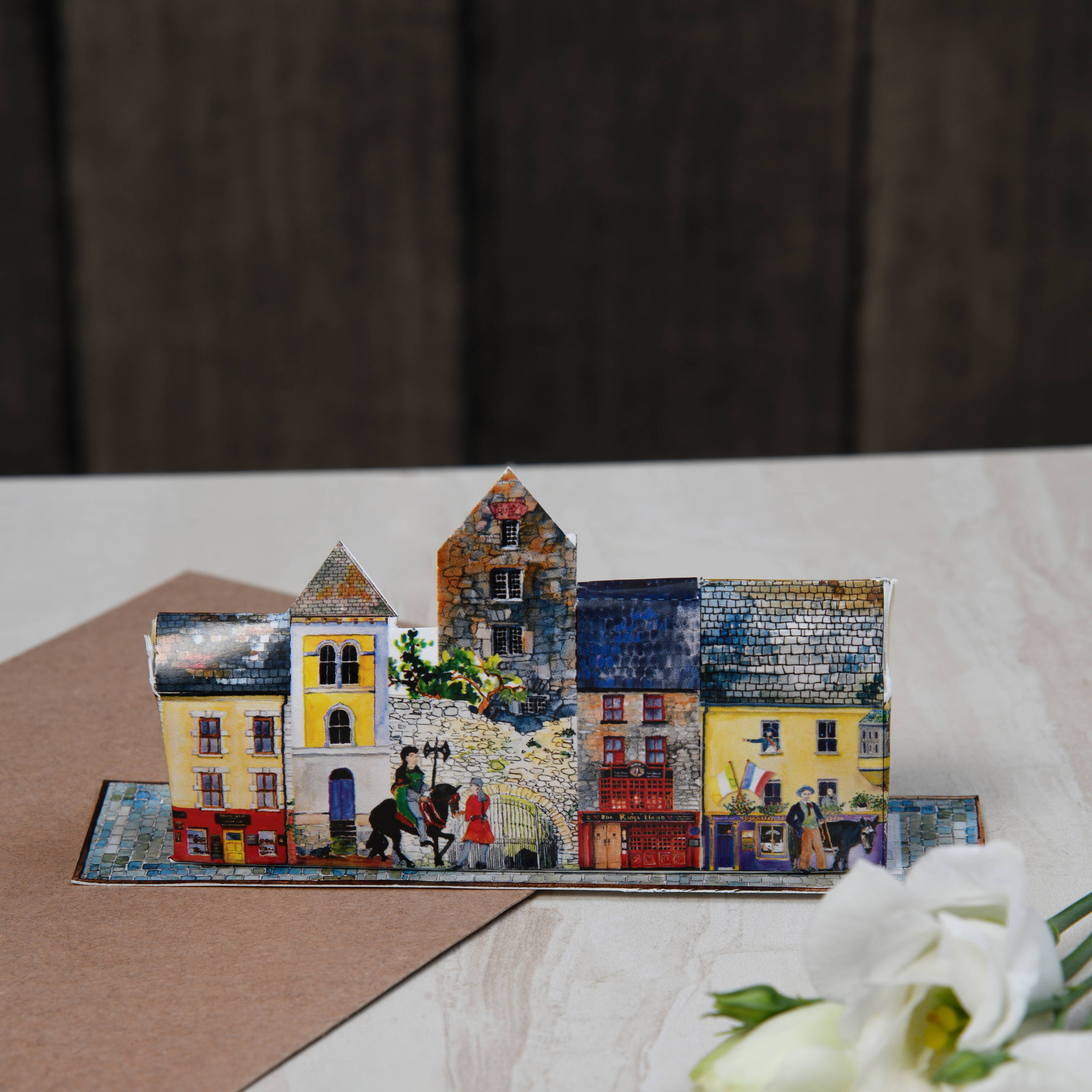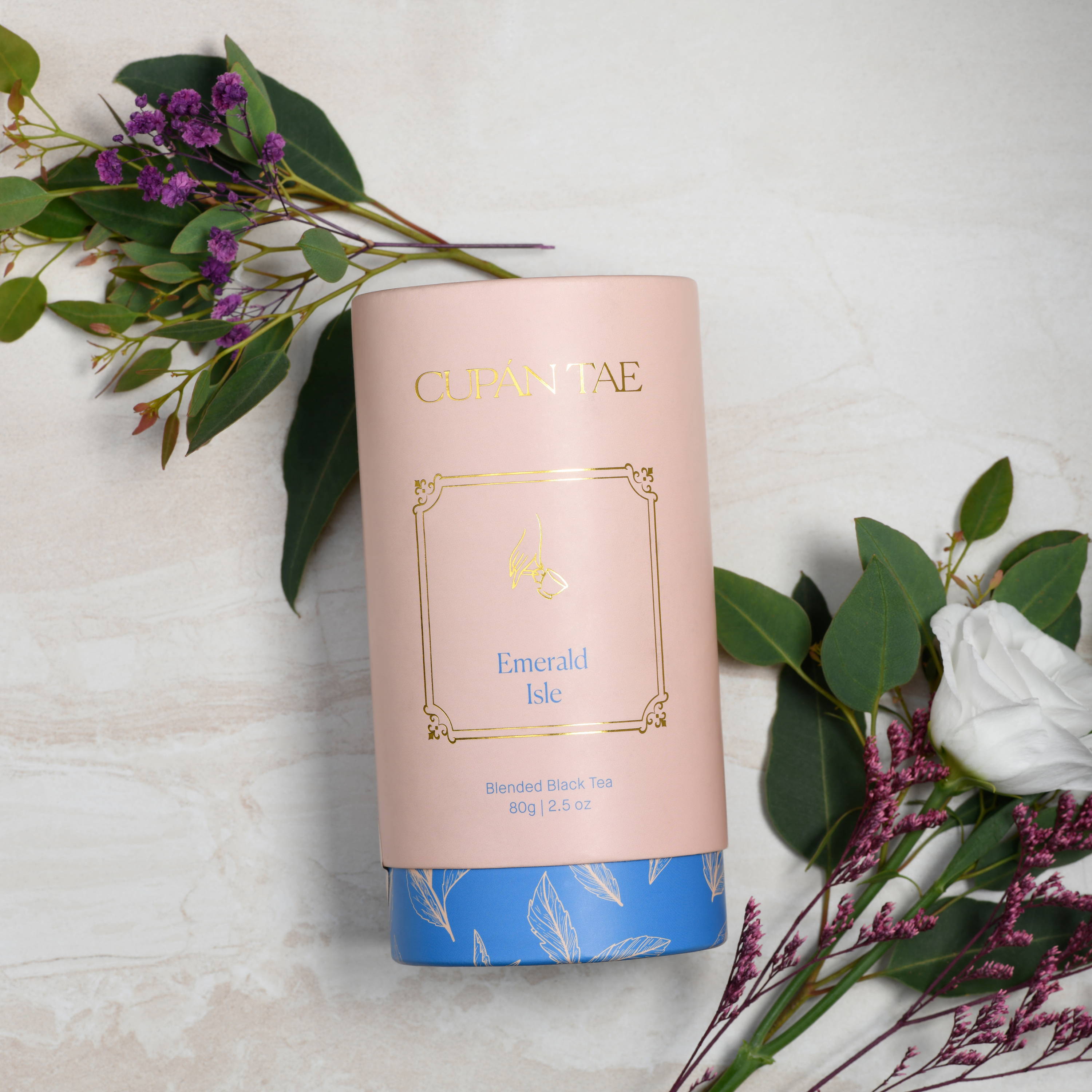 There's no endeavour more elegant than popping off to the picturesque Cupán Tae on Quay Street for a spot of afternoon tea – served on the daintiest cups and saucers you ever did see! It's just the prettiest tea shoppe in all of Ireland, complete with an extensive assortment of brews, sweet treats, and savoury bites.
Of course, for those of us who can't simply stroll around Galway City whenever we please, we've brought a little taste of stylish eatery to your doorstep with a divine box of tea in this month's delivery! I had a lot of fun sampling options, but in the end I simply couldn't decide between the Dreamy Creamy Galway blend or the full bodied Emerald Isle – so I opted for a mix of the two!
Which one did you receive in your little green box this month? Let us know in the comments below, as well as telling us your favourite part about discovering the city of Galway with Irish at Heart!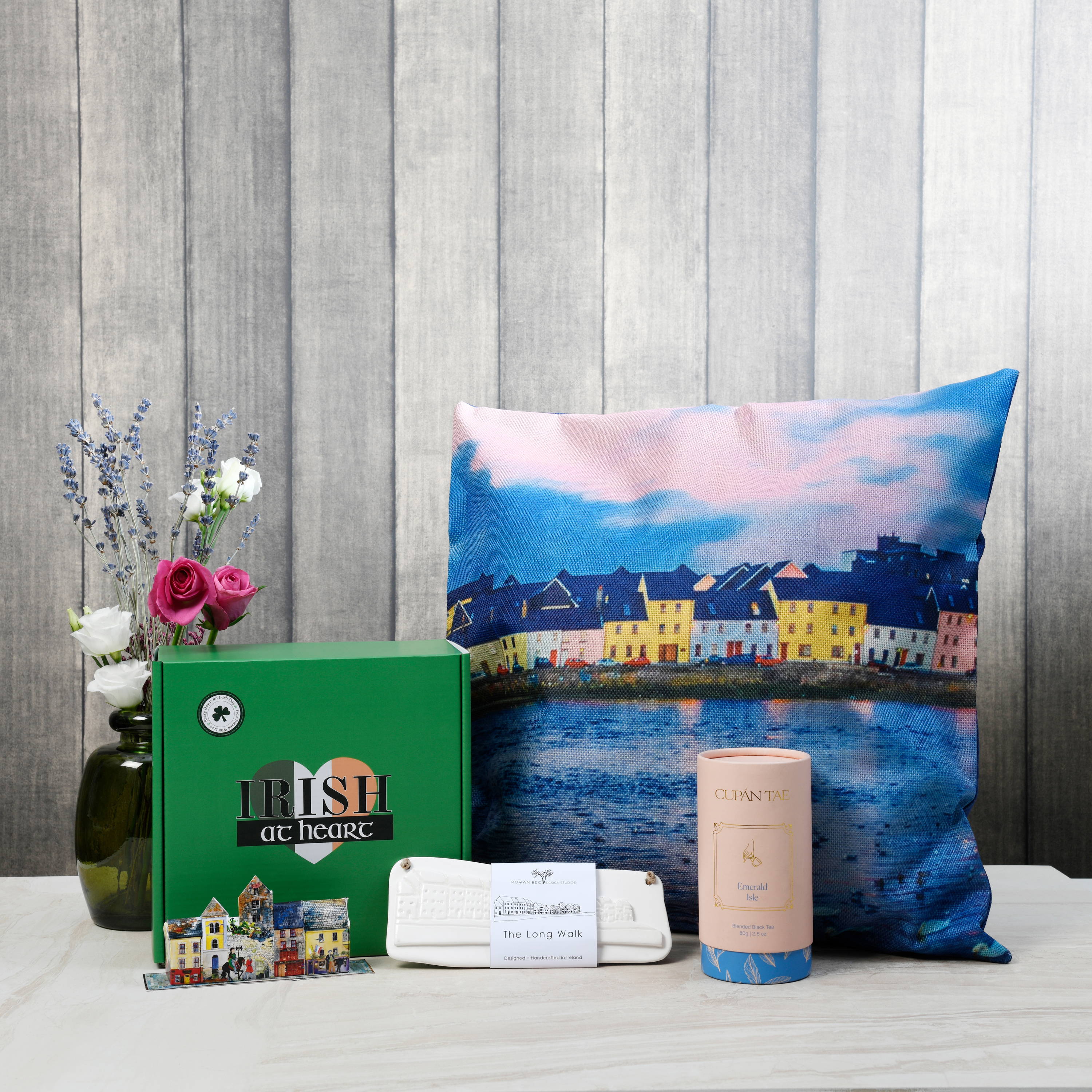 Subscribe to Irish at Heart
If you enjoyed reading this blog post, I'm sure you will love Irish at Heart subscription box! Each beautifully curated themed box is full of unique, handmade gifts from Ireland's finest creative talents and small independent businesses. Subscribe with the code below and receive your very own Irish gift box!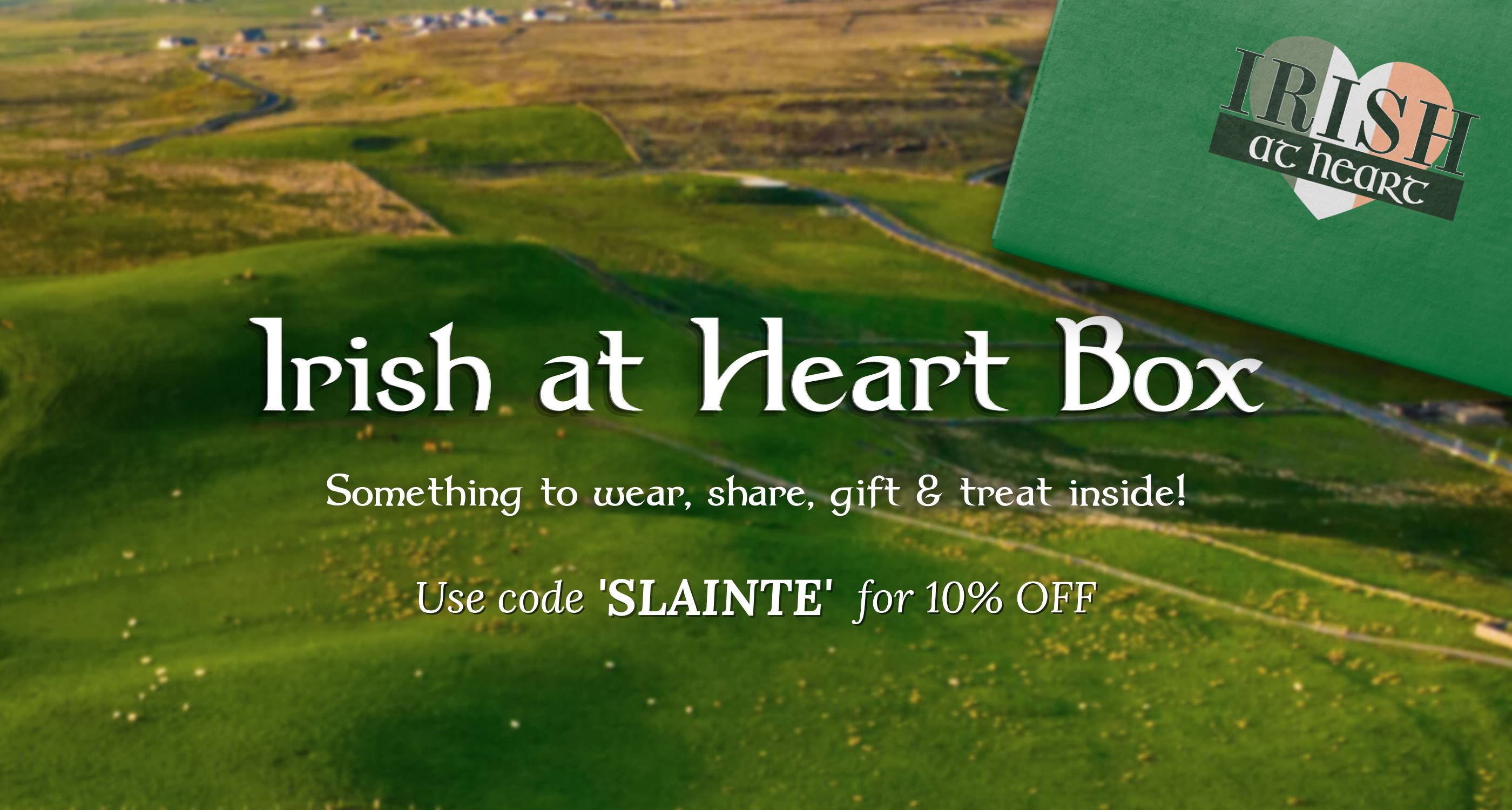 ---