Revealing the Secrets of Bean Feasa
I am thrilled that you have all started to receive your September boxes, which are devoted to the ancient tradition of Bean Feasa – the wise women of Ireland.
If you haven't received this month's subscription yet be sure to save this blog for when you do, you won't want to spoil the lovely surprise that lies beneath that emerald green tissue! If you are new to Irish at Heart, first of all 'fáilte chroíúil' (a warm welcome), and secondly don't worry if you find yourself wishing that you'd signed up in time to receive the lovely gifts below – our Bean Feasa boxes are still available from our store as a one-off purchase.
So read on below to discover the craftmanship, care and characters that came together to create the beautiful collection that is Irish at Heart's Bean Feasa box.  
A New History of Ireland
While we unpack these wonderful Bean Feasa contributions to Ireland's creative industry, let's start with learning their history, as magnificently told by Clodagh Finn.
The Kerry author and journalist champions the heroines who are too often overlooked in stories of how our country has been shaped over the years, and her book "A New History of Ireland" is the perfect accompaniment to our exploration of the wise women of Ireland.
From a celtic goddess of the Ulster Cycle through to a ground-breaking biotechnologist, Finn tells the history of Ireland and its changing eras through the eyes of 21 astonishing women. Her gift for storytelling and keen interest in Irish culture brings generations of Ban Feasa to the forefront, showing how each woman paved the way for those who would follow in her footsteps.
May you Walk in Beauty Tea
If you're about to snuggle up with a good book, you'll need a steaming hot cuppa to go with it – and of course we are only too happy to oblige. This month's box comes with a stunning blend of rose, nettle, clover and sweet violet – delivering a delicate yet powerful potion.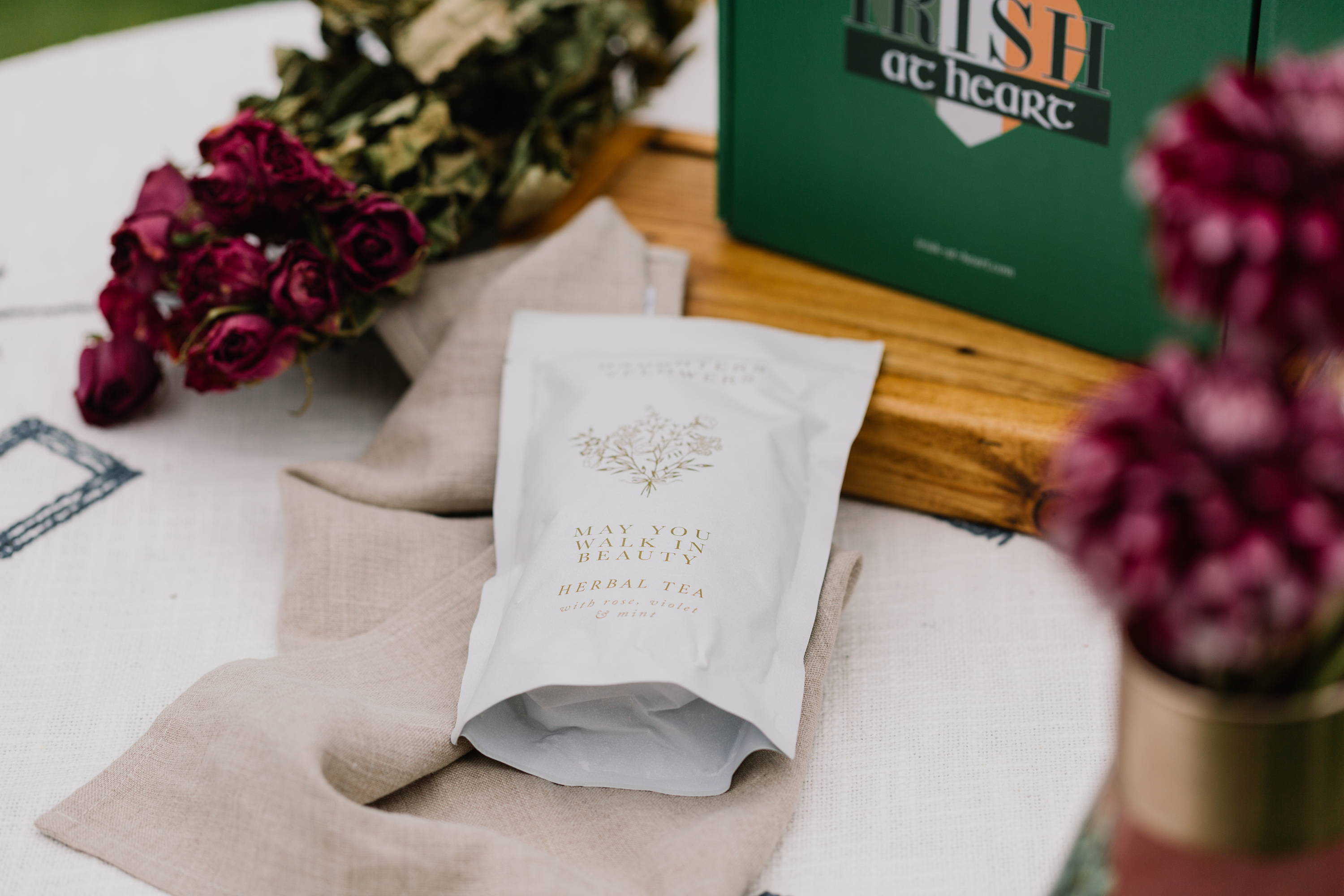 "May you walk in beauty and always be surrounded by green blessings" is an old Irish saying that has been passed down through the Bean Feasa tradition, and inspired this beautiful herbal tea which is intended to boost the drinkers radiance – both inside and out.
Réidín Beattie grows, forages, and mixes the ingredients for her wonderfully natural range of products from her 200 year old studio in West Cork. Her business, Daughters of Flower, is a song of gratitude to the multitude of beauty that can be found in nature, and a modern continuation of the powerful traditions of the Wise Women of Ireland.
Blue tit Coasters
As delicious as that tea might be, you wouldn't be wanted to mark your good table with the ring of the mug now, would you? That's where our next wonderful gift comes in.
I am absolutely in love with these gorgeous blue tit coasters, which perfectly capture the wild energy and soft colours of these gentle little birds. While a fairly common sight throughout Irish gardens, the blue tit is one of those creatures that is always a wonder to behold, and I always find myself holding my breath when one hops across my path.
Kathryn Callaghan has truly expressed the essence of these bright and beautiful birds, with their yellow bellies, bright blue crowns and shyly inquisitive nature. The County Down artist is renowned for capturing the transient nature of the flora and wildlife around her, allowing you to have a piece of Ireland's beautiful outdoors in your very own home (or garden!).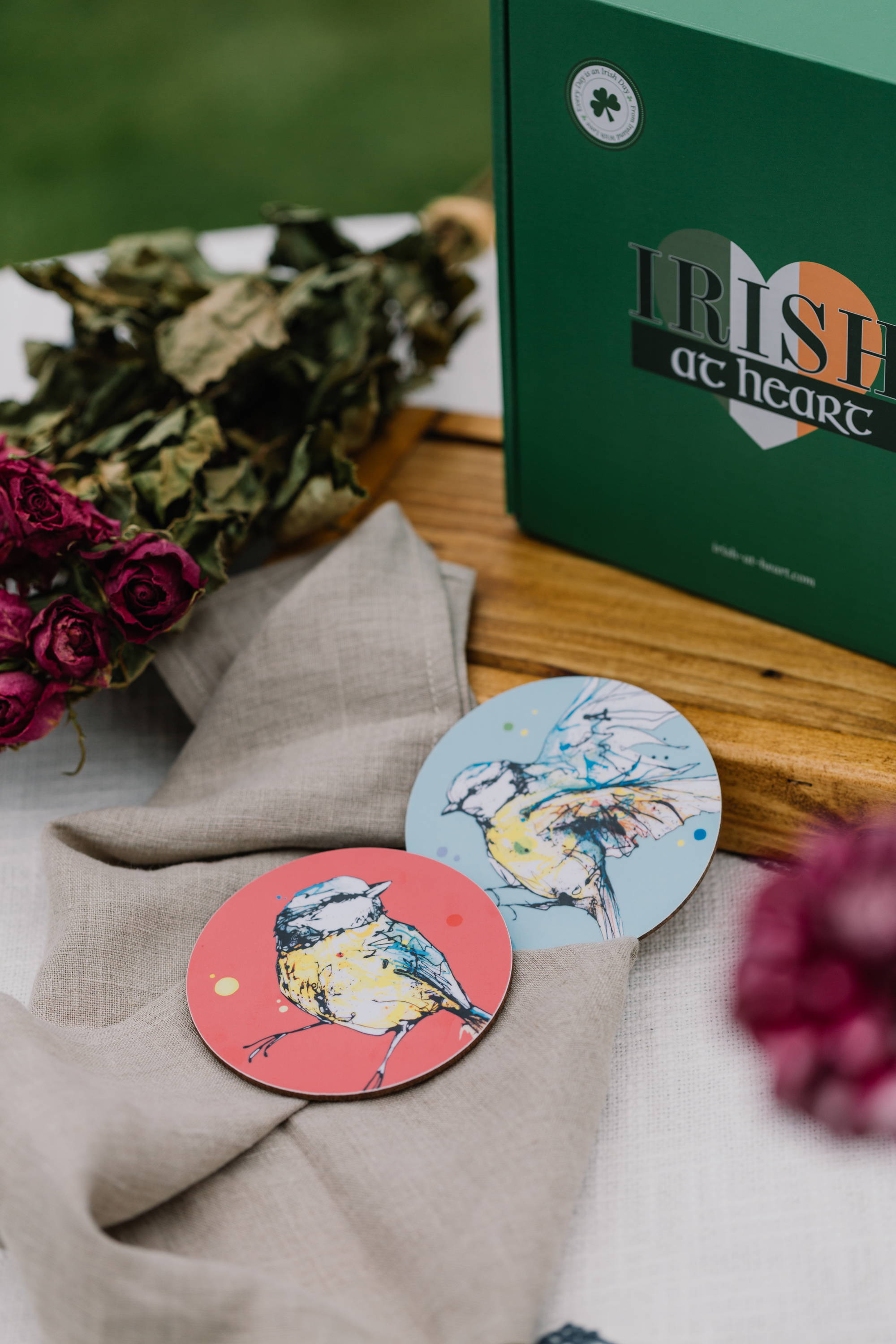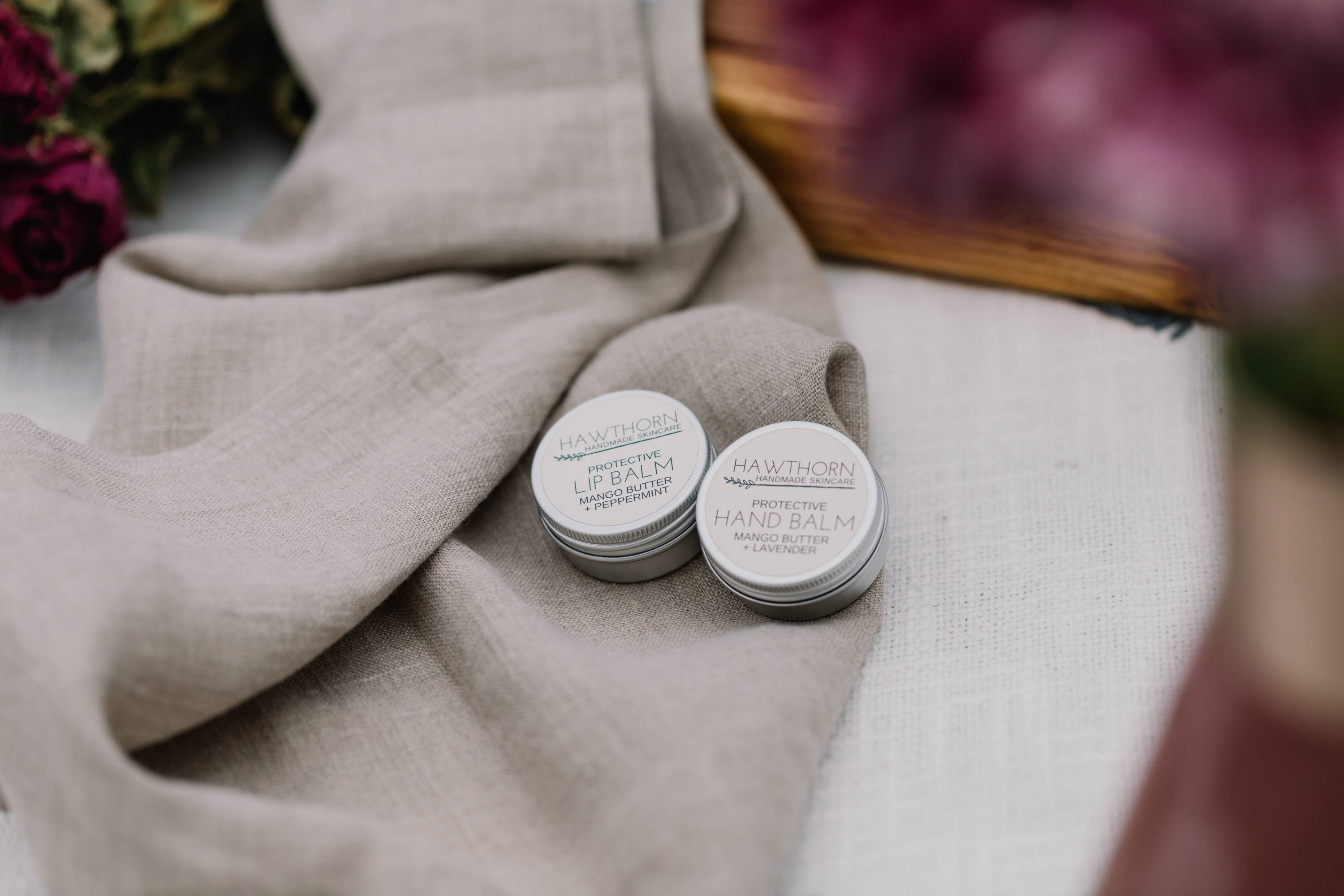 We're heading into those colder months that, while still enjoyable, can take a toll on our exposed skin. Keep your autumn on the balmy side, with this wonderfully nourishing hand and lip duo from Hawthorn Handmade Skincare.
Working from the shores of Lough Carra at the foot of the Partry Mountains, Elaine Kennedy takes inspiration from the rich natural heritage of County Down to create a simply gorgeous range of all natural skin care products.
The luxuriously soft lip balm is soothing and invigorating in equal measures, with an exotic blend of nurturing mango and zingy peppermint – leaving you with a pump and pampered pout. Meanwhile the hand balm comes with its very own scents and purposes – with a floral and healing infusion of lavender and ylang-ylang.
Each month we choose a wonderful theme to base our product curation around.
Whether it's Dublin, The Wild Atlantic Way or St Patrick's Day, we strive for every box to have something wonderful to wear, a gift to share, a treat to eat and a treasure to live in your home.
Every month we work with fantastic small Irish businesses; so no matter where you are in the world, you're helping Ireland!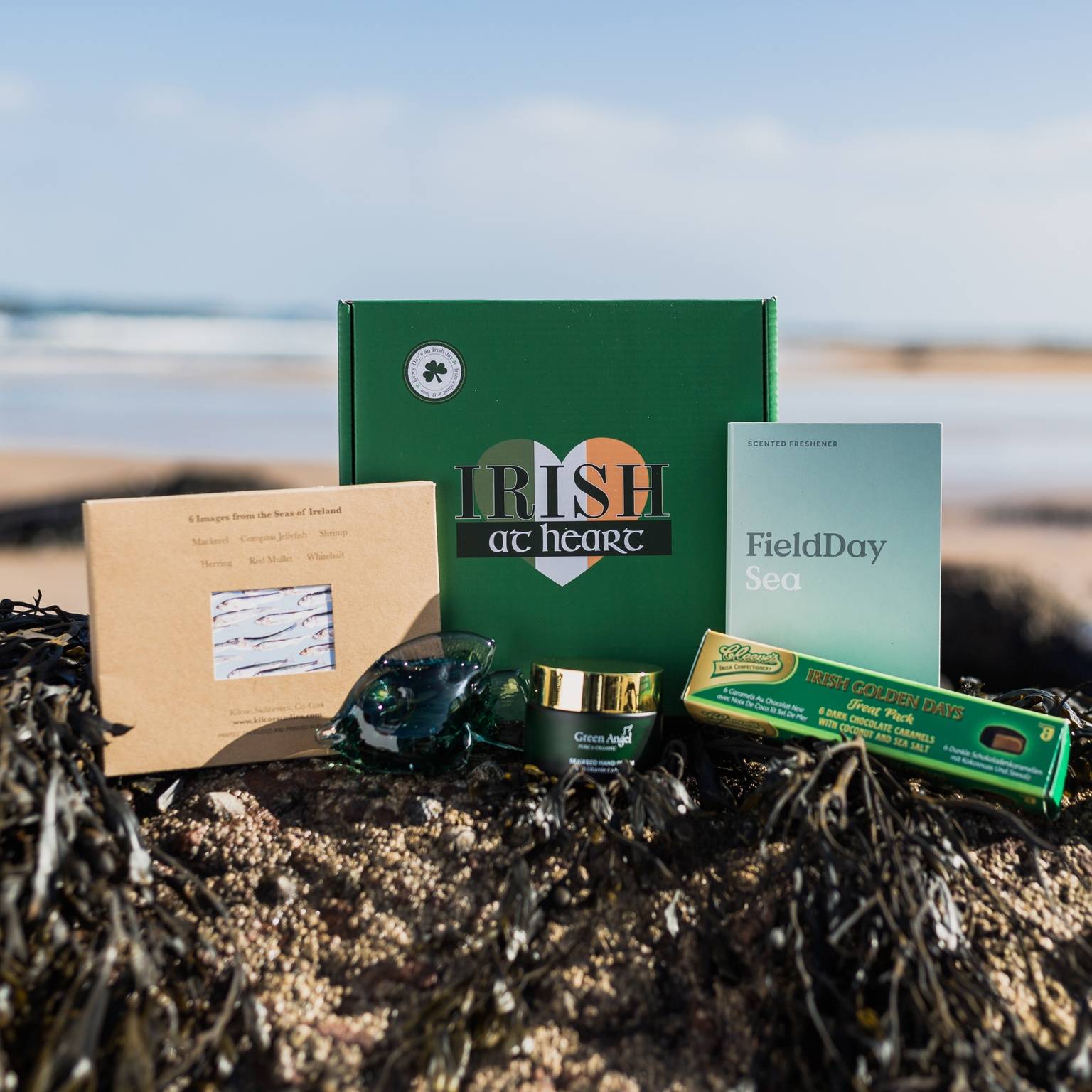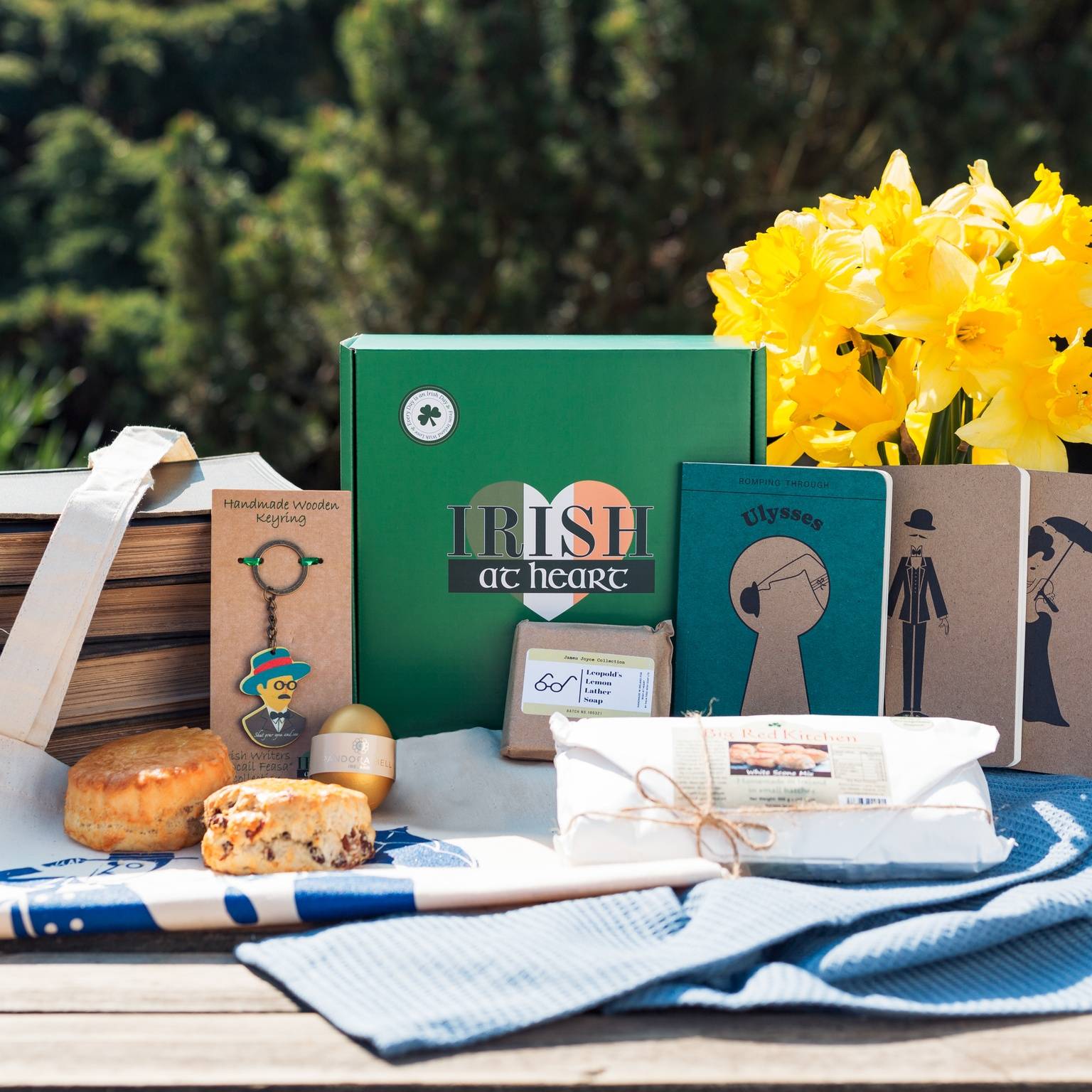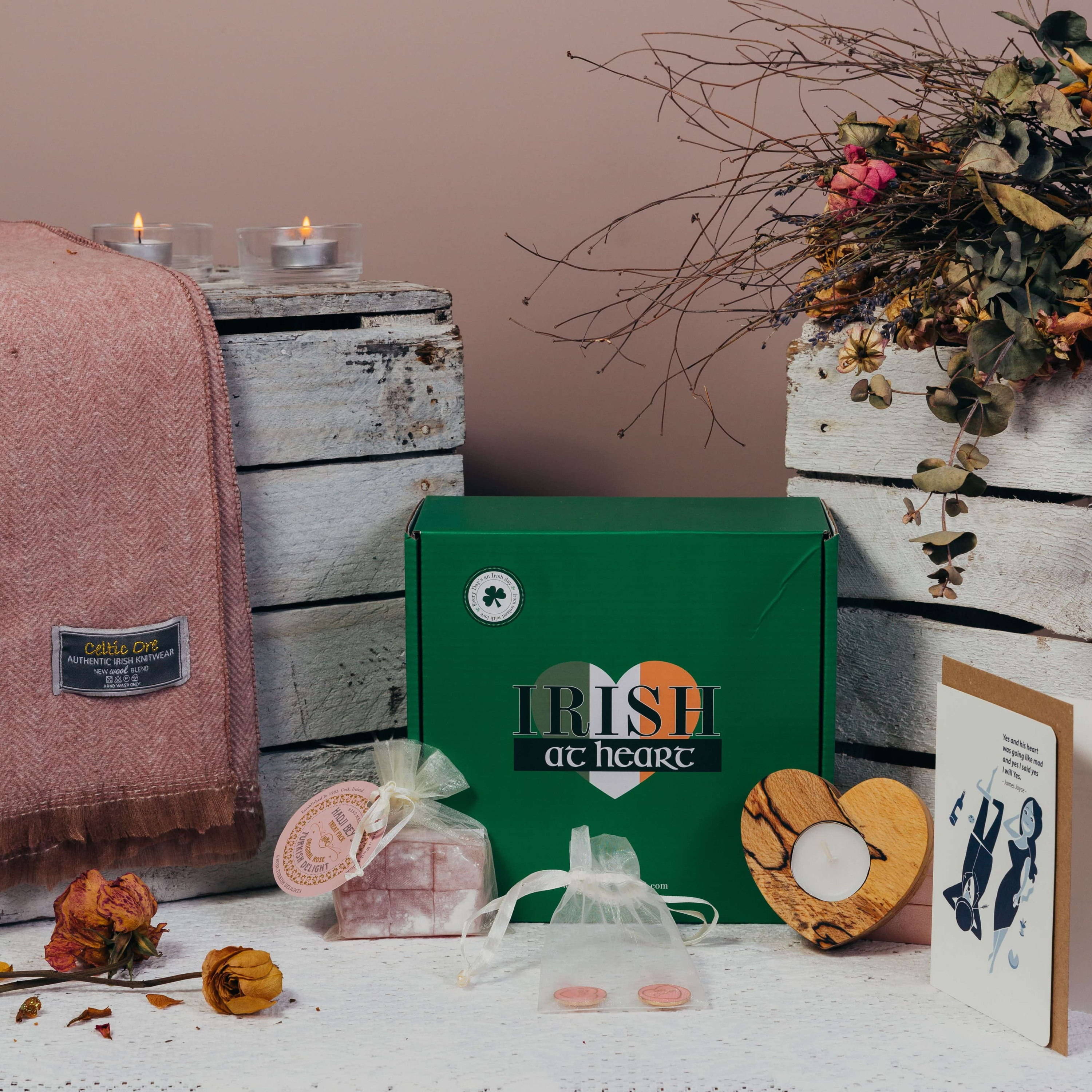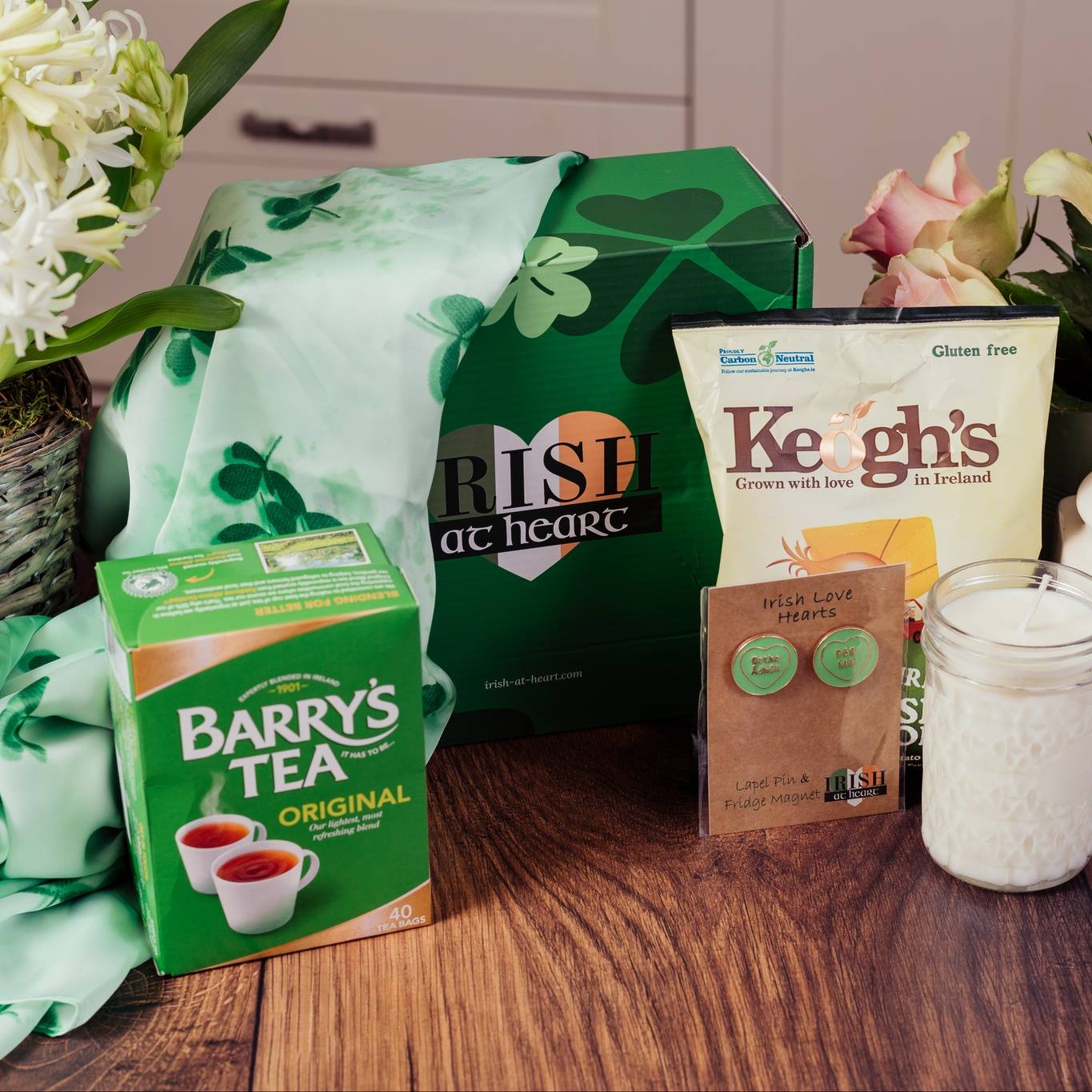 Irish Soda Bread Mix
Can there be any memory more wholesome than the gently wafting scent of freshly baking bread? For many of us who spent parts of our childhood in rural Ireland, this smell is strongly connected with those wise women in our own families; as mothers and grandmothers kneaded dough and baked mouth-watering loaves as though it was no effort at all.
Of course, the bakers amongst us (especially those who gave it a lash during lockdown) will know the work that goes behind the tantalising bready aroma, and sometimes it's hard to find the preparation time into our busy schedules.
Lo and behold, a fast-track solution all the way from the peaceful seaside town of Dunfanaghy in Donegal. Sian McCann's culinary talents have been passed down through a long line of Ban Feasa, and today she shares her heritage through the delicious Wild Fuschia Bakehouse.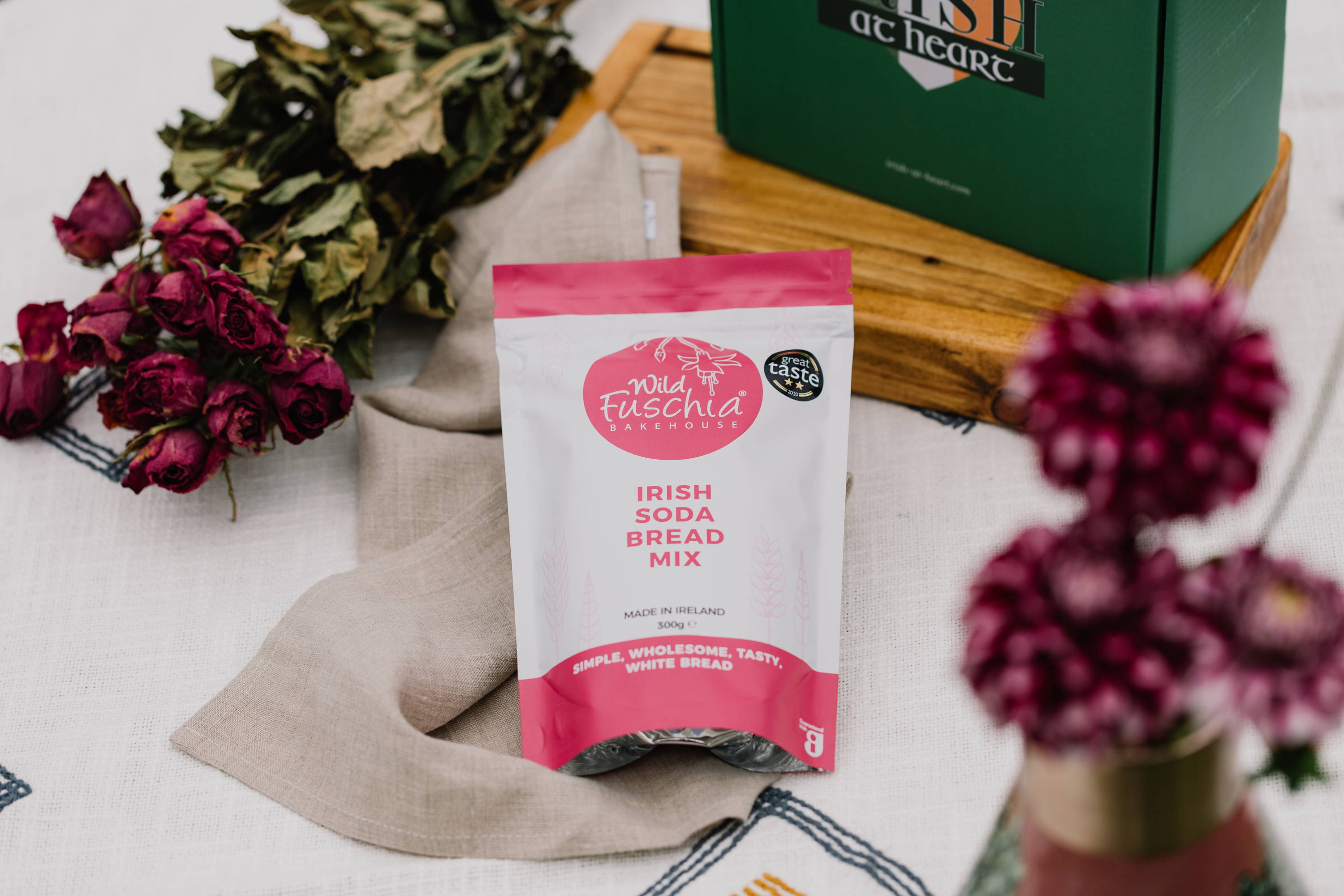 Her award-winning bread mixes, such as the classic soda bread you will find in this month's box, let you bring the wondrous tastes and smells of an Irish bakery straight to your kitchen – with no fuss, and no mess!
Bean Feasa Card
The final item that you find in your box, was especially created with this month's theme in mind by the wonderful Lisa Lawlor of Once Upon a Dandelion.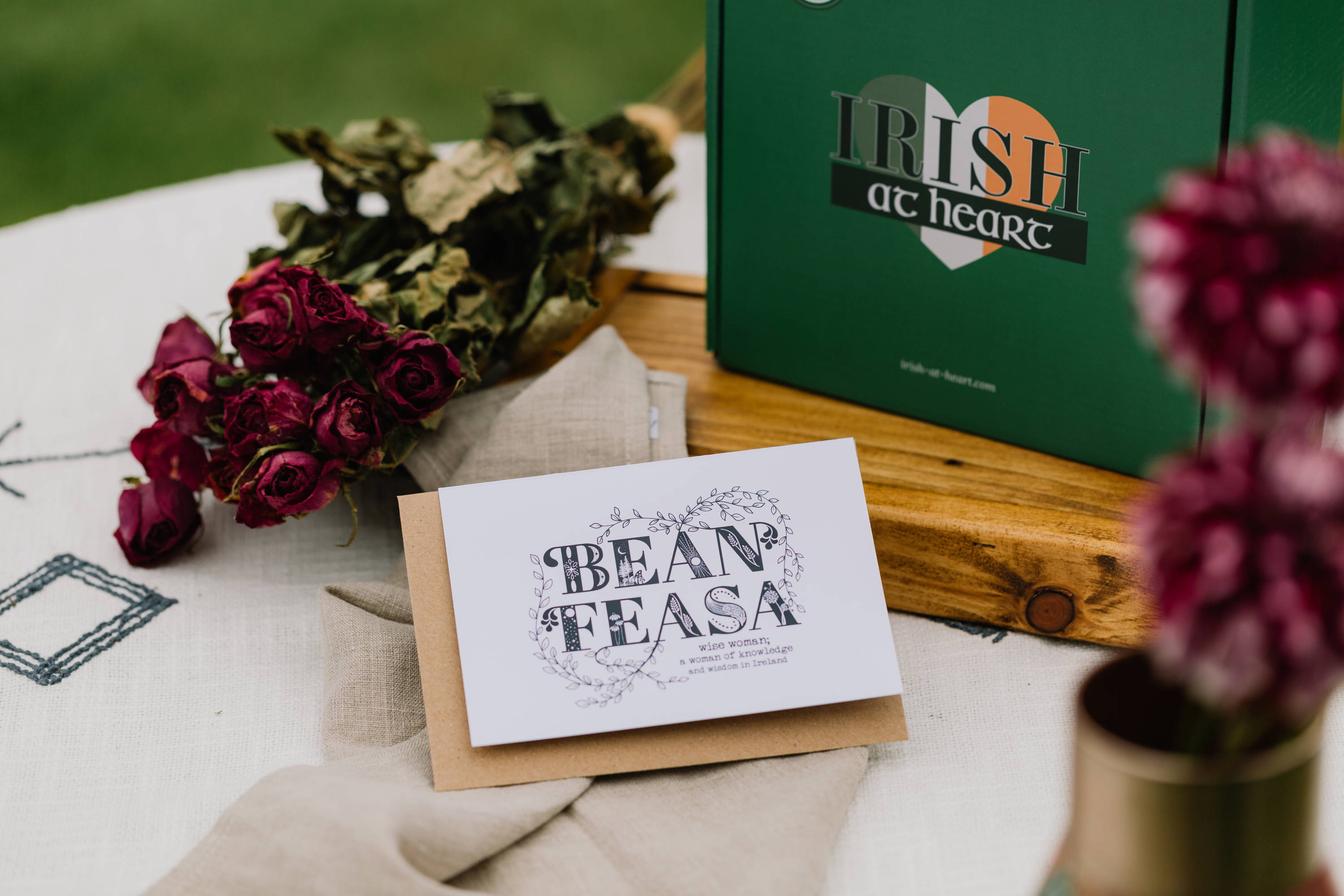 The creative business was designed to spread a little sunshine into the world, and so that Lisa and her husband Philip could insert a piece of positivity into the lives of their children each and every day. With such a wonderful ethos, we just knew that we had to work with this little art studio nestled at the foot of Northern Ireland's Mourne Mountains.
When we got in touch to tell Lisa about our September edition that would be devoted to the Wise Women of Ireland, she produced this exquisite little card which was just bursting with a sense of bold femininity, and the perfect way to illustrate this month's theme.  
Will you be bestowing any of this month's offering upon another Bean Feasa in your life? Or has each and every gift found a place in your own heart and home? Let me know in the comments below!
Subscribe to Irish at Heart
If you enjoyed reading this blog post, I'm sure you will love Irish at Heart subscription box! Each beautifully curated themed box is full of unique, handmade gifts from Ireland's finest creative talents and small independent businesses. Subscribe with the code below and receive your very own Irish gift box!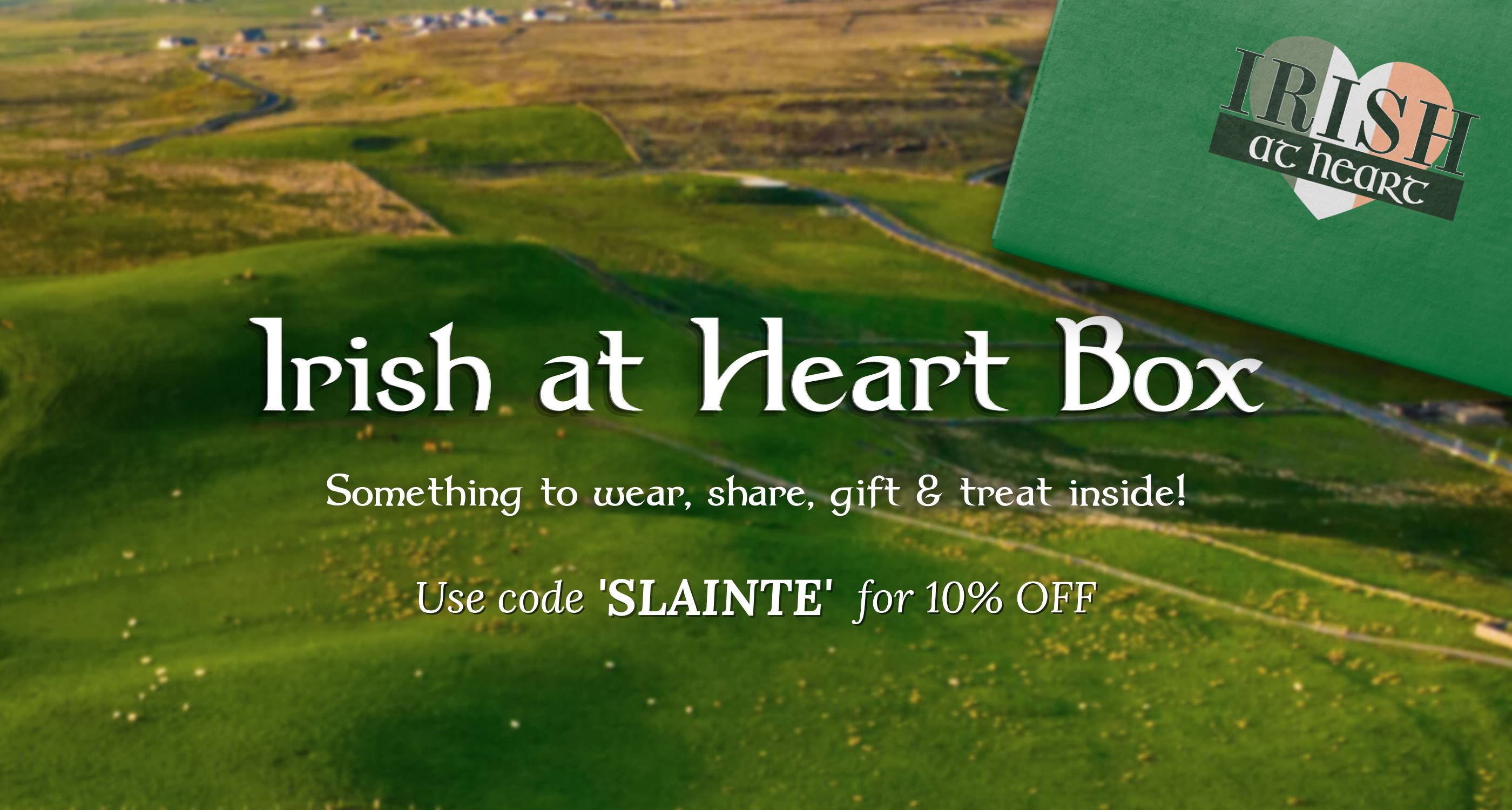 ---